From indie rock to bluegrass and rockabilly and all points in-between, our 51st issue has something for everyone. What ties them all together? A love for music-making and inspiring instruments.
As with all of our issues, supplies are limited and subscribers get first dibs.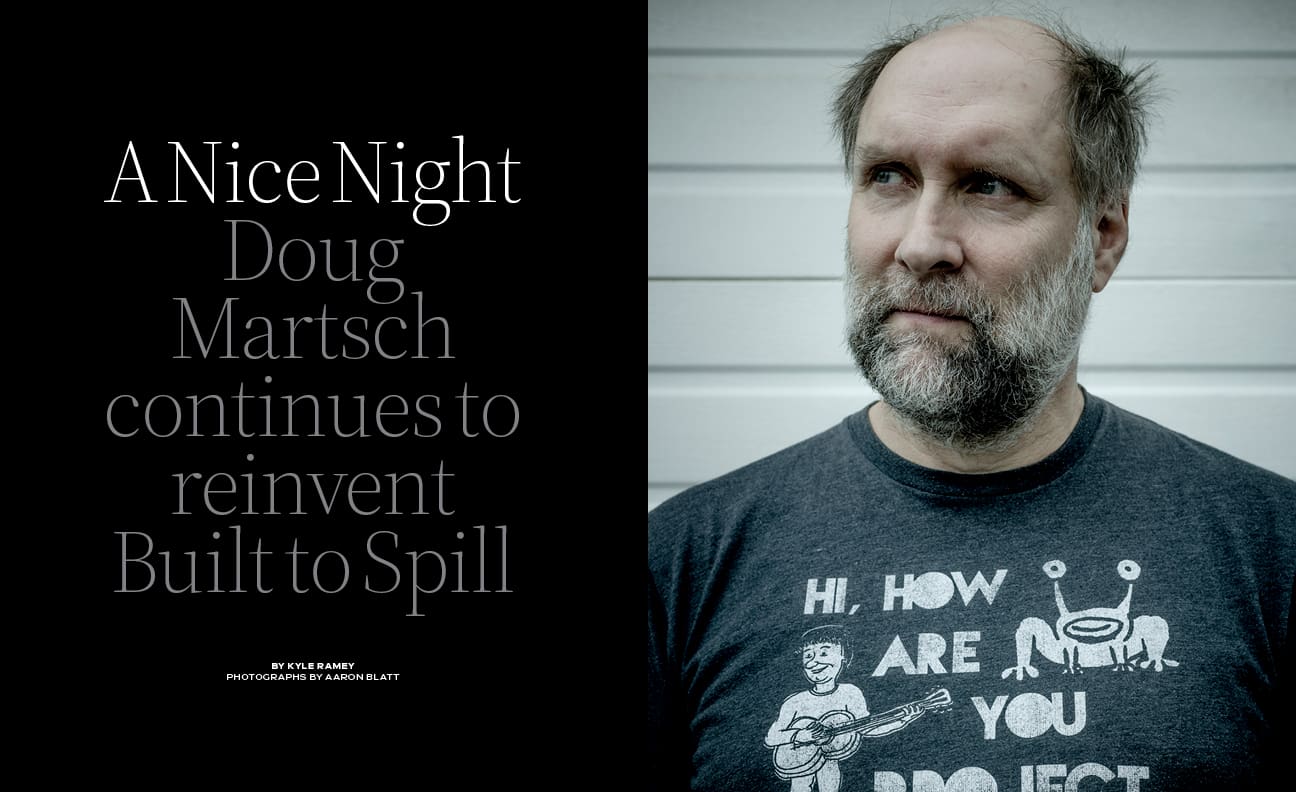 Built to Spill's Doug Martsch is a guitar hero for people who normally hate guitar heroes. Writer Kyle Ramey chats with the indie musician about a bit of everything: Strat Pluses, inspiration, changing lineups, dynamics, and Built to Spill's recent signing to Sub Pop Records. Photographer Aaron Blatt visits Martsch and captures Martsch's minimalist-but-potent gear setup.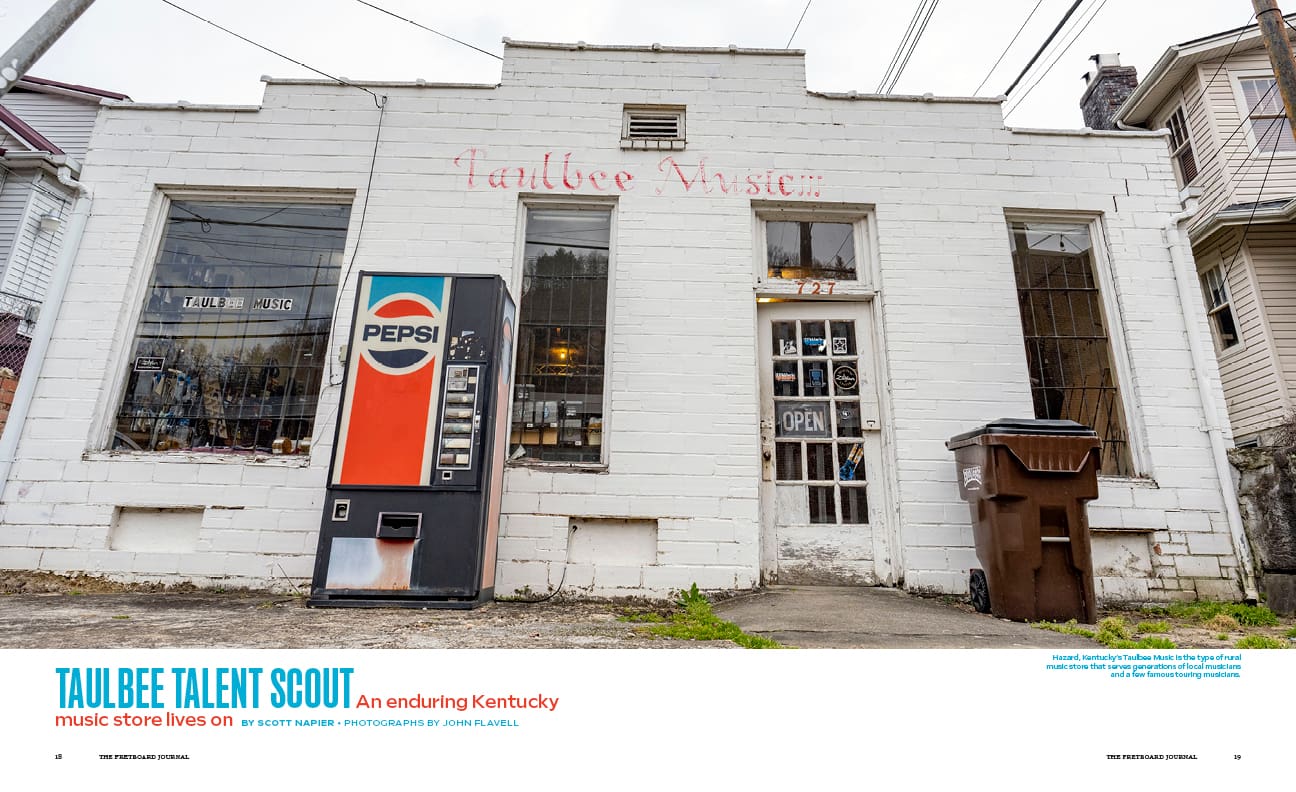 Musician Scott Napier pays tribute to Taulbee Music, a Hazard, Kentucky instrument store that has influenced generations of local musicians. Retail has changed a lot over the decades, but Taulbee remains a time capsule of sorts. Photographer John Flavell captures the essence of what makes this mom & pop store so unique.
In 1983, journalist Doug Clark ordered a custom Orchestra Model guitar from Sandpoint, Idaho's Franklin Guitar Co. Last year, Clark brought the guitar back to its maker, luthier Nick Kukich, for an inspection and reunion. The two reminisce about the instrument, what makes a great acoustic, and the last 40 years.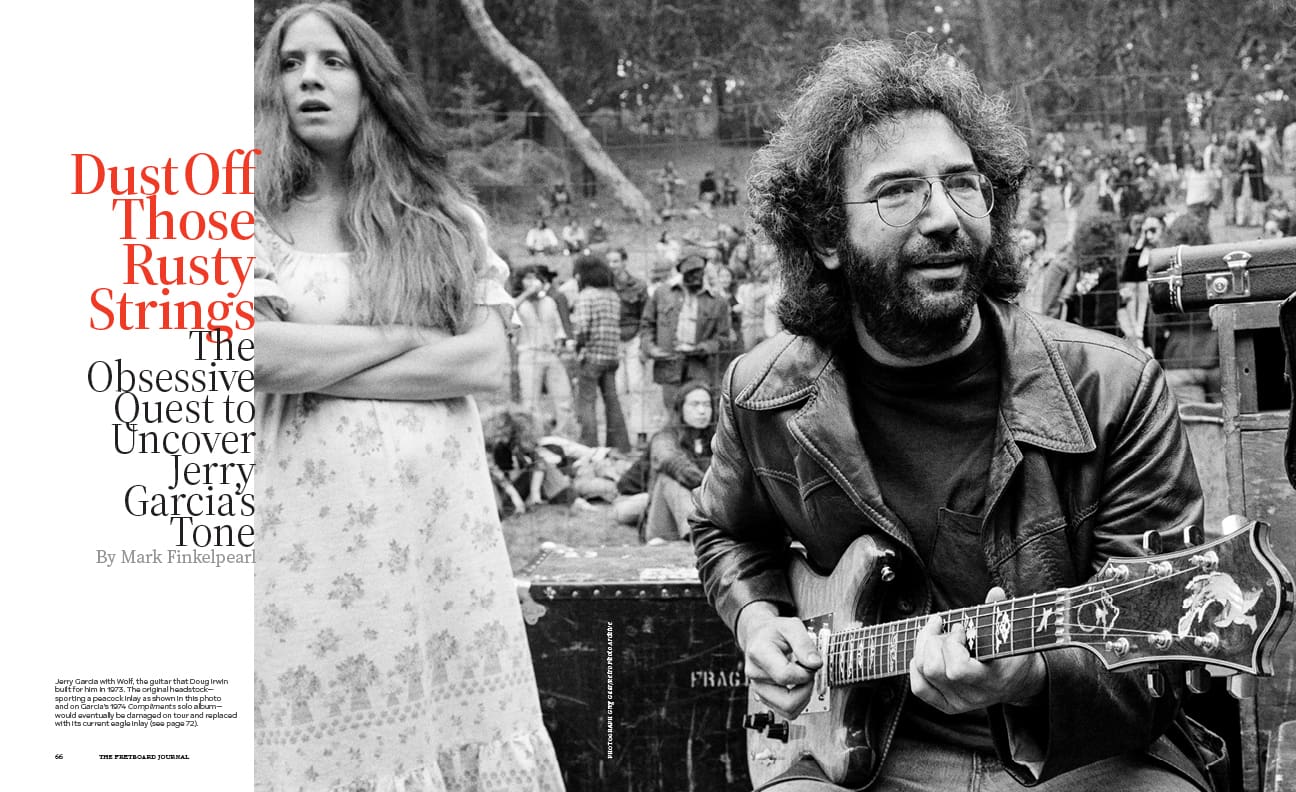 For some, chasing Jerry Garcia's tone isn't just a hobby, it's a way of life. Writer Mark Finkelpearl encapsulates Garcia's mid-1970s period – when the Grateful Dead frontman was experimenting with his guitars, signal paths, and more – and talks to some of the current-day practitioners (and builders) of Jerry's sound.
Calling Tedeschi Trucks Band's I Am the Moon "ambitious" would be an understatement. The set – spanning four albums and 24 tracks – is one of those pandemic projects that would be impossible to do without ample free time and a studio at the ready. In a lengthy interview, guitarist Ariel Posen talks to both Derek Trucks and Susan Tedeschi about their songwriting process, the origin story of I Am the Moon, and the gear they cherish.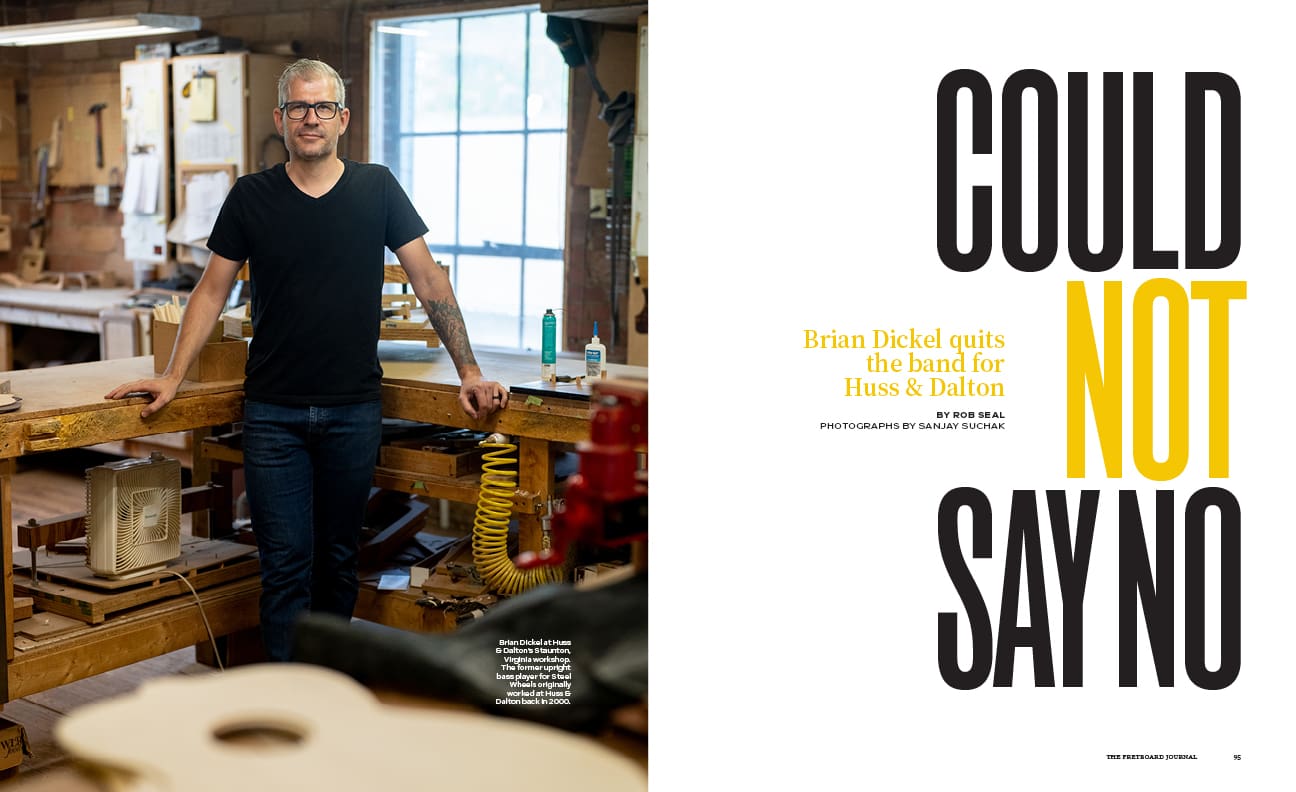 Brian Dickel had a successful career as a touring bassist, but he couldn't resist the pull of his former employer, Huss & Dalton Guitars. Rob Seal writes about Dickel's return to Huss & Dalton, the role he's taking on, and his plan for the company's future. Meanwhile, photo ace Sanjay Suchak takes us behind-the-scenes with the H&D team.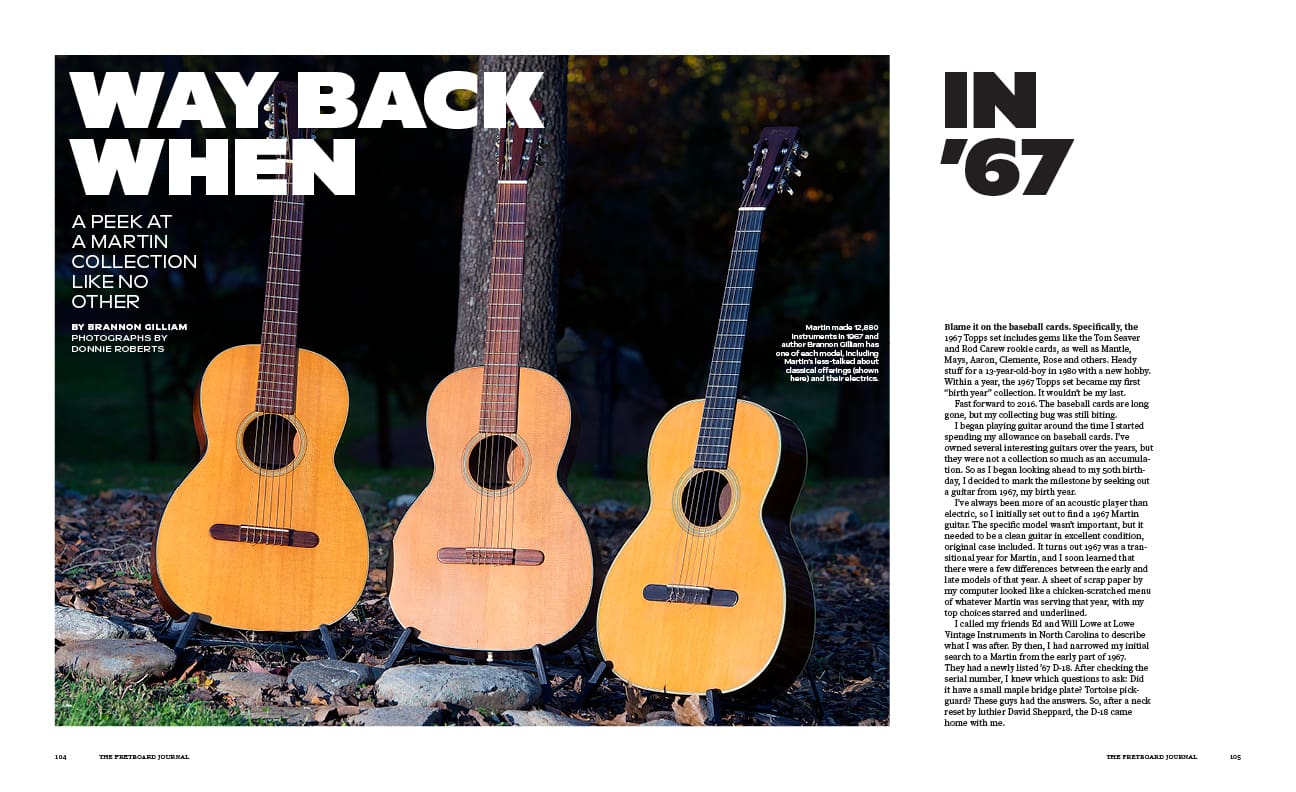 Lots of us daydream about having "one of everything," but guitar collector Brannon Gilliam made it a reality. Gilliam walks us through his one-of-a-kind collection of 1967 Martins that includes literally one of everything the Nazareth-based guitar company made that calendar year. The purchase of a D-18 sent Gilliam down this slippery slope…we'll let him fill you in on the rest. You can see more photos of this staggering collection here.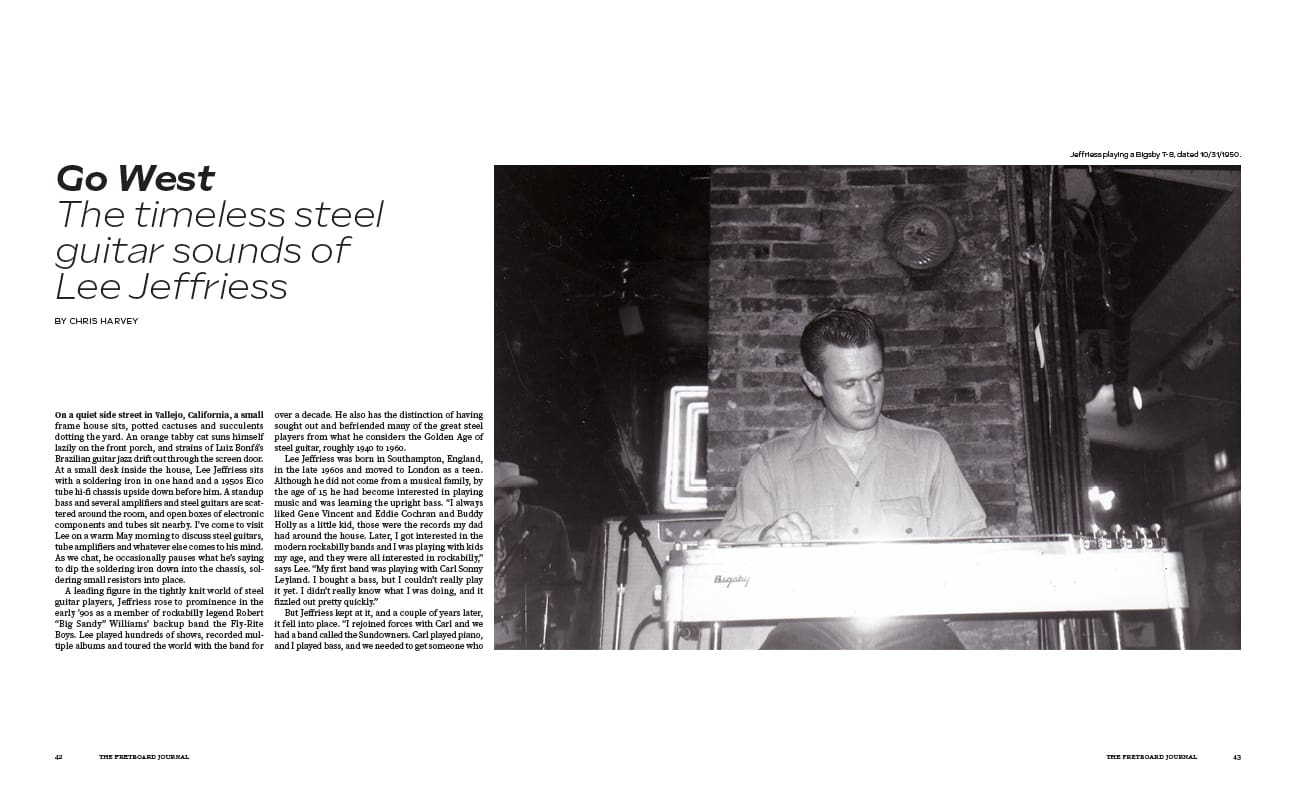 Lee Jeffriess may be best known for playing with Big Sandy & His Fly-Rite Boys, but Chris Harvey paints the full picture of this steel-playing rockabilly stalwart. Jeffriess recounts his move from England to the States, his time with Big Sandy, meeting Speedy West, and more.
Plus a lot more, including Jeff Tweedy on songwriting, George Gruhn on the one guitar he'll never sell, Fretboard Summit 2022 highlights, and other surprises.
Thanks to our community of subscribers, contributors, and sponsors for helping make this issue a reality.
Want this issue? Subscribe today and we'll send it to you.