The Fretboard Journal #43 has arrived, chock-a-block with the finest and most fascinating stories from world of stringed instruments and those who make and play them, once again exploring the edges and the extremes, from mountaintops to prison cells. This issue features the young virtuosi (and former housemates) Molly Tuttle and Billy Strings as well as noted Irish luthier George Lowden and Nashville musical polymath Rory Hoffman. We also spend a lot of time on the repair bench, digging into the resurrection of Billy's grandfather's "prison guitar," sharing a portrait of Pat DiBurro and taking a look at the restoration of a pair of Harmony Sovereigns, then squeeze in a chance encounter with Keb' Mo, learn about the guitars of Nick Drake, indulge in our first bit of travel porn and a whole lot more…
As always, we place a premium on stunning photography and clean layouts in our trademark design. It's 128 pages of hype-free, thoughtful journalism for guitar fanatics who still love reading great interviews with the legends, craftspeople and characters who make what we do so much fun. You can subscribe to our reader-supported magazine here.
Existing subscribers: All subscriber copies are now en route to you. Look for your copy over the next week or so.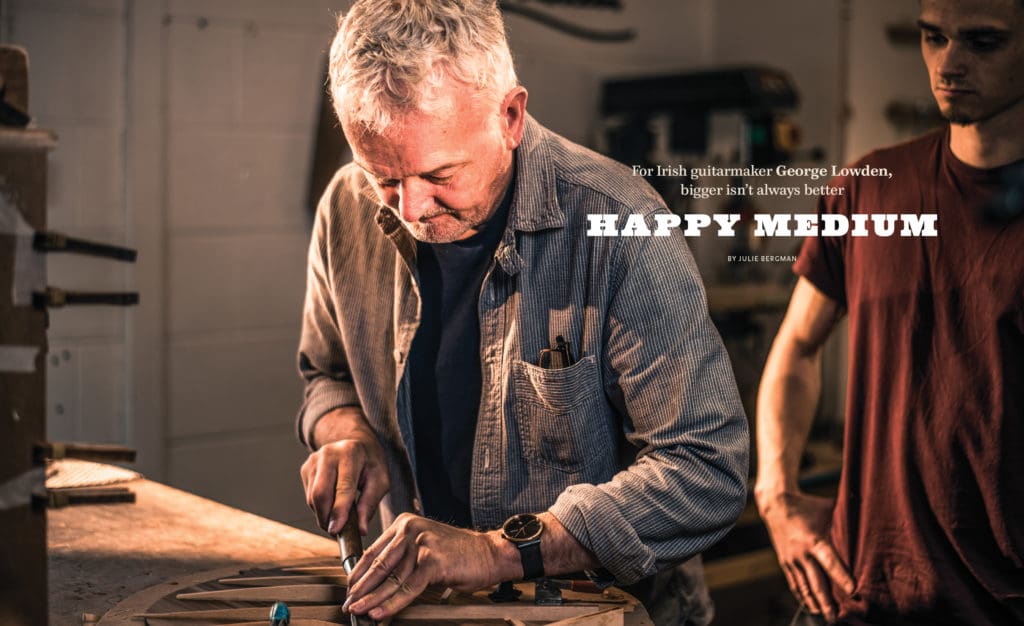 "When I introduced Ed Sheeran to George and Ed bought about 10 guitars in one go, George, as a gift, built me a special one-off guitar that I have written every song I've written since with. In a fire, I would save my family and that guitar." – Gary Lightbody
Julie Bergman shares this profile of George Lowden, Master of Wee Things…
"I did feel like there was more pressure on me to prove myself. I noticed when I was taking a solo, people were listening a little more, some- times I did feel a little more attention or pressure on me to prove that I can play like the guys are." – Molly Tuttle, on being named the IBMA's Guitarist of the Year
Thomas Plank takes a look at the disparate elements that have made Molly Tuttle much more than a fleet-picking bluegrass phenom.
"I enjoy disassembling these instruments to see just how well they were put together." – Pat DiBurro
Steve Yarbrough breaks down "The Art of Reconstruction" with consummate repairman Pat DiBurro.
"It was made out of a table top. That's what we think, anyhow. It's made out of cedar. The body itself is made out of a table top and the neck is out of the leg." – Billy Strings, on his grandfather's "prison guitar"
Publisher Jason Verlinde sits down with Billy Strings and Nashville luthier Dave Johnson to talk about the restoration of a unique family heirloom.