Our long-awaited 52nd is now mailing. As always, we celebrate the world of fretted instrument culture like never before with interviews, photo essays and histories that you won't find anywhere else. Acoustic and electric instruments…legendary players and upstarts…we love them all.
As with all of our issues, supplies are limited and subscribers get first dibs. Advertising is limited to less than 15% of each 128-page issue. Subscribe here and select "Get Current Issue" to begin with this edition.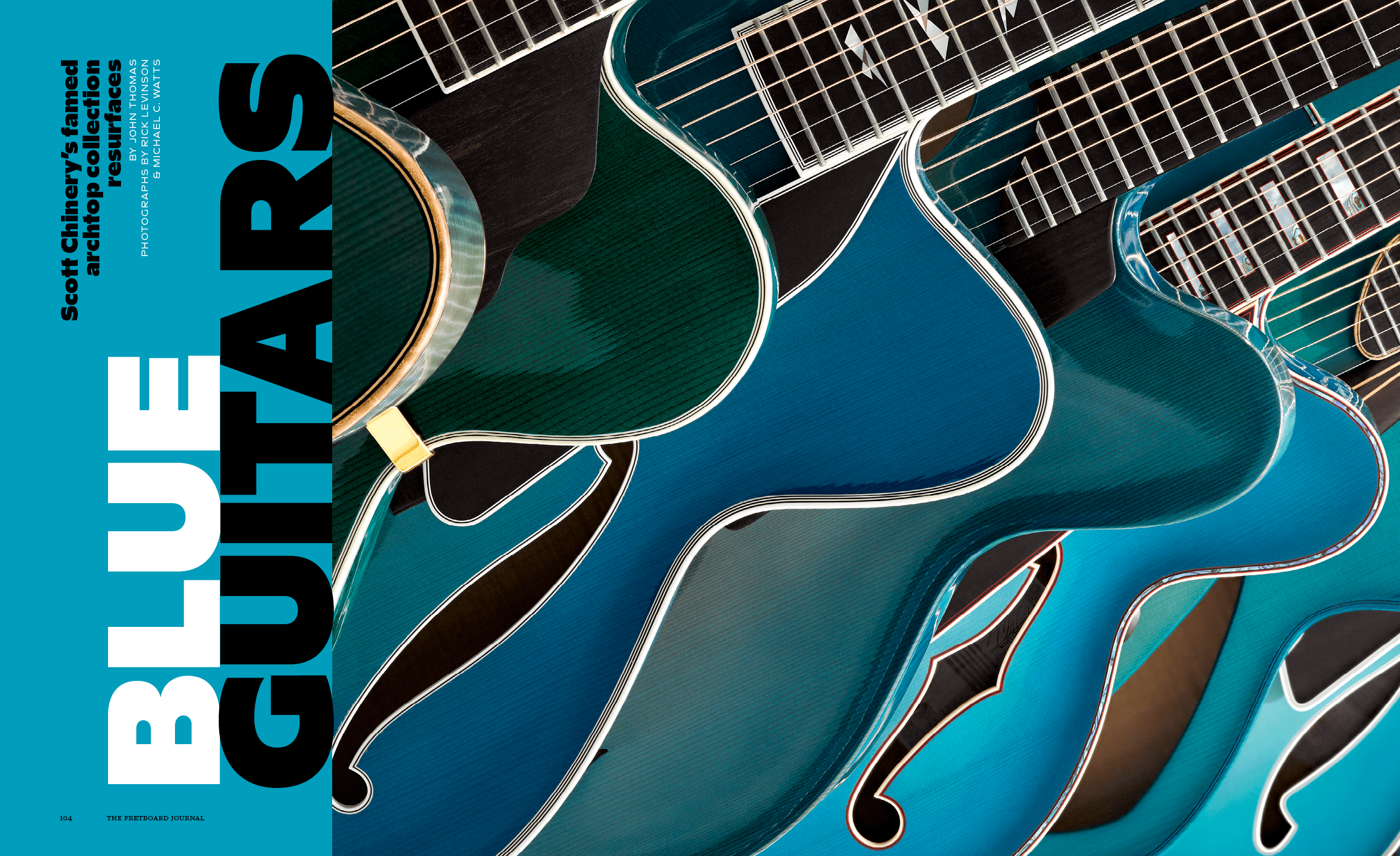 Remember when the 1% crowd didn't just build rockets with their riches? John Thomas explores the famed Blue Guitar archtop collection curated by late entrepreneur Scott Chinery. It was an audacious project: Chinery commissioned twenty or so of the best guitarmakers alive to build the ultimate archtop using the same blue finish. Builders such as Collings, Monteleone, Benedetto, and Manzer accepted the job and Chinery's gamble paid off: the finished collection was celebrated at the Met and the subject of a coffee table book. Having recently been acquired by the non-profit Archtop Foundation, the collection is miraculously staying intact and ready to start inspiring another generation of builders and players.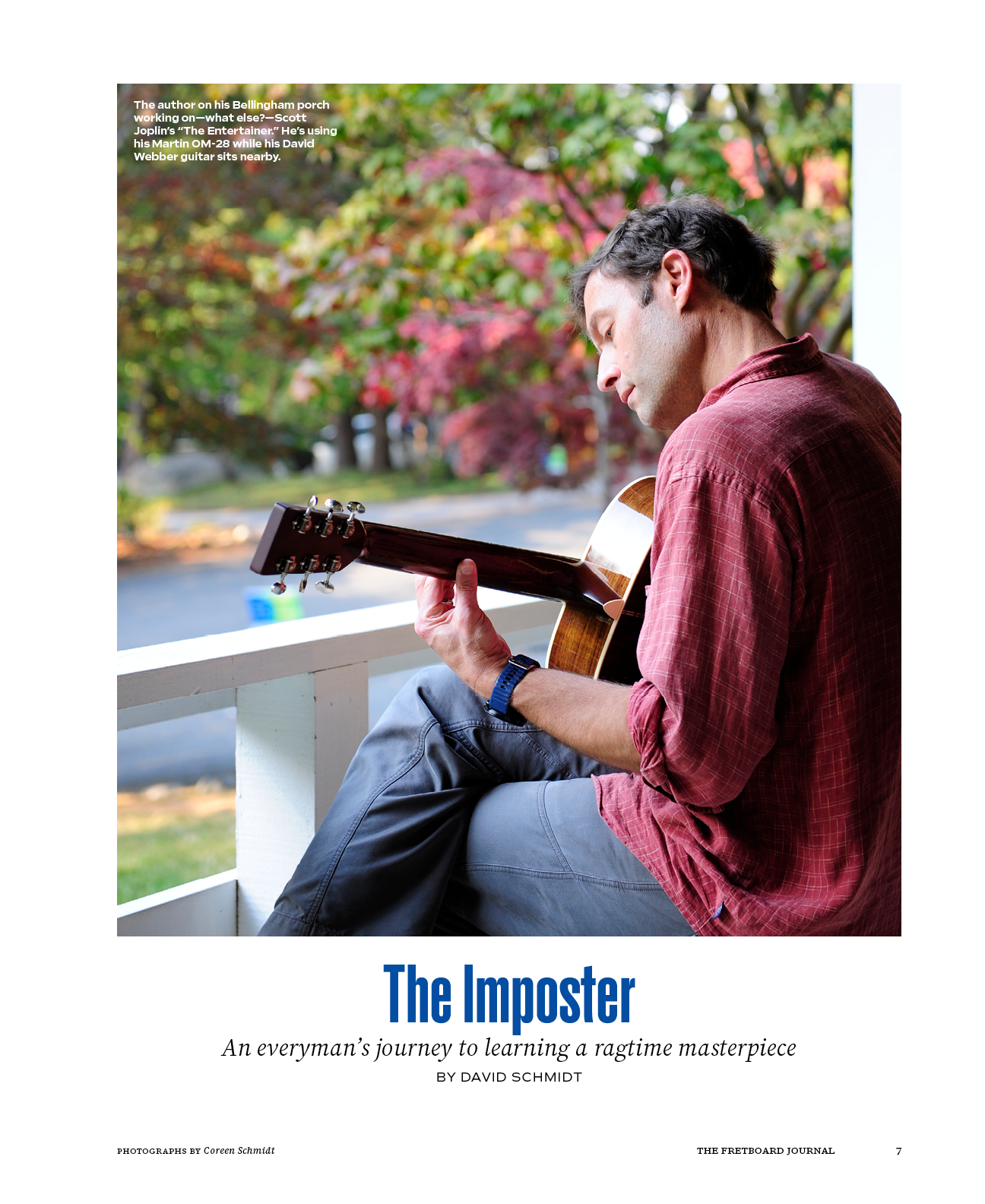 We've all heard Scott Joplin's "The Entertainer" before. Throughout the pandemic, PNW-based writer and guitarist David Schmidt has been on a mission to nail it, from start to finish. Schmidt documents his syncopated journey, the lessons (guitar and life) he's learned along the way and a lot more.
Norman Blake holds mythical status amongst bluegrass players. His tone, his technique and his taste in guitars are peerless. Musician Bob Minner has spent countless hours with the reclusive musician and documents the collaboration that Pre-War Guitar Co. undertook to copy two instruments from Blake's legendary collection. Blakephiles take note: Bob is also going to be leading an in-depth Norman Blake workshop at our 2023 Fretboard Summit.
How did one of the white whales of vintage guitar collecting – the lost lap steel illustrated in one of John D'Angelico's early print ads – end up on eBay with an obscenely low buy-it-now? Writer/historian (and now custodian of said guitar) Lynn Wheelwright spills the beans. As it turns out, identifying the guitar – or what was left of it – was hard enough. Restoring it to its former glory proved to be even harder.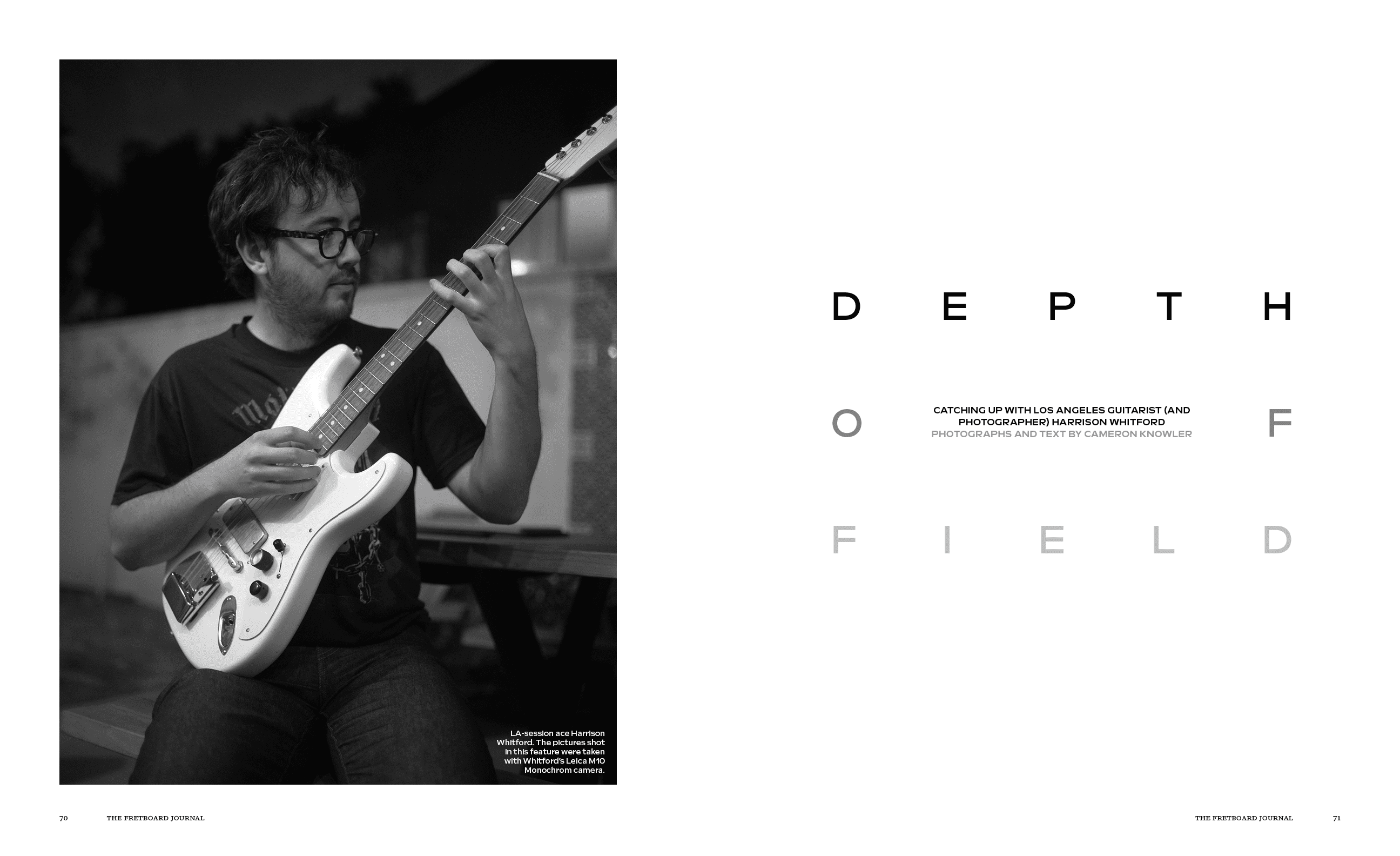 Harrison Whitford is a musician of many talents: Phoebe Bridgers guitarist, photo buff, and in-demand sideman. Friend and fellow musician Cameron Knowler interviews Whitford about his artful side, his Flip Scipio-built electric (pictured) and more.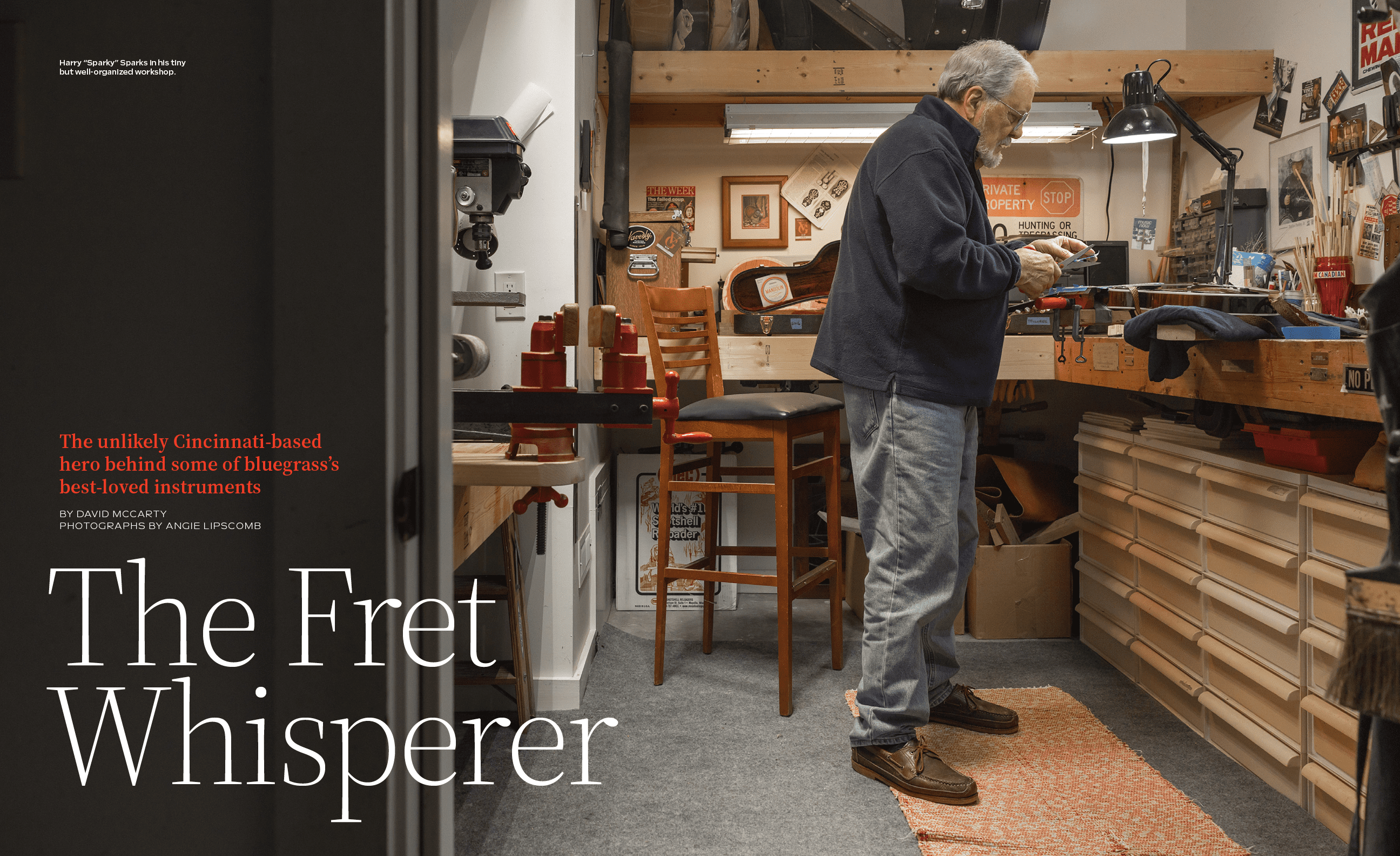 By day, Cincinnati-based  Harry "Sparky" Sparks is an accomplished commercial architect. By night? He's the go-to setup luthier for bluegrass insiders like Sam Bush and the late Tony Rice. How does someone go from designing Home Depots by day to fret jobs on invaluable Gibsons and Martins at night? Writer David McCarty finds out.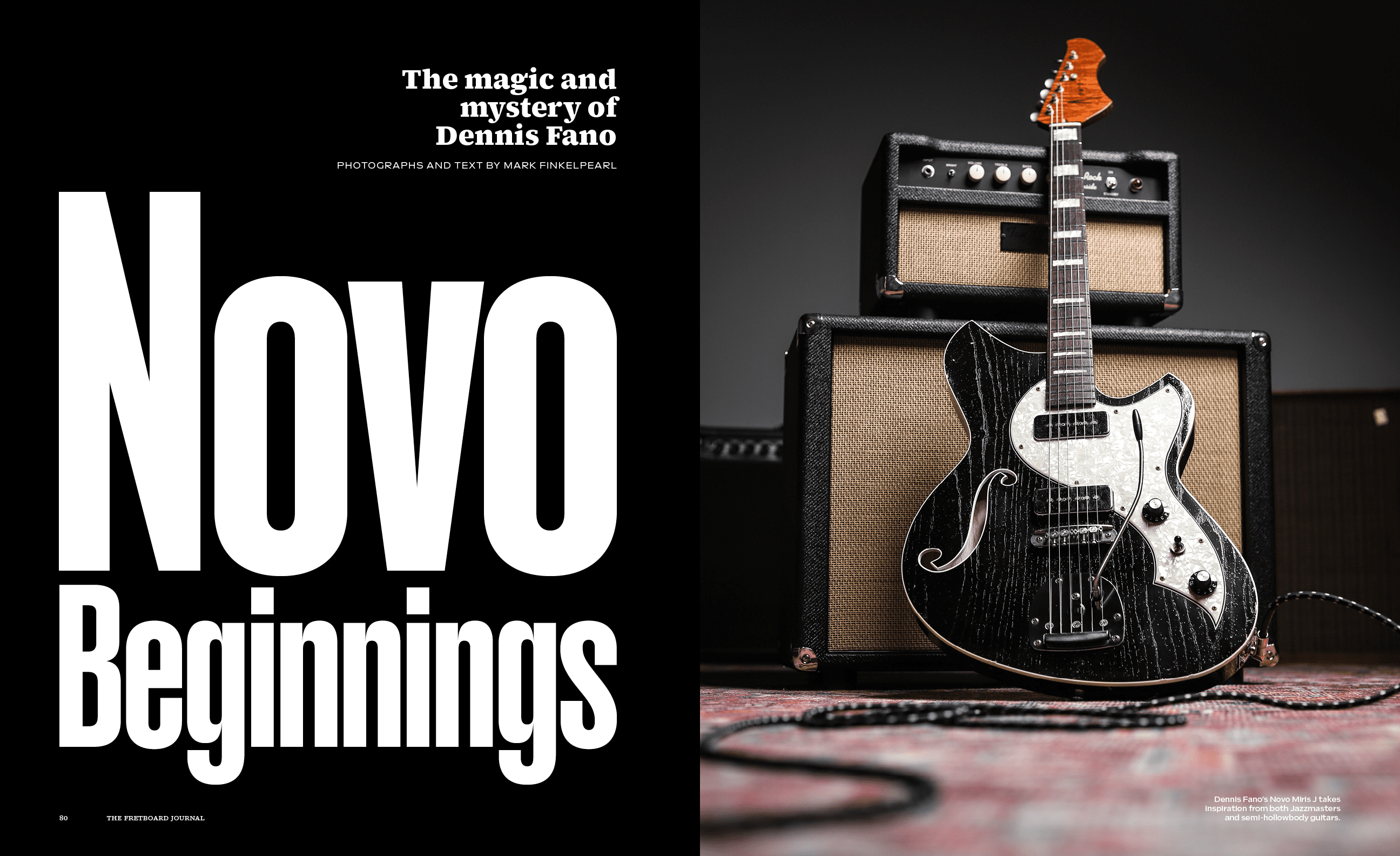 How do you make a new guitar design look old? Mark Finkelpearl interviews visionary electric guitar luthier Dennis Fano about his new Novo line of guitars to find out.
Kingsley Durant sits down with two of his favorite people – guitar maker Matt Artinger and guitarist Steve Kimock – to talk design, history and collaborations.
A conversation with musician Dom Flemons can lead you anywhere: early banjo history, the blues, rock & roll, and all points in between. FJ publisher Jason Verlinde interviews Flemons about his brilliant new album, Traveling Wildfire, and the unlikely electric guitar that's all over the project.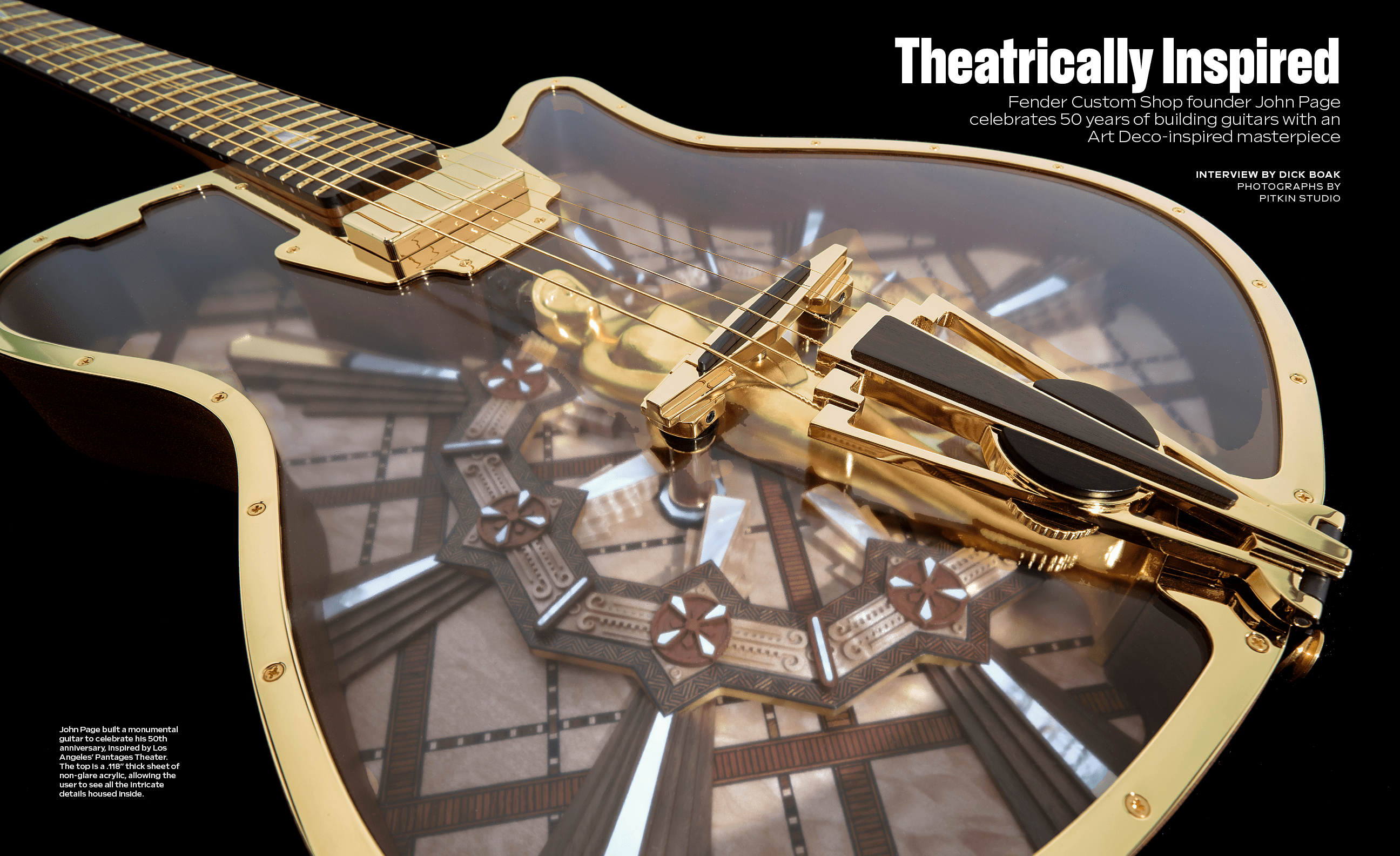 Martin Guitar legend Dick Boak has been in the guitar industry for decades and he's seen it all. But he never saw an instrument like John Page's Pantages guitar. Boak sits down with the former Fender Custom Shop builder to talk about this Art Deco-inspired electric guitar creation and all the incredible little details housed inside.
Plus Jake Eddy's 1951 D-18 on the cover…and a bunch more.
Thanks to our community of subscribers, contributors, and sponsors for helping make this issue a reality.
Want this issue? Subscribe today and we'll send it to you.