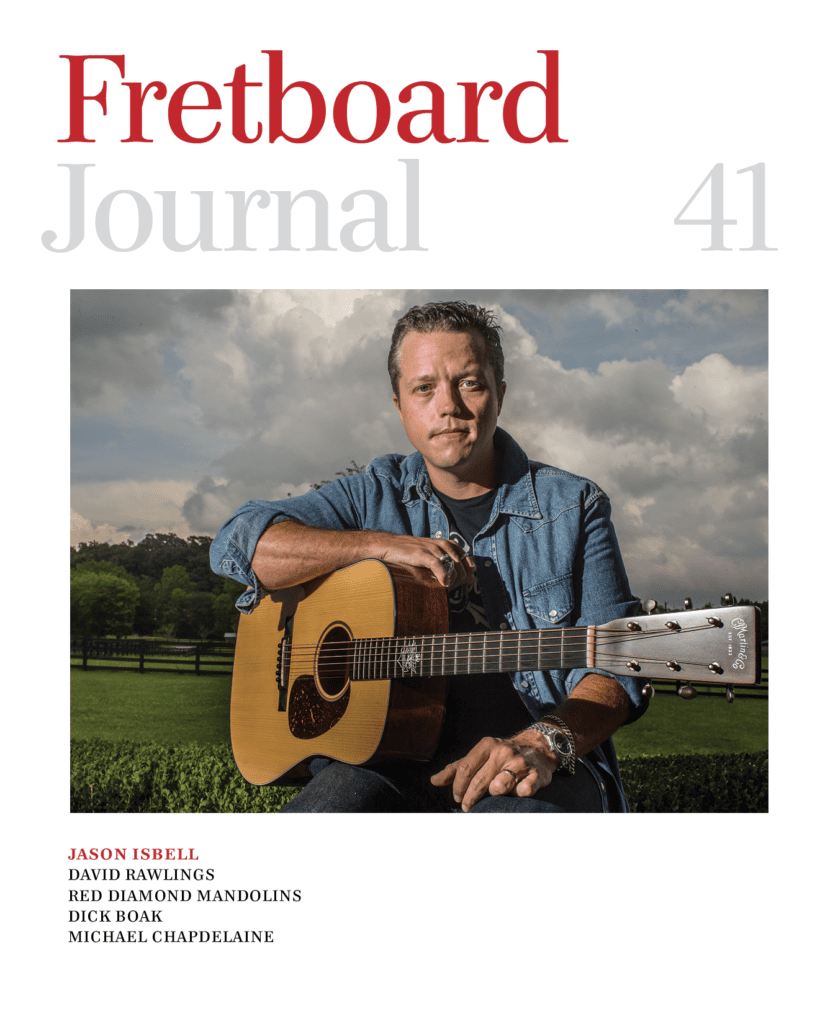 The 41st issue of the Fretboard Journal is now mailing to subscribers worldwide. As usual, it's a deep dive into the world of fretted instruments and those who build, play and love them, time-jumping from the early days of Gibson all the way to the latest Grammy Awards, with critical stops along the way. Our cover story is a timely chat with Jason Isbell, fresh off multiple wins at the aforementioned Grammys for his latest release with the 400 Unit, The Nashville Sound.
Elsewhere in this issue, Paul Burch talks with David Rawlings about the singular way he and Gillian Welch have refined and honed how they do their thing (and Rawlings walks us through his latest guitar purchase, the '59 D'Angelico Excel custom ordered by Homer Haynes); Dan Lambert walks us through his restoration of a rare Oscar Schmidt Jumbo; Joseph Skibell recounts a fateful lesson (or two) with Michael Chapdelaine; Nathaniel Riverhorse Nakadate breaks off from a day of fishing for an evening in Texas with Darrell Scott; publisher Jason Verlinde catches up with Dick Boak for a conversation that takes a look at the legend's days before, during and after Martin; and harpguitars.net's Gregg Miner gives us an up-close look at a magnificent instrument that bears the hallmarks of being built by Orville Gibson himself. Plus a lot more…
You can subscribe to our reader-supported magazine here.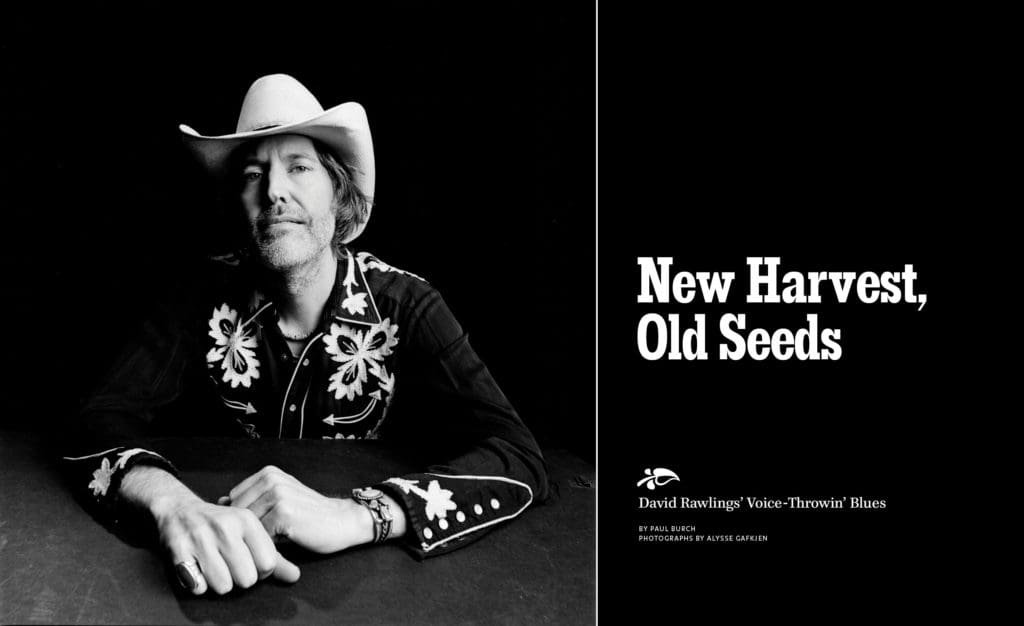 You probably know it already, but doing things simply is getting more and more complicated. Paul Burch's interview with David Rawlings delves into the nitty gritty of the groundwork behind realizing the creative vision behind his partnership with Gillian Welch and his latest release, Poor David's Almanack.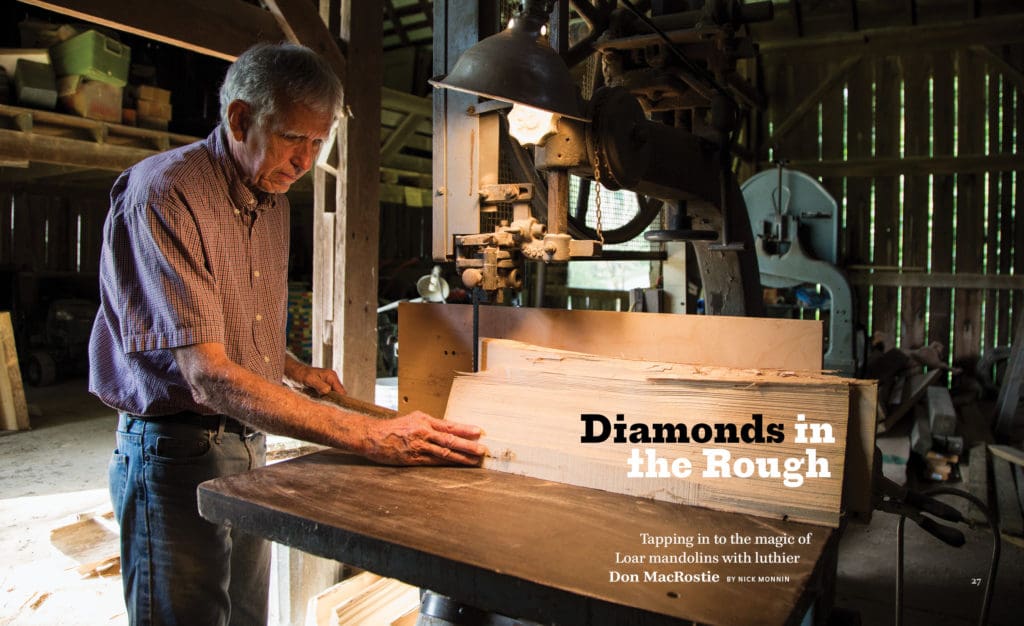 Nick Monnin visited with Don MacRostie and tells the story of how Don's magnificent mandolins trace connections to the finest creations of Lloyd Loar as well as the southeastern Ohio Appalachian foothills MacRostie calls home.
We love a good fish story, but sometimes the best stories are of the detours taken in between casting a line. Regular contributor Nathaniel Riverhorse Nakadate pulled himself away from the waters to take in an evening with singer-songwriter-etc. Darrell Scott and, indirectly, Larry Pogreba.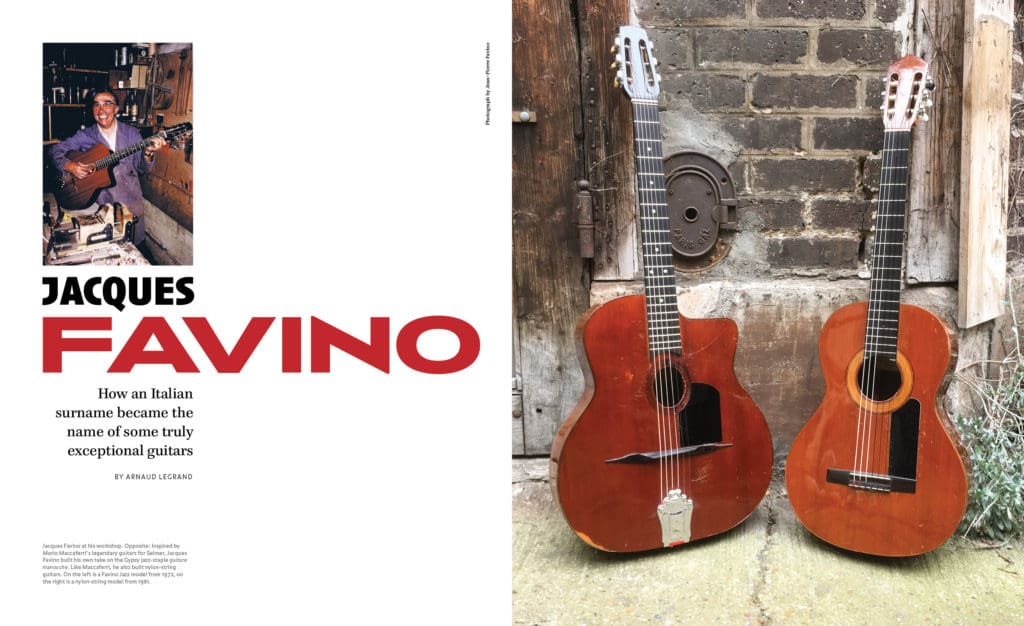 Dick Boak's story in this issue isn't the only one with wild twists and turns – Jacques Favino's path from his roots in Piedmont to his lutherie shop in Paris winds from woodworking through a World War to violins before settling into a career building his exceptional Maccaferri/Selmer-style guitars.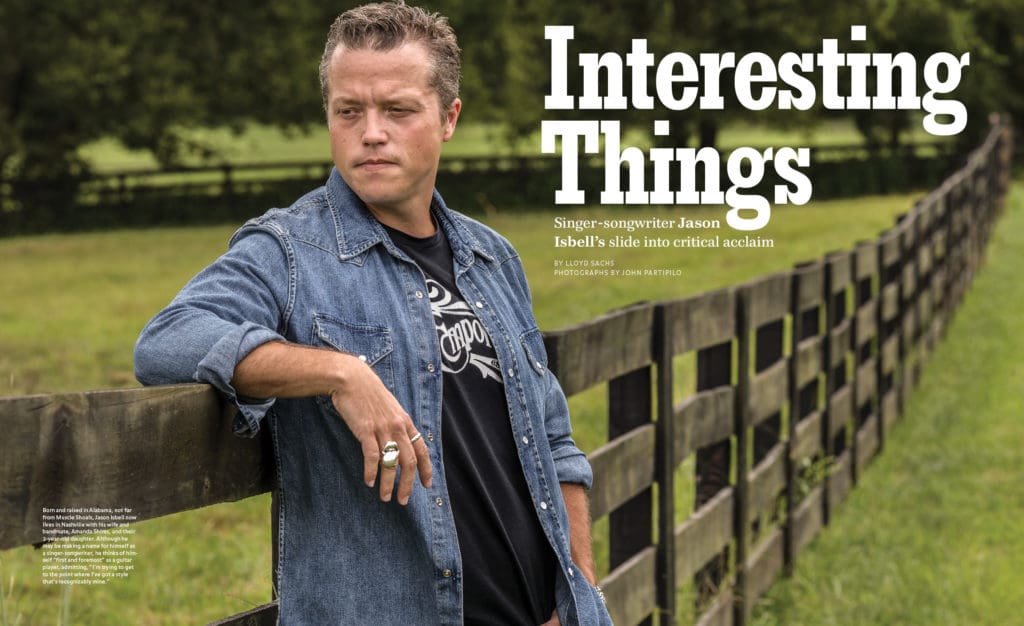 Jason Isbell's story is another with its fair share of detours, twists and turns, ups and downs. Lloyd Sachs' profile of the singer-songwriter and, foremost in Isbell's mind, player takes a look at the roots, influences, missteps and inspiration that led to The Nashville Sound and, just as this issue went to print, its multiple Grammys.