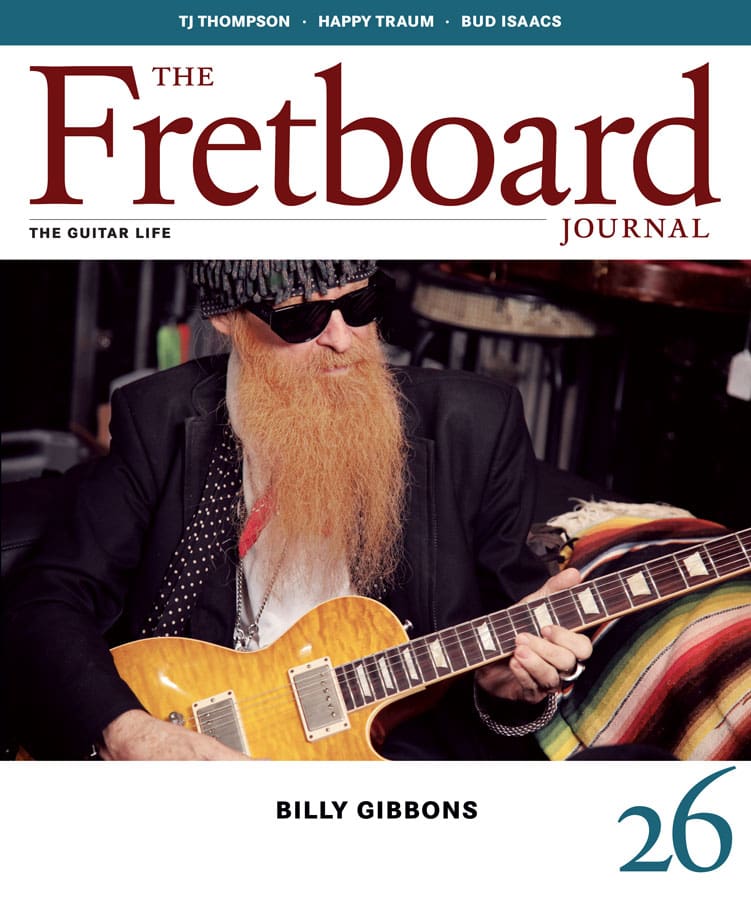 Once again we've loaded the latest issue of the Fretboard Journal, #26, with our favorite guitarists interviewing our favorite guitarists – Billy Gibbons with Ian Moore and Bud Isaacs with Jon Rauhouse – as well as profiles of luthiers TJ Thompson and Jeff Traugott. Highlights also include singer-songwriter-producer Joe Henry and his growing collection of vintage guitars, Happy Traum tells us about a lifetime of lessons and much more…
The career of singer-songwriter Joe Henry has taken some interesting detours: he's penned a top 5 hit for Madonna, he collaborated with Loudon Wainwright III on the soundtrack for Knocked Up and he's produced some of the most critically acclaimed albums you'll ever hear. DW Royek talks to Henry about all this and the vintage Gibson acoustics the songwriter is currently obsessed with. Henry even sheds light on the whereabouts of Dylan's mysterious 13-fret Gibson Nick Lucas.
Country music legend Bud Isaacs was the driving force behind the development of the pedal steel guitar. His mechanical tinkering – using a door hinge and wires to modify his lap steel into something completely unique – spawned a legion of imitators. Neko Case's pedal steel guitarist Jon Rauhouse talks to Isaacs about his invention, the number one songs he performed on and the origin of "Slowly," his hit record from 1954.
If you have a priceless Martin guitar that just happens to be a basket case, acclaimed luthier TJ Thompson is your man. Thompson takes a Zen-like approach to his craft, restoring guitars that no one else will touch. It's no wonder that he counts among his clients Tony Rice, Chris Eldridge (Punch Brothers), museums and dealers. In this lengthy profile – the first such interview that TJ has allowed to be written about his work – Clapton's Guitar author Allen St. John discovers the secrets behind Thompson's magic and his innate attention to detail.
Happy Traum came of age in the magical hour of American folk music, just as New York's Washington Square Park scene was coming together. Aided by mentors such as blues legend Brownie McGhee and Mexican classical guitarist Gustavo Lopez, Traum developed his loose, but clock-steady right thumb fingerpicking style. Though he's played with Dylan and in numerous band settings, these days folks know Traum as the mastermind behind Homespun Tapes, one of the world's most popular instrument instruction companies.
Guitarists Billy Gibbons and Ian Moore reminisce about their Texas roots, Moore's days of opening for ZZ Top and shared musical heroes in the Fretboard Journal #26's lengthy cover story.  We also get a peek at Gibbon's ever-growing guitar collection, including his Big Tex Telecaster.