On his way to the inaugural Fretboard Summit in 2016, Bill Frisell decided to make a bona fide road trip of it, heading out from Seattle down to Los Angeles and back again, with well-considered stops along the way, including an afternoon spent with the session players who inspired the music on his When You Wish Upon a Star album. We tagged along and filmed that, for posterity, but it left us with one nagging question: Where was the music? Unwilling to leave the job half-finished, we started scheming and eventually managed to get Bill back together with Bob Bain and Dennis Budimir in a situation as conducive to playing as to reminiscing, with guitars in hands and cameras rolling.
Between them, Bob and Dennis played on pretty much everything recorded in Los Angeles over a stretch of 30+ years, stretching from the '40s through the '70s, separately and together doing sessions for films and television, as well as countless pop sessions as part of the legendary Wrecking Crew. Bob's credits include everything from the classic Nat "King" Cole recordings of "Unforgettable" and "Mona Lisa" to the themes from M*A*S*H and The Munsters. He was also a stalwart in the Tonight Show band after the show moved to Los Angeles in 1972 (taking over the chair occupied by Bucky Pizzarelli and Gene Bertoncini when the show was in New York). Dennis, meanwhile, was a standout in the L.A. jazz scene, performing and recording with the Chico Hamilton Quintet and as a bandleader himself before immersing himself in the L.A. studio scene, doing sessions with everyone from Peggy Lee to The Monkees.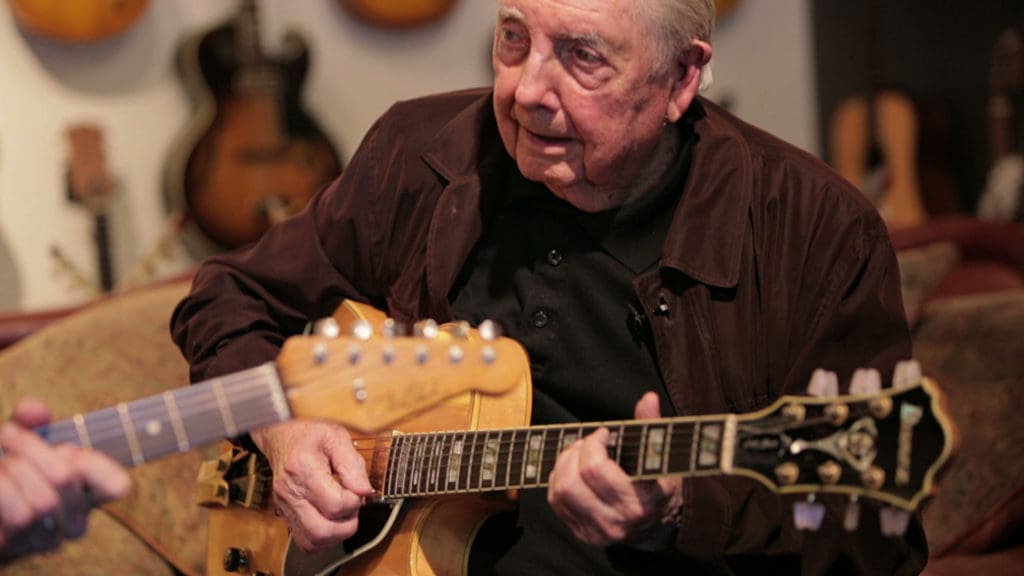 We have here, exclusively (and in three parts), the fruits of that afternoon's labors: Bill Frisell, Bob Bain and Dennis Budimir, live at California Vintage Guitar and Amp (where you can also find some choice instruments from the Dennis Budimir Collection, including this Catch of the Day), sharing more stories and a few tunes. Many thanks to Angela Wood at Small Medium Large Productions for filming these clips just for us.
Part I
Part II
Part III
For more on Bill, Bob and Dennis check out: