We're not prone to including "as played by" instruments in our Catch of the Day series. Either the pedigree overwhelms the thing itself, or the combination renders the price tag mind-boggling. Sometimes, however, there are too many good reasons to feature an instrument. Take, for example, this 1965 Hagström F-12S 12-string electric guitar from the Dennis Budimir Collection, currently available at California Vintage Guitar (along with several other instruments from the Budimir collection) for a perfectly reasonable $750.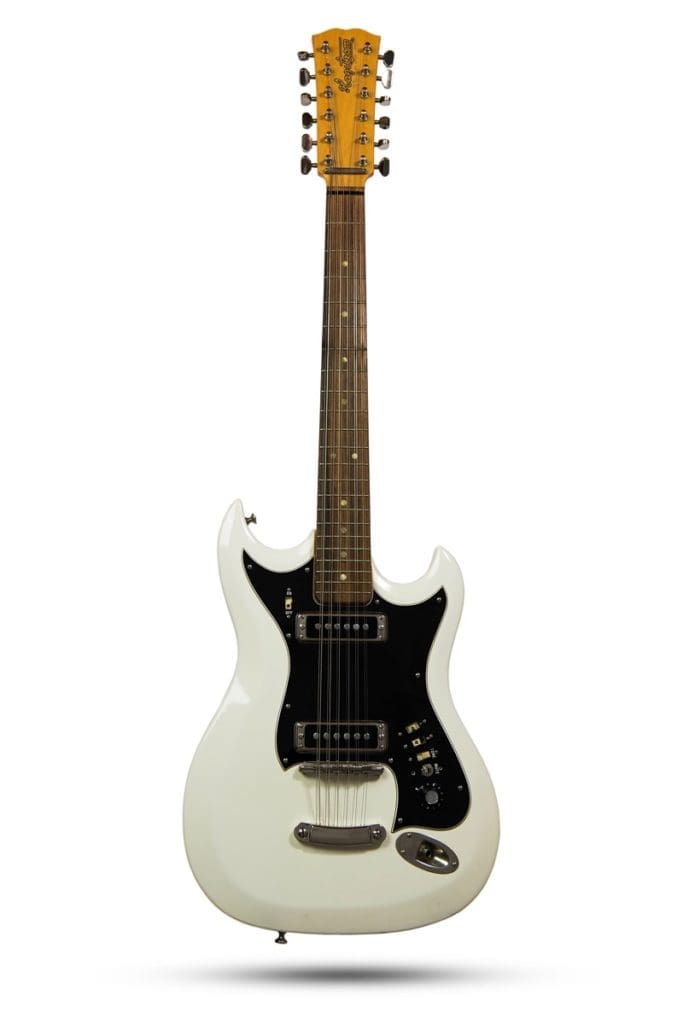 Dennis is, quite simply, one of a handful of under-appreciated bona fide geniuses of the guitar. He was one of the guys in the guitar chair(s) for the legendary Wrecking Crew, sitting alongside Bob Bain, Tommy Tedesco et al., playing on albums as divergent as David Cassidy's Cherish and Frank Zappa's Lumpy Gravy, as well as carving out a stellar reputation as a jazz player both on his own and as a sideman for Chico Hamilton, Eric Dolphy, Bud Shank, etc. This Hagström is, apparently, the one and only electric 12-string he owned back in his busy session-playing days, used, according to the listing, on all of his gigs that called for electric 12-string. While the actual dates are lost to time, it's worth noting that among Dennis's many credits are the 1968 album, The Birds, The Bees & the Monkees by the Monkees, which featured an electric 12-string or two, and Raga Rock by The Folkswingers, which featured more electric 12-string guitar than you can shake a smoldering smudge stick at, as an all-star band churned out instrumental versions of songs like "Time Won't Let Me" and "Paint It, Black."
The guitar itself, meanwhile, is quite the specimen. It's superficially quite simple in its construction, but it's two single coil pickups are harnessed to one of those switch-laden systems that were the rule of the day. There's a master on-off switch on the upper bout, and four more switches down by the solitary volume knob: individual on-off switches for each pickup, a tone switch that toggles between two different capacitors, and a "mute" switch that lowers the overall volume (kind of an inverted "solo" switch). On this particular instrument, the original slider switch has been replaced by a small two-way toggle switch. California Vintage states that the guitar is "in stunning cosmetic shape" and the photographs bear that out. They further state that the "guitar plays and sounds great," which we don't doubt.
For more on Dennis and the session greats he played with in the Wrecking Crew, check out our recent Plugged In feature, as well as Unsung: Bill Frisell Meets His Studio Musician Heroes.