Here's my report on "what I did on my summer vacation" from last summer.  This piece lost out in its quest for in-print space to cover stories about such artists as the Avett Brothers, David Rawlings, Sam Bush, and Tim O'Brien.  But, has one of them ever gigged in a Greek bluegrass band?
Γεια σας!  (Hello!)
As my family and I step from the train after our six-hour journey from Athens to Thessaloniki, Greece's second largest city, we peer out at the city founded in 315 BCE by King Cassander of Macedon and named for his wife, Thessalonike, the half sister of Alexander the Great.  We survey our surroundings and see cars and motor scooters careening at frightening speeds down narrow cobble stone streets, the breathtakingly beautiful Aegean shoreline, and the city's visual symbol, the remnants of the 2nd century White Tower that the Ottomans used as a prison and site for mass executions.  Then, our eyes land on a young man sporting an "Arnold Guitars" t-shirt and holding a hand-written sign inscribed, "Welcome Thomas family!"  It's our friend and host Yiannis Gougourelas, the formidable guitarist known on YouTube as GreekFlatpicker.  In the course of the next three, short days, Yiannis will introduce us to the charms of northern Greece and its unique musical community.  So, fortify yourself with some souvlaki or gyros and maybe a glass or two of ouzo and join us on a whirlwind tour of this southern European fretted.
Day One
Meet the cast.  By our operating definition, two musicians constitute company, but three suffice for a "gathering."  "We" at this gathering are Yiannis, who lives in Thessaloniki, Dario Ronco, a native of Italy who has resided in Bucharest, Romania for the past two decades, and me, heralding from Connecticut in "the States."  We met through the online vintage guitar geek forum, UMGF, or the Unofficial Martin Guitar Forum.   We share a love of vintage guitars, acoustic music, and the pages of Fretboard Journal.  When I found myself scheduled to speak at an international law conference in Athens, I contacted Yiannis, who welcomed a visit.  Always game for some picking and guitar-geek speak, Dario quickly offered to will fly in to bless us with "gathering" status.
Our host Yiannis Gougourelas has had a long-time presence in the Thessaloniki music scene and is the perfect tour guide.  He first honed his chops playing electric guitar in a band that, in his words, played "terrible music, Greek rock tunes.  I hated it."  Still, to this day, the band lobbies Yiannis to rejoin the group with his "clean, country and bluesy sound."  But, once Yiannis heard the likes of Tony Rice, Norman Blake, Doc Watson, and David Grier, there was no turning back.   "When I heard it, I knew immediately that this was the music for me," he says.   Our host then embarked on a decade long journey to find like-minded musicians in the Thessaloniki area and has now found, well, a few, two of whom we will meet on our tour.  But, this Greek flatpicker is not merely a flatpicker.  He's a fine fingerpicker and hybrid picker in the style of Robert Bowlin.  Americana is in fine hands in northern Greece!
Fretted delights!  Yiannis has also acquired the tools of his chosen trade.  "I get my guitars mostly from European collectors, but I've gotten a few from the States, too."  After depositing my family at our hotel, Yiannis quickly whisks me away to his apartment in the northern suburbs of Thessaloniki.  "Don't worry," he says as he notices me clutching the car's armrest.  "I am a very careful driver."  I believe him, but he appears to be unique to the streets of Thessaloniki!  These streets make the roadways of New York City look like a sleepy, Midwestern village.  Only the fearless dare tread here.  As Dario will later observe, "On these streets, a pedestrian is a target!"
Once we arrive safely at Yiannis's lovely second floor apartment and I stop trembling,  he asks which instrument I'd like to play first, I state without hesitation, "The newest, of course."  See, I know that Yiannis has just returned from Tübingen, Germany, and the shop of Rudie Blazer and Willi Henkes.  He's brought with him a shade top D-18 just completed by these masters of vintage guitar recreation.  The guitar lives up to the B&H reputation:  immaculate construction, perfect playability, and an out-of-the-box vintage tone.  To prove that this guitar is no fluke, Yiannis next hands me a 1996 000-42 style B&H.  Ah, now this is a fingerpicker's dream guitar.  And, I get one more modern guitar, a Frankie Montuoro dreadnought.  I am a Larson Brothers guitar fan (see my article in Fretboard Journal issue 15) and Yiannis immediately notices my eyes light up as I pick on this guitar.  "I knew that would be a guitar for you," he observes.  And, indeed, Yiannis finds it difficult to pry this impeccable Euphonon recreation, complete with gorgeous varnish finish, from my hands.  But, vintage guitars beacon.
The vintage guitars are stellar, too.  Yiannis offers three vintage Martin dreads worthy of our UMGF connection:  1940 D-18, 1951 D-28, and 1953 D-28 with an oh-so-rare Adirondack top.  Plus, to satisfy my Gibson obsession, Yiannis hands me a Roy Smeck Radio Grande, Banner J-45, and script logo LG-2.
Playing through these offerings most certainly leads me to work up an appetite and a thirst.  No worries, though; our intrepid tour guide has plans for us!
To the taverna!  When in Greece, eat as the Greeks do.  And, we've got Yiannis to choose the restaurant and order the food and drink.  He has chosen "Full Tou Meze," or "full house in snack."   "This is a traditional Greek tavern, in the old style," he says as he guides us through the interior of the shop where spices and other dried delights hang from the ceiling.  Pointing to the glass-topped case, Yiannis adds, "In the old days, people would shop here and then take the food home or eat it at the tables outside."  We sit at the outside tables on this very warm evening while Yiannis orders up a delectable delight from the menu.  We have Greek salads of several varieties and a wide range of traditional entrees like souvlaki, other traditional Greek meat dishes, and pita breads.  To be honesty, my family and I are unsure of the names of or ingredients in the dishes we consume.  But, we do know one thing:  all of it is fresh and delicious.  As Yiannis says, "I believe that Greek food is the best because it is always made of fresh ingredients."
And, a word about our libations.   Let's begin with mastic, though we'll consume it after our meal as a digestif, because it supplies a basic ingredient for our other liquids.   Mastic, distilled from a resin harvested from the conifer Pistacia Lentiscus, has been used for thousands of years in Greek cooking.  Drunk alone, it is a pungent and tangy drink.  Add a bit of that resin to white or rosé wine and you get retsina.  Add a drop or two to alcohol that has been distilled to 96% purity, flavor it by aging it in a copper still and adding a splash of anise, and you get our third libation, ouzo.   Enjoy modest amounts of all three while dining with the perfect host under the Grecian sky and you can begin to understand the friendships we will have formed by the end of our Gathering.
Day Two
A bouzouki or three?  Our first stop today is at the fourth generation luthier's shop, MOYCIKΛ OPΓΛNΛ, or Music Organic.  Manolis Venios founded this shop a century ago in Istanbul, Turkey.  He later migrated to northern Greece, where he built bouzoukis, guitars, ouds, lutes, mandolins, and tzouras.  His son Kostas Dekavalas later joined him in the family business.  Kostas retired in 1990, but his son Victor now carries the flame.  In 1973, then 14 year old Nikos Sakalis apprenticed at the shop to learn the craft.  Victor and Nikos "make the best bouzoukis in all of Thessaloniki," Yiannis tells me.   But, because I'm unable to play even the modern eight string bouzouki, let alone the traditional six string version, I reach for a Greek "folk" guitar.  It's a steel string, 14 fret guitar with a vaguely classical body shape.  "It has ladder bracing," Yiannis tells me, as I discover to my delight a perfect blues guitar.  That bracing together with the traditional folk woods of maple back and sides, Spanish cypress neck, and cedar top make the instrument light, responsive, having minimal sustain, and loud.  Think perfectly crafted vintage Stella with eastern European decoration and selling for 1500 to 2500€.  You can view the shop's offerings at   http://kostas.dekavalas.gr/
Swingtime Quintet.  I had begun to fantasize that if I moved to Thessaloniki, I could be the second best guitarist (to Yiannis, by a very wide margin!) in a metropolitan region that's home to one million people.  Alas, I am about to be disabused of this notion.  Yiannis is taking me to meet his jamming buddies, fiddler and banjo player Stergios Loustas and guitarist Kostas Liagouras.  They are two member of the Swingtime Quintet, a Gypsy jazz band that has been performing around Greece since the summer of 2007.  Fresh from May's DjangoFest in Athens, these two can switch effortlessly from the music of Gypsies to that of Bill Monroe.  I find myself mesmerized while I sit in northern Greece and hear Minor Swing followed by Footprints in the Snow.  And, these guys are polite enough to join me in my fingerpicked arrangement of Henry Mancini's Peter Gunn.
After a couple of hours of picking and grinning, we must leave to meet Dario at the airport.  But, you can visit the Swingtime Quintet's website to enjoy their music whenever you choose:   http://swingtime.gr/
A gathering.  I find it a curious sensation to wait at an airport 4,000 miles from my home to greet a friend's arrival.  But, that is indeed Dario's smiling face rounding the corner.  We're long time e-friends and met a couple of years ago for a memorable day at John Monteleone's shop on Long Island, New York (which I chronicled in Fretboard Journal issue 12).  Yiannis has visited Dario (and his guitar collection!) in Bucharest.   After a warm welcome, we whisk Dario away to our favorite taverna for another round of traditional Greek food and drink.  This time, we are entertained by an Albanian duo on guitar and accordion.  Guessing our nationalities, they launch into an Italian folk song for Dario, followed by Let it Be for my family and me.  Continuing the cultural doppelganger, we conclude the evening on the Reggae Rock Cruise around the Thessaloniki harbor on an absolutely perfect night under a nearly-full moon.  The boat returns us to shore at 1:30 am and we make our way to our hotel with visions of fretted instruments dancing in our heads.
Day Three
Greece's best guitar collection.  This morning, we finally get down to some serious guitar-geekness:    playing and talking through Yiannis's collection.   Yiannis favors us with splendid flatpicking and fingerpicking of the same tunes on guitars of different eras and woods.  .  I pretend to hear the differences, though I've been so mesmerized by his playing that I've checked my geek credentials at the door.  Dario is a connoisseur of fine guitars and even boots up Yiannis's computer to show us photos of the bracing design of his in-progress Jeff Traugott guitar.  But, he's a fine guitar player and singer, too.  He performs beautiful renditions of songs from sources as diverse as Gillian Welch and Jethro Tull!  Once again, I have attained my peripatetic goal of traveling long distances in order to be the worst musician within a large radius, and what a pleasure it is to enjoy the music of others.
A farewell meal.  Alas, it is time to part.  Dario will fly home this evening and my family and I will board an overnight train destined for Istanbul (a whole 'nother story!).  So, we resolve to do what Greeks do best:  dine.  Yiannis and his wife Anna take Dario and me to an absolutely stunning open-air café on a hilltop overlooking the Thessaloniki harbor.  Finally, the oppressive heat has broken and a delightful breeze blows in from the ocean.  As we watch the sailboats on the Aegean Sea, Yiannis scours the menu for new taste sensations.  The waiter brings some now-familiar dishes and some species of fish that we've not yet taken.  As we chat about these tasty treats, Yiannis regales us with stories of working the family boat with his now-retired fisherman father.  But, talk soon turns back to guitars and music.   We make plans to "gather" annually in one another's homes.  Yiannis's tour of the culture, cuisine, and music of his homeland has inspired Dario and me to offer the same.   We three have made a connection here in Thessaloniki that will endure.  As Henry Wadsworth Longfellow put it, "Music [truly] is the universal language of mankind."
Epilogue
Of organic guitars.  Finally, I offer photos of my gigs in Athens and Istanbul and an explanation of my guitar choice (but not shirt choices, which remain inexplicable).  My research on my topic in Athens conference – The Impact of the Convention on International Trade in Endangered Species of Wild Fauna and Flora (CITES) on International Cultural Musical Exchange –  as well as my article on that topic in Fretboard Journal's issue 11 (and available online:  https://www.fretboardjournal.com/features/magazine/guitar-lover's-guide-cites-conservation-treaty), has made me cautious about crossing an international border with a wooden instrument.  CITES is far ranging, little known, rarely enforced, but fraught with perils.  Still, though, I'm committed to my personal goal of establishing a world record of the widest margin between a musician's musical skills (in my case, low) and gig venue quality (on this trip, quite high:  the Sky Bar in Athens and the Sea View Bar and Garden Café in Istanbul!).  So, prior to this journey, I purchased an organic guitar.  OK, I know that it's synthetic, but I recall from college chemistry that any compound containing carbon is organic.  My little Composite Acoustics Cargo model guitar is pure carbon and, therefore, purely organic.  It's my first experience with a carbon fiber guitar and I can't speak to similar guitars made by other manufacturers, but I love this little guitar.  With an 0 width body and 22.5 inch scale length, it's small enough to fit into any airplane overhead bin, yet large enough to be very playable.  It sounds fine, with a particularly impressive bass response, plays very well (though the short scale length impacts intonation and makes careful tuning critical to enjoyable playing), and is completely immune to changes in temperature and humidity.   This thing is sufficiently sturdy so that you'll not worry when someone crams a laptop and bag on top of it during your flight to your destination, yet the instrument is both light and responsive.  Moreover, what's not to like about a guitar that can withstand being doused liberally with any of the traditional Greek substances, be it ouzo, retsina, or mastic, and remain unaffected?
Χα?ρετε!  (Good bye!)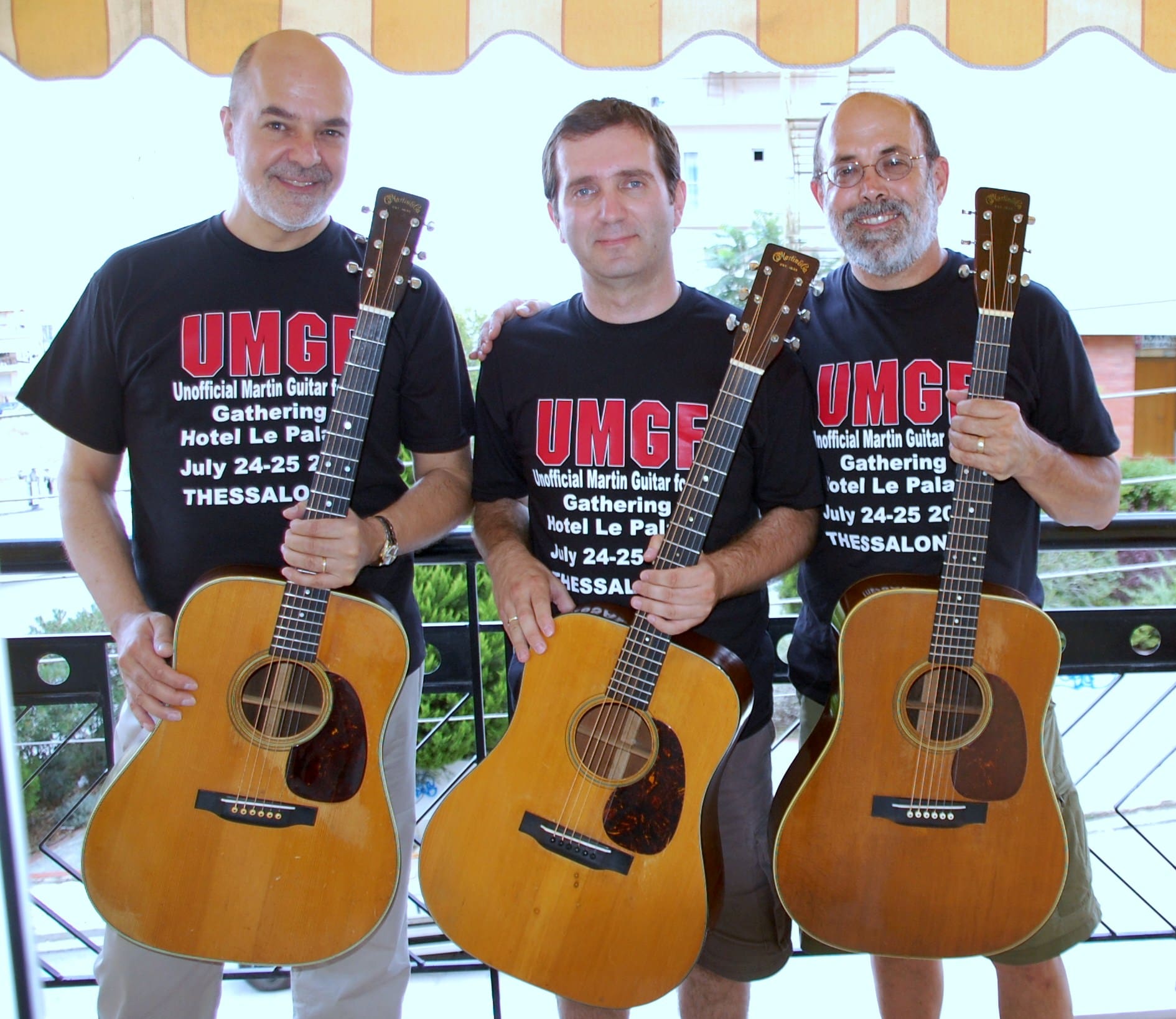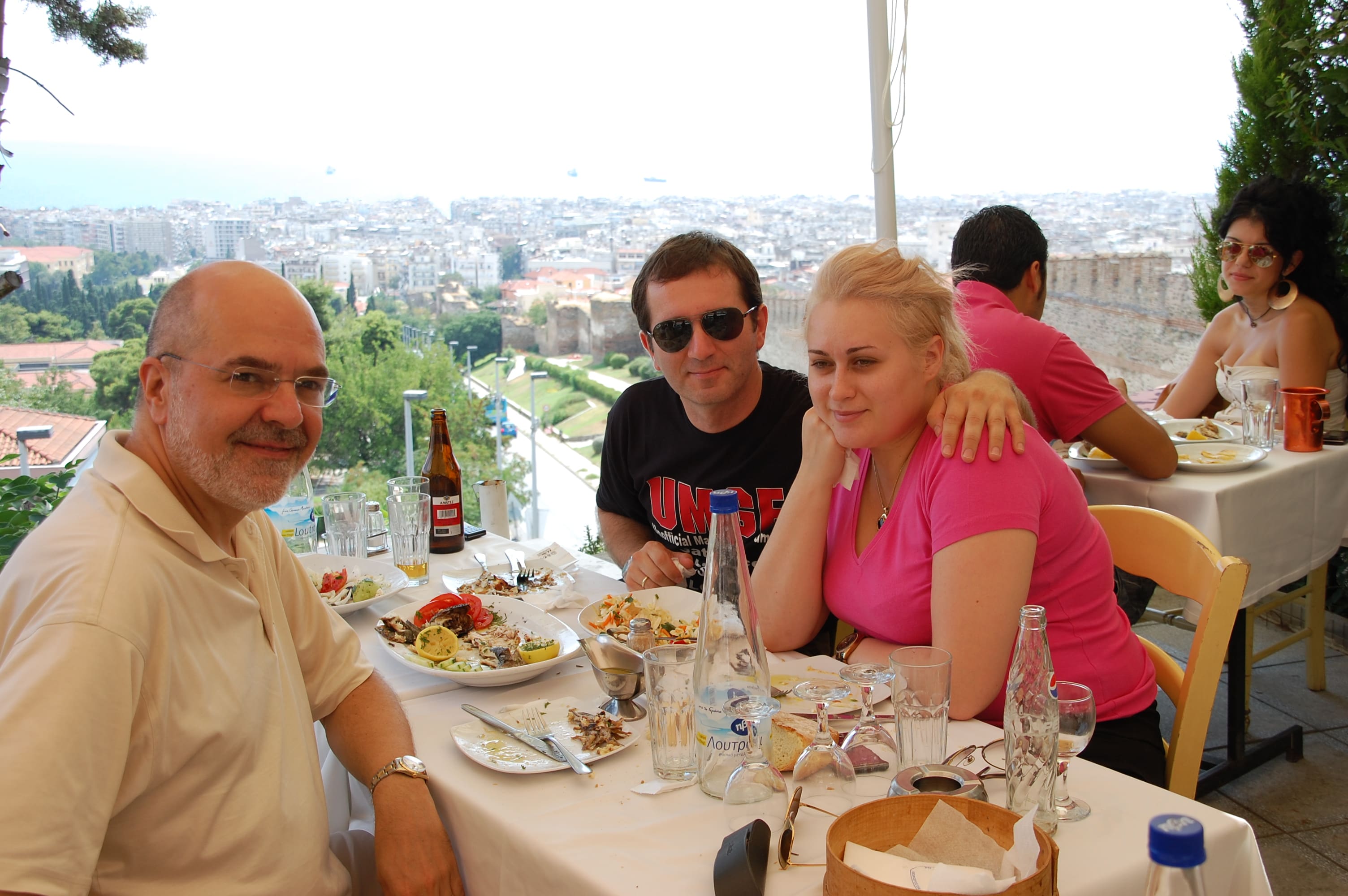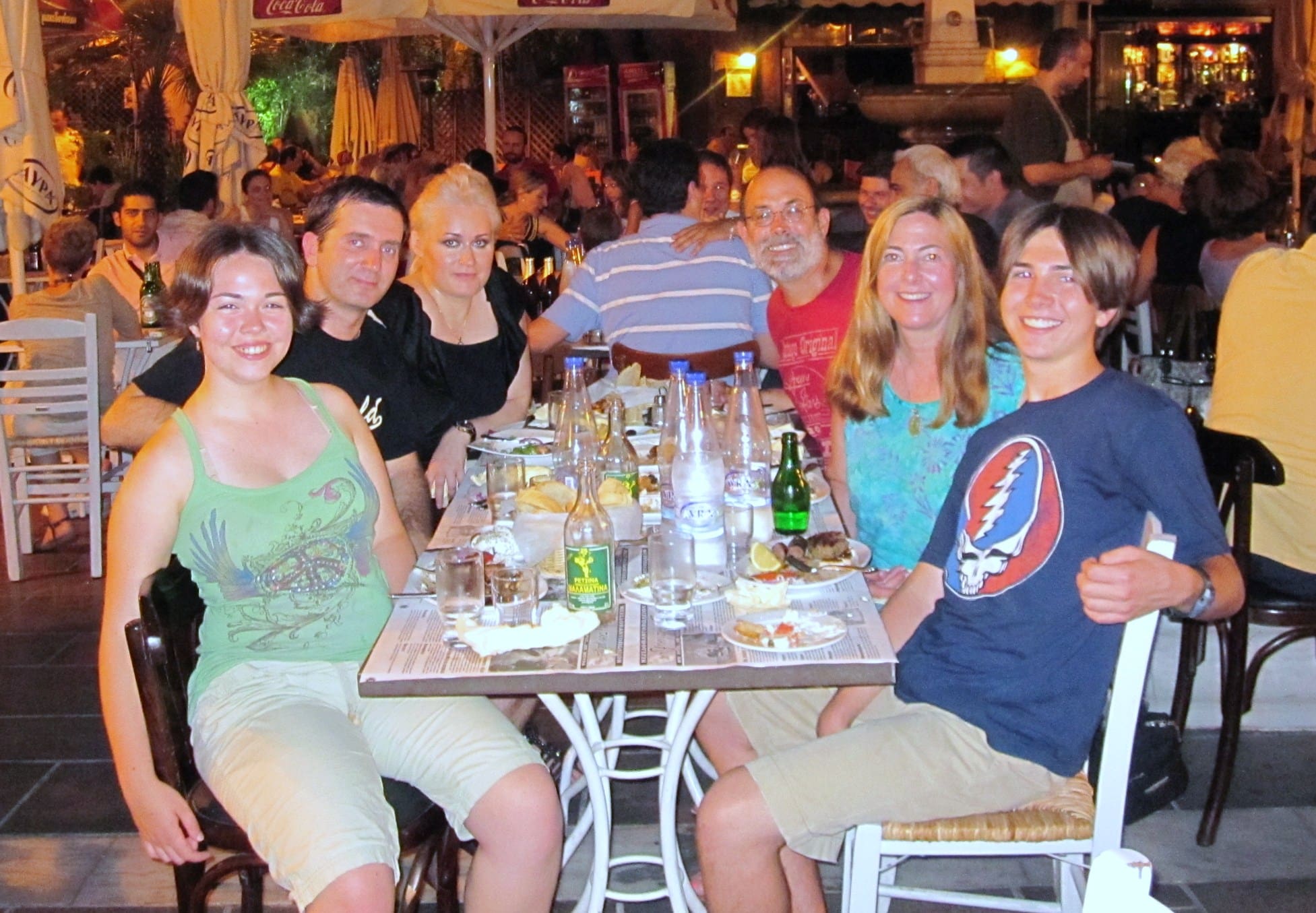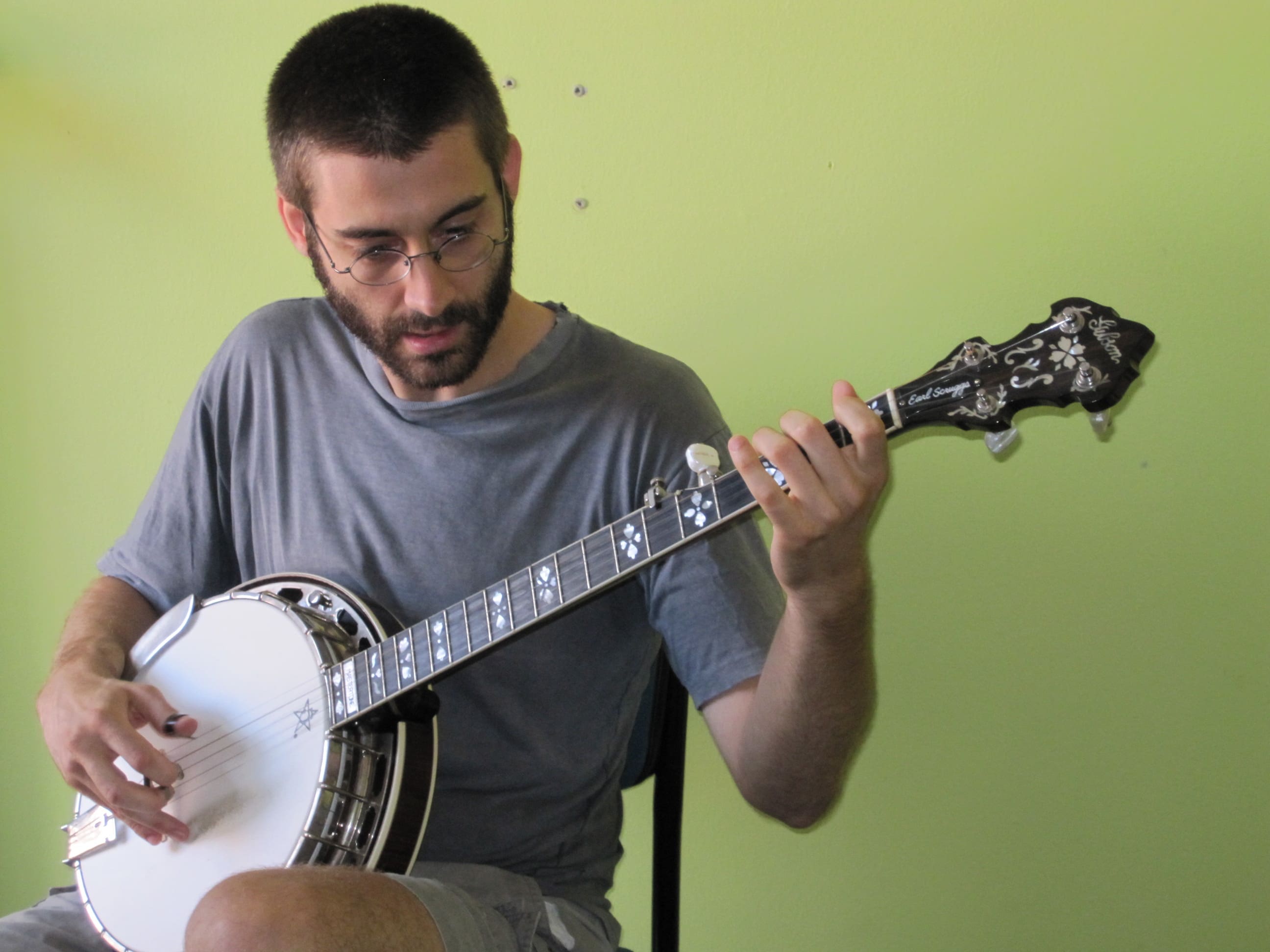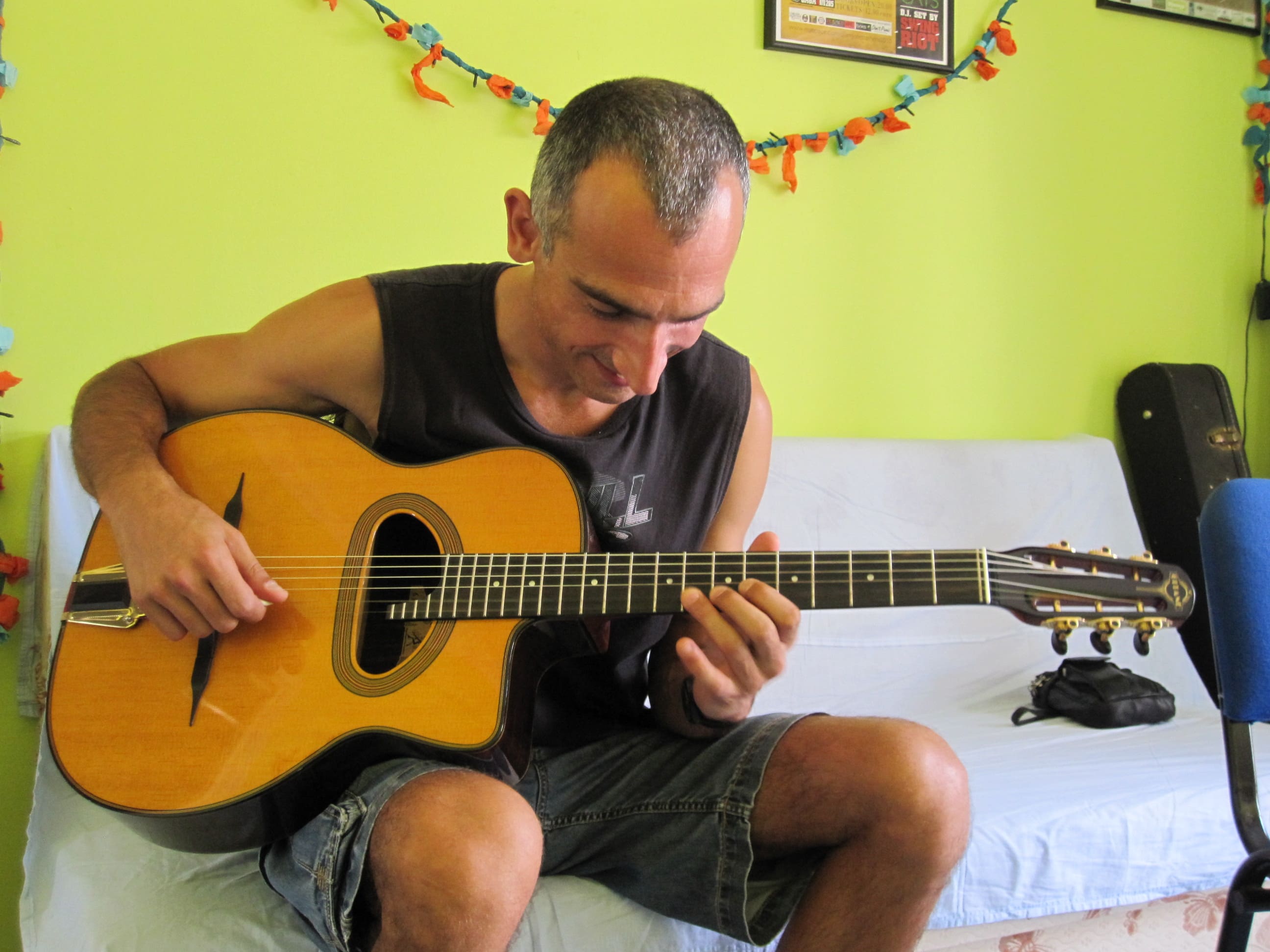 Photography by Grace Thomas, John Thomas, Yiannis Gougourelas, Anna Kovanides and Dario Ronco.