As many longtime readers know, the FJ doesn't usually review new albums. There are plenty of outlets for that craft and we'd much rather do what we do best: Chronicle the artists (players and builders) that we find fascinating, let them tell their story in an in-depth fashion and let you decide for yourself whether they're worth checking out. It's a formula that continues to work. And if it ain't broken…
That said, last Tuesday a record came out that was too good not to share with you right now. It belongs to a twenty something artist named Blake Mills and is entitled Heigh Ho. It's really good, it's like nothing else being churned out of the music industry today and I hope you'll give it a chance.
I was first tipped off to Blake after his 2010 album, Break Mirrors. His guitar playing was stellar but his songwriting – especially on moody tunes such as "Wintersong" and "History of My Life" – stole the show. Just who was this scrawny guy on the cassette cover? (Yes, I was handed a cassette version of Break Mirrors … in 2010.)
Since that record's release, Mills has been busy, to say the least. He became one of the most in-demand session guitarists in Los Angeles, playing with everyone from Kid Rock to Pink (Rick Rubin is one of his frequent employers). He curated a series of shows at a Venice Beach surf shop that would often draw Jackson Browne, Benmont Tench and other world-class players out of the woodwork to jam in public, just for the hell of it. He produced Sara Watkins' Sun Midnight Sun. He toured with Fiona Apple and Lucinda Williams, too. On the FJ front, we were lucky enough to shoot a few videos with him (here and here) and record a podcast during some of his Seattle visits.
Having interviewed him a few times now, it turns out that there are a lot of facets to Mills' background. He grew up in Malibu, steeped himself in guitar playing as a young teenager and studied under Bob Brozman for a few years (convincing his dad to drive him five and a half hours each way to Santa Cruz for lessons). He was also a member of the then-nascent Dawes (at the time known as Simon Dawes). Beyond that, he is just raw talent: able to command a stage with a full-band and a distorted Telecaster or by himself with an old tiple. (He also, believe it or not, won a shred contest blindfolded.) Eric Clapton invited Blake to his 2013 Crossroads Guitar Festival and told Rolling Stone that Blake was the "last guitarist I heard that I thought was phenomenal." When I asked Jackson Browne what he thought of Blake he said simply, "You can't really describe what he does, there are no terms."
That's the back story. Now Blake has a new record featuring an all-star band that includes Don Was, Jim Keltner, Benmont Tench, Jon Brion and Fiona Apple. It's a throwback, for sure, a true album where great songwriting is just as important as great guitar tones (rest assured, fellow gearheads, the guitar tones Mills gets are out-of-this-world). It reminds me of the classic Southern California LPs of Ry Cooder, David Lindley and Randy Newman—unique arrangements, insanely good playing and memorable tunes. It's powerful stuff, music that makes me want to drop everything and get in my car right now with the stereo cranked up.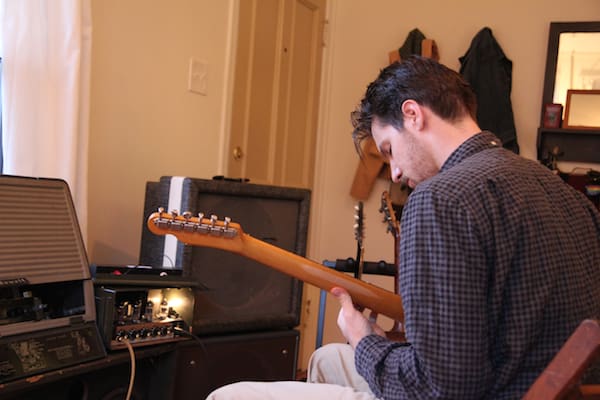 Interested in hearing what the fuss is about? Check it out on Spotify or buy it on Amazon or whenever else good records still get purchased.
Blake will be our special guest on Tuesday, September 23 as we broadcast our latest installment of Fretboard Journal Live. We hope you'll watch it (just visit our homepage or YouTube channel, you'll find it). Consider also seeing him on tour; you won't be disappointed. I can also spill the beans that I'm writing a big feature on Blake for our 34th issue.
Thanks for your time. Now back to assembling the world's best guitar magazine and not reviewing 99.99% of the music we hear about.
Jason Verlinde
Publisher
[All Photos: Mark Stutman]