I get the sense that Anthony Paine took as his professional motto the immortal words of the Godfather of Soul, James Brown, who declared, "Whatsoever I play, it's got to be funky." We're big fans of the instruments Anthony makes at Harvester Guitars, undeniably funky guitars and basses drawing from the quirky and unusual creations that came out of Italy and Japan in the '60s, equal parts Space Age Kitsch and Mid-Century Modern. His designs embrace a similar backward-/forward-looking aesthetic, almost whimsical, crafted with Aussie-centric materials, invariably like nothing you've ever seen before, regardless of influences and inspirations. Michael James Adams penned a lovely feature for us in Issue 39 that you ought to check out, if you haven't already.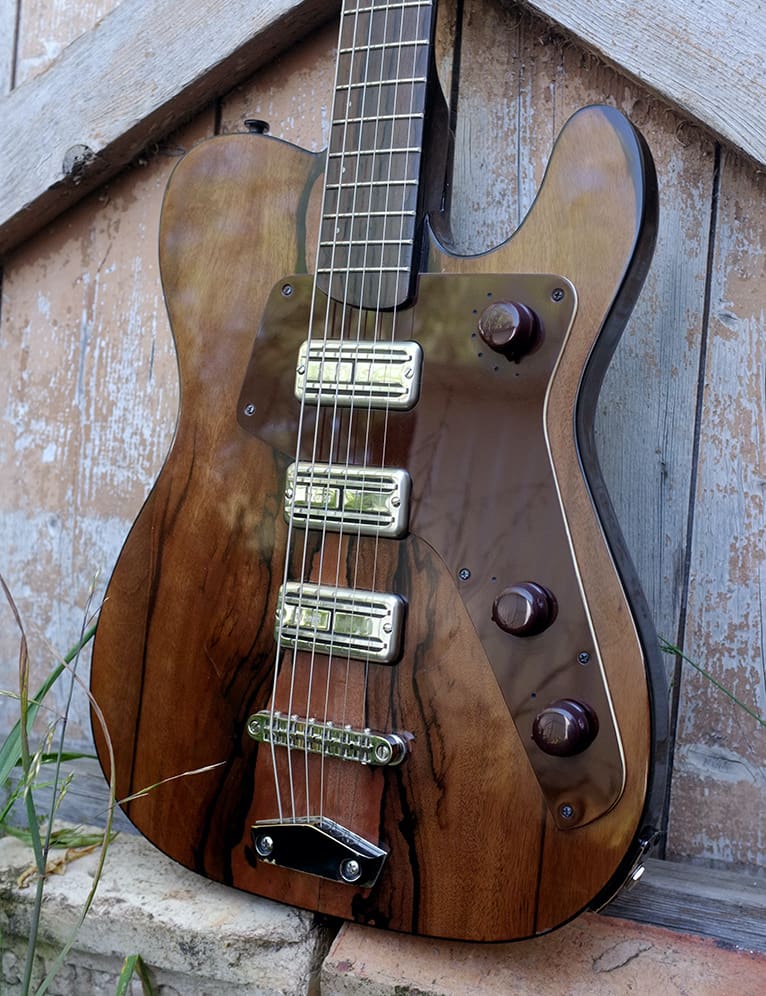 Anyway, Anthony has also built a half-dozen or so Telecaster-styled instruments, a model he calls "Simpletone." That said, even those don't hew particularly close to tradition. Take, for example, our latest Catch of the Day, a Simpletone baritone. Anthony captured the details perfectly, via email:
Ebony top, koa headstock, ziricote board, Queensland maple body and neck.
Many glorious TV Jones Super'tron sounds across 6 rotary switch positions.
Black lacquered brass parts inspired by my old film cameras.
In a typical mess of Imperial and metric measurements as used by an Australian of my age:
weight just a little over 7 lbs
fretboard radius 12″
nut width 42.5mm
neck depth at 1st fret 21mm
neck depth at 12th fret 23mm
The neck carve is, as he says, "Fender-esque, inspired by Jazzmaster necks I have known." With a 28.5" scale length, the guitar is comfortably tuned B to B, while the set neck joins at the 15th fret, which pushes the bridge well towards the endpin but keeps the instrument from getting unwieldy, like the old Fender Bajo Sextos could be. That neck positioning also means that the guitar fits in a standard Strat/Tele case or gig bag, which is a huge win. Looking at it, it's unmistakably a Harvester, from headstock to tailpiece, right down to its Josie and the Pussycats in Outer Space pickguard.
"The Telecaster shape is one of my favorite cookie cutters in the rack," he confessed. "The challenge is to make something of it, rather than trying to match, let alone beat Leo at his game."
Those TV Jones Super'Trons are an inspired choice for a baritone. If you're not familiar with them, think of a sweet blend of classic Gretsch and Gibson Firebird, a bit of a spanky quack, with a strong midrange. The 6-way rotary provides the five typical Strat settings (Neck, Neck + Middle, Middle, Middle + Bridge, Bridge) plus Neck + Bridge. Rotary switches take some getting used to, particularly switching on the fly, but their versatility is undeniable.
Anthony is selling this guitar himself, priced at $3,300 (US), with a case. Shipping options worldwide start at $180 (US). Contact him for details, via email at anthony (at) harvesterguitars.com or his Instagram account.