If there's one thing that comes up regularly talking to builders in the Bench Press, it's the constant struggle between Tradition and Innovation. It can be internalized, a battle of Influence vs. Ambition (while Inspiration play's Devil's Advocate on both sides), but external forces loom large: there are only so many musicians eager to embrace the new. So, innovations tend to be small, really just tweaks: a belly cut on a Telecaster, a bevel on the lower bout of a dreadnought. You can see it just about everywhere you look: even the Big Guys, Fender and Gibson, have a difficult time and end up spending more time looking back rather than forward.
Which brings us to Shelton Electric Instruments. After years at the helm of a used/vintage shop, Shelton Breeden started building guitars, and he was intent on tweaking, with an eye always on stepping past tradition. We reached out, and had this chat.
Fretboard Journal: What's on your bench right now?
Shelton Breeden: Currently we are hard at work on the first batch of Solar Arrows. These are a continuation of our own reverse offset shape, first seen on the SolarFlite and Solar-Sonic models. It's the same basic perimeter shape but the new Solar Arrows have some deep sculpting and bevels to set them apart. It's basically all of our style vocabulary in one guitar–lots of curves and twists with defined lines. These will be more rock-oriented than our other models and will have more humbucker and P-90 combos, plus simpler stoptail designs. At one point, we may even explore a Floyd [Rose locking vibrato] on them. The first run of three prototypes should be ready in November and then, hopefully, we'll ramp these up in 2018.
FJ: Your guitars are, to put it mildly, eclectic. Where do you find inspiration?
SB: Thanks! I'm fairly omnivorous in terms of guitars. I can find something to appreciate about anything, whether it be a hair metal shredder or a Japanese mystery wood plank. I think one thing that we've gotten pretty good at is communicating these subtle psychological cues from a variety of sources without being overt. When you look at our most recent stuff, hopefully you're seeing something besides the obvious influence. I think our Solar-Sonic does that pretty well. It rewards you with more every time you look at it.
A lot of stuff from outside the guitar world spills over into what we do. I love automobile design. There's a lot of materials choices that we've pulled from cars. A lot of our aesthetic comes from the stainless/aluminum/plexi combos and a great deal of that comes from looking at older car interiors. Our headstock and logo owes a lot to the fender "coves" on a 1960 Plymouth Fury.
We're definitely informed by a lot of pop culture. Science fiction, comics and old movies. When I went to work on our TimeFlite AMX model, I wanted it to have this gritty, Charles Bronson look. The Solarbird models all have a shape that looks almost like a Japanese cartoon from the '80s.
We're always eager to evolve our design language. We're constantly tweaking the headstock shapes and pickguards. It's an ongoing process and nothing is precious.
At one point, my goal is to do something that is completely our own design from start to finish. A lot of the peanut gallery will say, "Oh great, another offset," but then will either ignore you or throw tomatoes at you if you try something new. I don't know how many comments we've gotten like that from guys on Facebook and then you look at their profiles and all they play are S- and T-shaped guitars! The reality is that we have to make things that have some commercial appeal right now until we can do completely original stuff.
FJ: You use some unusual pickup configurations–that nifty double-bridge pickup setup offered on your "SkyFlite" model, the stealth neck pickup on the "TimeFlite"–can you tell us about those?
SB: A lot of that is my love of gadgetry and excess. The more the better. Having said that, the four pickup SkyFlite is amazingly versatile. I spent a lot of time working out a system to get the maximum amount of usable settings from those pickups: 21 settings from four pickups and three push pulls. The only thing I didn't get in there was phase switching. The feedback we've gotten from players has been tremendous on what you can do with it.
The "stovebolt" stealth pickup was something I always wanted to do. The way that particular pickup is voiced, it has a sort of low-powered P-90 archtop presence to it. It's pretty wild.
Ideally, I like a bit of extremes on the pickup voicings. Something hot that can drive the input at the bridge, and something that is a bit rounder and clean at the neck. We like middle pickups. You can add in a nice quack or get a nice clean tone out of a middle or even throw in something from left field.
We try to pack a lot of features into our electronics. Most of our two-pickup guitars have a 5-way switch where you can get your normal three positions plus a series setting and a cool treble roll off that's somewhere between a cocked wah and an old Gretsch mudswitch. We also do a 5-way switch that does some cool stuff with series/parallel. That particular arrangement when loaded with Porter Wide Ranges gives an almost Dynasonic-loaded Gretsch sound on some settings. Our GalaxyFlites ditches the traditional rhythm circuit in favor of series switching, a bass rolloff and the tone rolloff. The tone rolloff is great with a fuzz. The SkyFlite IVs have a wild twenty one settings out of four pickups.
FJ: Do you have a favorite guitar that's crossed your bench?
SB: Yeah, they're both mine! I ran my own used guitar store for over 10 years. We had literally thousands of guitars come through. The best ones are my 1956 Gibson L-5 CES and a 1960 Guild Aristocrat. Both are players with tons of wear and changes but they sound great and, more importantly, feel incredible. The L-5 has this V neck that's way thinner than it should be for a '56. It's been refretted and dressed down to that great played-in sweet spot. Mega low action at the nut. Super easy to play. Someone ditched the Alnicos for regular P-90s but boy, do they sound great. The Aristocrat was stripped to natural. It weighs absolutely nothing. It has two Franz soapbars that are so microphonic you can practically sing into them. It sounds raw, ragged and on the edge all the time. Both of these guitars have spruce tops. It's one thing that I know 100% makes for a great sounding guitar that not many folks are doing in electrics. We're definitely going to explore that in the future.
FJ: Can you tell us about your shop?
SB: We just moved out of our old shop in Harpers Ferry, West Virginia. It was an old temperance hall from the turn of the century and the whole vibe was definitely wild. The upstairs was used as a movie theatre by an African American fraternal society around the same time. It was definitely an interesting space but the time was right to move on. There's big talk of development and tourist money in the town so our building owner decided to sell.
Currently, what we can't do in my basement or through contract work, we do in our buddy Marty Fair of Fairbuilt Guitars' shop. He's a talented luthier who has been a great asset to us.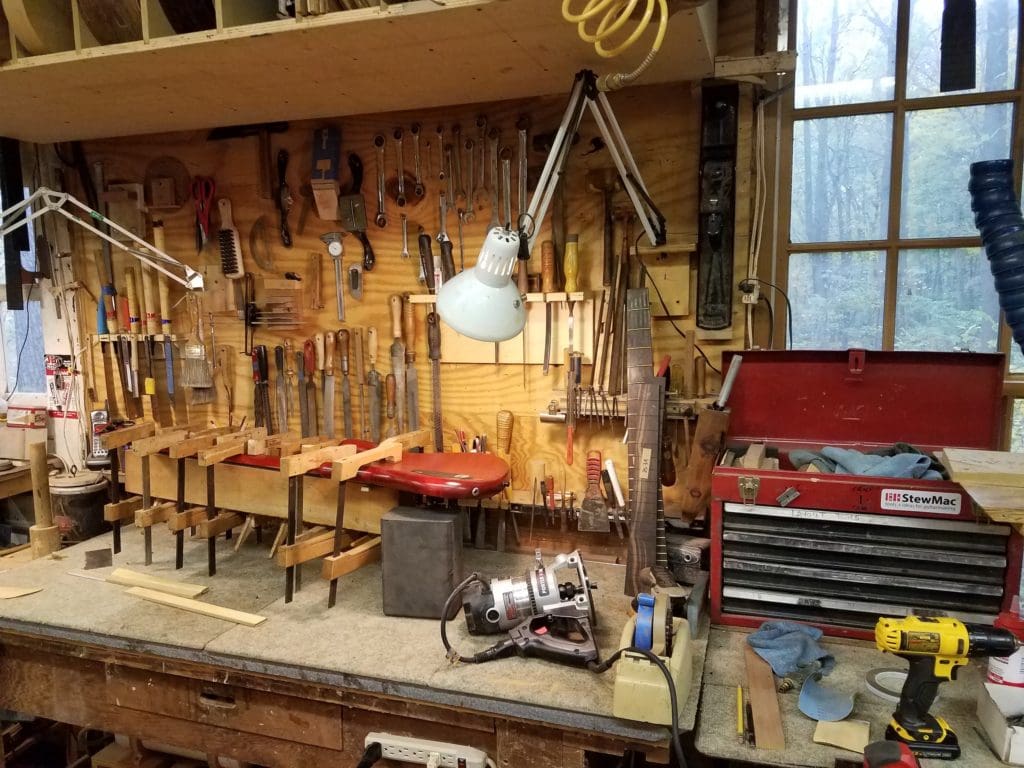 FJ: Do you have a particular philosophy about wood/materials?
SB: I'm fairly agnostic about a lot of the build process. Being a product guy, I'm really only concerned with how the end result turns out. I don't have a fetish for exotic woods or needlessly complex production techniques. There's some obvious attributes of different woods that are well understood but I've always tried to avoid the smoke and mirrors of much of the premium marketing of stuff like this. The end product is what matters and I think our stuff stands up to some stiff competition.
We're not ashamed to use CNC or contract manufacturing to get the right product at the right price. Adherence to a set of specifications is a lot more important to me than the cachet and illusion of some guy hunched over a workbench covered in wood shavings.
That's one of the things that sets us apart from the clone guys. Our GalaxyFlite may have a similar shape to other guys' guitars, but everything else is completely our take. We spent a lot of time tweaking that design and revising the neck angle, pocket depth, rout, etc. The end result is our guitar is much more than a clone. Anyone who plays one can attest to the improvements in playability we've made to that design without having to cheat with buzzstops or other silliness.
FJ: Are there any upcoming projects that you're particularly excited about?
SB: We've got a lot of great things coming. We're building a couple GalaxyFlites for Anthony Pirog that will be amazing. They will have piezo MIDI pickups that we can't wait to hear. He's working on a record now with the rhythm section from Fugazi and is probably one the best guitar players we've heard. We're super happy to be working with him. We're also doing a new variation on our TimeFlite series. The TimeFlite Archer will be semi-hollow with a mahogany back and a spruce top. Pickups will be Gold Foils in a mini humbucker footprint. This will sort of be a new take on a Stratotone. This guitar sort of came up brainstorming with a customer. That's what we love to do: Collaborate and create new stuff!