The Fretboard Journal #5, ten years old now [and sold out long ago], was one for the ages, wasn't it? You got Tony Rice and that legendary D-28 on the cover, Taj Mahal, Bill Kirchen and Stefan Sobell inside, not to mention Michael Gurian and Rick Shubb… that's a whole lot of sweet spots hit. I got it in my hands at an interesting time, having recently turned 40 and treated myself to my first fancy-pants, luthier-built guitar. Enough time had passed since the occasion, though, that I easily fell victim to another bout of G.A.S., so, while Bill Kirchen stoked my chicken-pickin' aspirations, I found myself spending too many stolen moments at work digging into the deep recesses of Stefan Sobell's website, wondering how the hell I was going to scrape together that kind of money…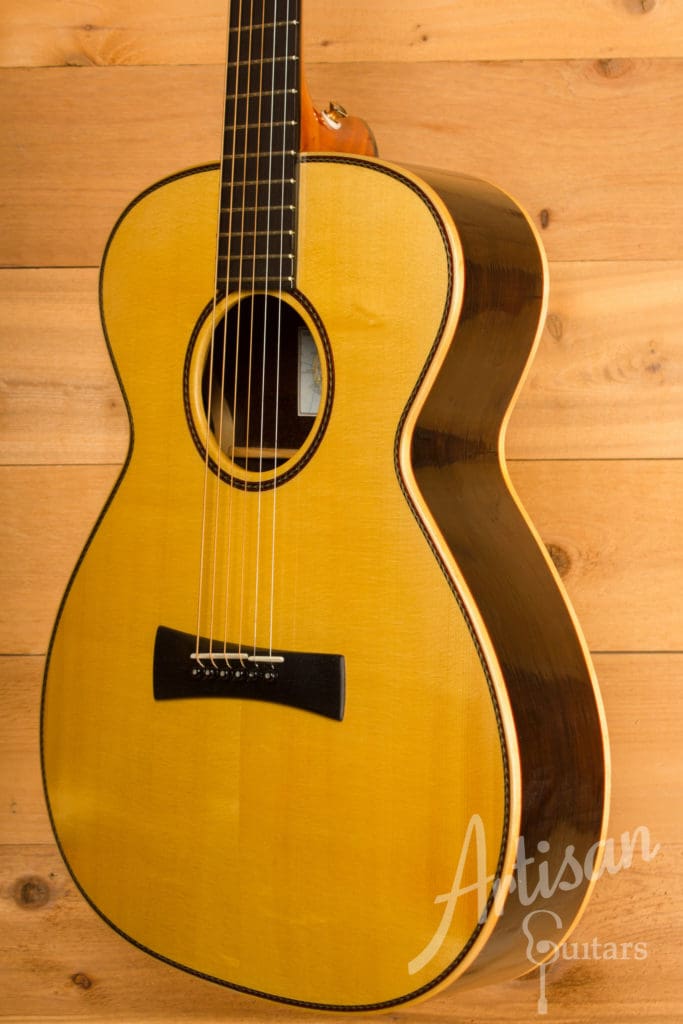 If I'd managed to land myself on Stefan's waiting list, it's quite possible that today's Catch of the Day, a 2008 New World Model at Artisan Guitars, could've been mine (and for less money, to boot–though you gotta think that CITES restrictions are going to do interesting things to the secondary market for exemplary instruments in Brazilian rosewood). I flip-flopped back and forth between the New World Model and the Model 1, occasionally pondering an Arch Top…there was correspondence with Stefan, but I never pulled the trigger.
Now, of course, well…I still can't pull the trigger, but this guitar certainly turned my head. Stefan describes the New World Model as "inspired by the classic small US guitars of the '20s and '30s…a little over 000 size with a 25.3″ scale and more lightly built than both the Martin Simpson Signature Model and Model 1." This specimen sports some lovely, dark chocolate Brazilian rosewood for its back, sides and headstock overlay, an Adirondack spruce top, Cuban mahogany neck and African ebony fingerboard and bridge. The appointments are the New World standard, it sports its original Calton case, and a K&K Pure Mini pickup has been added (thumbs up, if you ask me–simple and effective, just like my prom date).
For better or worse, we can't say we've had this one in our hands and, sadly, Artisan hasn't provided a video (yet?), but they give it a pretty good description, "This guitar covers every end of the tonal spectrum..deep musical bass, crystaline trebles, dynamic presence and volume incongruent to it's smaller size…This instrument is in Excellent Condition with light surface sctraches on the back as well as a few on the top. There is also some lightly visible lacquer sinking around the braces on the top of the guitar." That's probably all it really needs–chances are this guitar will sell on the strength of the Sobell name and those tonewoods long before I can figure out a way to put together $14,999…and I still can't pull off those Bill Kirchen volume/tone swells, either.