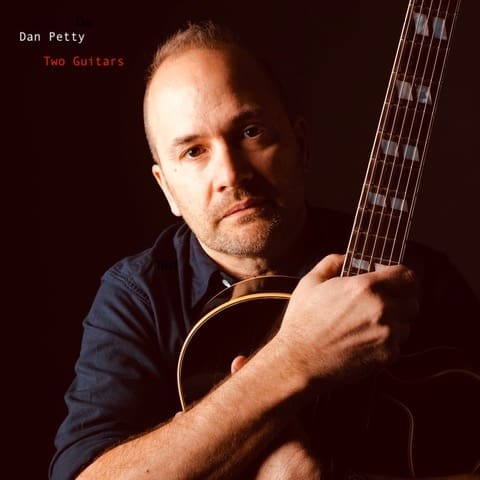 They say there hasn't been a pandemic baby boom. I'm not so sure. My dog's bestie's owner popped out a daughter (Blair, 7 lbs 11oz) a couple months ago, my neighbor emerged from a typical Seattle hibernation very pregnant and gave birth to a daughter soon after (Monroe, 8 lbs 8 oz), and, wouldn't you know it, lots of other pandemic projects have been coming to term: everything from Monica Frisell's ark to a slew of new records recorded in home studios solo or via long distance collaboration. It's those solo projects that have really caught my attention, most recently a solo/duo Gypsy jazz guitar record, Two Guitars, made by the guitarist/composer/producer Dan Petty.
Dan's home studio is also his home office, where he and his wife, the songwriter/activist Michelle Lewis (a friend of mine since the '80s) do their day job, writing and producing music — including songs and incidental music for shows on Disney and Nickelodeon, like Doc McStuffins, The Loud Family and Muppet Babies — with their writing partner Kay Hanley (of Letters to Cleo fame). It's a significant step up from what most of us have kludged together in a quiet corner. "We have a good setup here," Dan admits. "Every once in a while I'm in other studios, but I do pretty much everything here."
As pandemic projects go, Dan's is a joyful thing, filled with absolutely scorching playing and featuring a crazy mix of songs: Gypsy jazz canon ("Blues En Mineur" — check out the video, below), classic bop ("Donna Lee") and serious jazz guitar workouts (Mike Stern's "Chromazone," which we included on our May playlist, and Pat Metheny's "James"). Pretty much the whole thing is Dan laying down a rhythm track (mixed left) then recording the melody and a solo over the top (mixed right), with the notable exceptions of the aforementioned "Chromazone," which features a doubled melody and Tim Lefebvre on bass, and "South American Way," featuring vocals from The Goods, Michelle's Andrews Sisters-inspired project with Holly Palmer and Lucy Woodward. Two Guitars is the kind of project that begs for an explanation, even when you know it defies explanation. Some things you do just to do them, these days more than ever. Still, I had to ask, so I reached out to Michelle to see if Dan would be willing to talk to the Fretboard Journal. Turns out, even though he's a classic behind-the-scenes/sideman kind of guy, he was.
Fretboard Journal: So this record, what brought it on?
Dan Petty: You know, really just the pandemic and the the last couple of years, I've just gotten super into this style of music. I've been working on these things and I felt like I should just do something with them. I've been learning these songs and working on them and I have a studio and I have some time, so I should put it out. That was really it, with no more expectations, just recording the stuff and getting it out there. My wife was saying, "You gotta put it out. You gotta try and get it out there." And a buddy of mine that I went to college with actually is a publicist, and he heard it and he's like, "I gotta put this out for you." Again, not big expectations with it, just to do songs that I love. It's very much about the songs, just fun stuff to do.
FJ: Had you been doing the Gypsy jazz thing with other people before the pandemic?
DP: Only a little bit, not very much. I don't know many people here doing it and I've just kind of gotten into it myself, just working on and trying to learn the style and kind of getting back into really playing again. I mean, I'm always playing, but, but I've put that aside a little bit in the last number of years to work on just sessions and producing. So it's been a fun way for me to really get back into playing seriously.
FJ: Do you just have one Maccaferri guitar?
DP: I do. It's from, well, close to Portland, a guy named Bob Holo. It's become my favorite guitar. It's a whole different thing. You get one and you're kind of like, "Wow, this sounds odd, this very mid-rangey thing," but I love to play this guitar so much. Once you get the feel of it, it's just so much fun to play.
FJ: How much did you have to adapt your technique? My recollection, from seeing you play is you're more of a hybrid picker, and Gyspy jazz is a pretty strict up-down kind of…
DP: Yeah, especially to get a lot of sound out of it, you got to really dig into the guitar. I know people will get pretty specific about this rest-stroke picking thing and I've certainly worked on it and tried to work on picking more from my arm instead of moving my wrist, but I only worry about it so much… 
FJ: [Laughter] As long as it sounds right…
DP: Yeah, exactly. It sounds good…
FJ: Just the fact that you're choosing to do some songs that aren't "Swing 47" or whatever, it kind of gives you the liberty to do what you want with the technique as well. You don't need to be fundamentalist about it.
DP: Absolutely. I have no interest in being a fundamentalist about anything. [Laughter] I've played a lot of different styles of music and I've never been straightahead on any of it, which is good… for me, anyway.
FJ: I asked about the guitar to lead into the process thing. Did you record a whole rhythm track and then play over it?
DP: Yeah, that was basically the thing. Just come up with some arrangements… "Tico Tico," that's basically… Oscar Aleman who was an Argentinian guitar player in the '30s, that's a variation on his arrangement, but it's a lot of his arrangement, really — so trying to figure out how to do that with just the two guitars and trying to make that work, that was essentially it. Just playing and re-playing a rhythm track, getting that to feel really good. And then playing over that. That was really about as simple as it can be.
FJ: Was that from the get-go, or as you were working these things out, were you using loopers to kind of get through parts?
DP: No, just, just kind of from the get go. I keep meaning to start messing around with loopers, but I haven't done that, so I've just been working on the song, just putting down rhythm tracks, and, like I said, I kept them really simple, too.
FJ: How much did the arrangements change as you were working on them?
DP: There was a whole bunch of songs that I didn't end up using because they just didn't work as well for me with just the two guitars, but generally a lot of them were just pretty straight ahead and I was just trying to just make sure everything was swinging. I don't want to downgrade it, but it wasn't a whole lot of thought, really: Play the songs and try to keep it simple. That's what worked for me.
FJ: Cool. What's the recording setup?
DP: I'm using Logic here, mainly. Logic and Pro Tools and with a UA Apollo. Usually, in terms of mics, I have Wunder Audio  CM67 and an Oktava, one of those MK-012s that Michael Joly did one of the mods on, and I just put them right next to each other, a bit off from the guitar. I think the two mics works really well. I always like two mics on an acoustic guitar. That really works. And not doing the stereo X/Y thing, just pointing straight in. Pretty simple. And I have some great outboard mic pres, but I've been using the mic pres in the Apollo because, God, they sound so good. 
FJ: With the unison plugins?
DP: Yeah. I use the [Neve] 1073s, and I have like a Chandler 103 and some other great outboard things and, you know, it's just… I get lazy. It's nice to have them right in there, and, as I said, they sound really good. I kept it simple, and I try and I like to move fast. 
FJ: So the obvious odder choices of songs are "Chromazone" and "James." Can you tell me a little bit about how those got chosen  ?
DP: "Chromazone" was one, when I was in Berklee in the late '80s, anytime [Mike] Stern came out with a record, we were all over it. So, we used to play "Chromazone." I hadn't heard it for a long time, somehow it came on and I was, like, "Wow, what a great song this was." And something about it hit me like, "This would be great doing it as a Gypsy jazz thing." It just seemed kind of funny and fun at the same time… I started working on it and, and it was just a really fun one to do. 
I had to change the arrangement a little bit — I didn't want it to get too long. I also felt like the head… it was one where the head needed to be doubled. If it's only one one instrument playing the melody it doesn't, it seems like, "Is that a melody?" So I doubled it up an octave, which was much harder to play up an octave than I thought it would be! [Laughter] Down an octave's not too bad; up an octave is tough! And that had Tim Lefebvre playing bass, which was great. So it came together and it was a really fun one to do.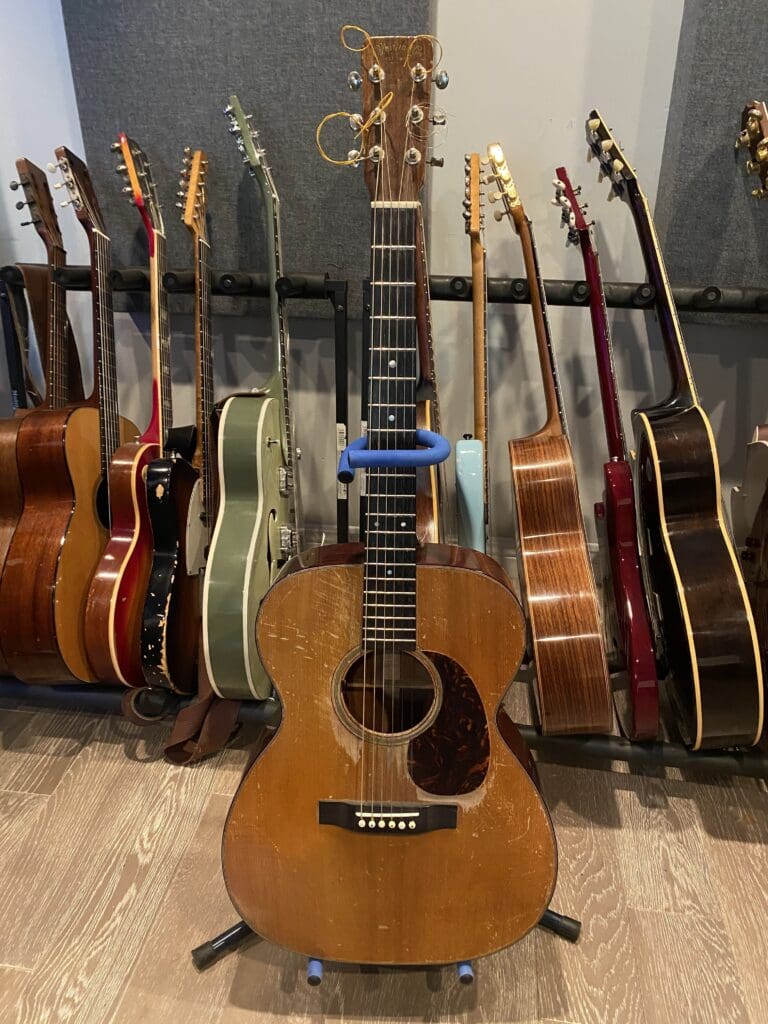 And then, it was funny: When I was looking for the music for "Chromazone," I found a chart of "James," and I hadn't thought about that song for a long time. I just started messing around with it on acoustic, and I knew it didn't really fit with the record, but I just had so much fun playing it, so I just wanted to do it. And I love the song. That's the only one I used a different guitar. I used an old [1964] 000-18, an old Martin that I have.
FJ: For one part or for both parts or…
DP: Both parts were the Martin, 'cause I was playing a lot of that with my fingers and fingers don't really work well… I started doing it on the Holo, but it just, it sounded really nice on the Martin. And, I think he wrote that song for James Taylor…
FJ: Yeah. 
DP: It makes so much sense on acoustic guitar, and my approach was kind of doing ithe rhythm guitar was, like, play it like you're accompanying a singer. That's basically how I would accompany a singer doing that song. And then the trick of course was to not do a bad Pat Metheny impression during the solo section. [Laughter]
With Two Guitars behind him, Dan's pondering a skewed take on a traditional organ trio project with his brother, the keyboardist/producer/composer Doug Petty, or maybe tapping into that fusion thing that led him to record "Chromazone." "We're always talking about a Jeff Beck, There & Back-type record," he told me, "it's just, there's such a thin line with that stuff!" Until then it's back to the day job. "Right now we're developing a show for Disney and that's been going really great. It's a very music-heavy show, but it's really fun to be doing the other aspects of the show, working on writing and developing characters and all that. So nice. Good to have a different thing."