1967 Gibson Trini Lopez Deluxe
Trini Lopez is something of a forgotten figure these days, but in his heyday in the mid-1960s he was a force to be reckoned with. Lopez played what I like to think of as Las Vegas folk music, a bright, peppy style that featured Lopez's electric guitar instead of an acoustic guitar or a banjo. He was reportedly one of Dean Martin's favorite performers and he appealed to the sort of audience who felt the Kingston Trio were perhaps a bit too raw and untamed. He had a massive international hit in 1963 with his rendition of "If I Had a Hammer" and his singles reliably reached the upper reaches of Billboard's Adult Contemporary charts through 1967, when his star began to fade.
In 1964, though, Trini Lopez was so popular that Gibson thought he was just the guy to design a couple of guitars for them. The most common style is the Trini Lopez Standard, a thinline guitar based on Gibson's ES-335. The other, and scarcer model, was the Trini Lopez Deluxe, a full-bodied, double cutaway archtop. Trini Lopez based the design of this guitar on his Gibson Barney Kessel, an all-laminate electric archtop that Gibson introduced in 1961. Lopez had Gibson change the standard F-holes to a very slick diamond shape that echoed the split diamond fretboard inlays. The most unusual feature is the headstock, which resembles the six-on-side tuning machine arrangement of Fender's guitars. Gibson would use this same shape on the redesigned "reverse body" Firebirds that they introduced in 1965. Sadly, the Trini Lopez Deluxe never really caught on with other guitarists and even in 1967, the most popular year for this model, Gibson only shipped 92 of them. Shipping totals rapidly declined along with Trini's career and in 1970 Gibson dropped the guitar from the catalog. I've always had a soft spot for this model because it was the first Gibson archtop I ever played. Being an all-laminate guitar with humbuckers, it has a tone that is very similar to an ES-175, with perhaps a little more resonance because it almost an inch wider at the lower bout. If you'd like to hammer out a few tunes on this guitar in your own home, just send $4250 to the fine people at Retrofret and they will be happy to help you out.
Click here for the original listing.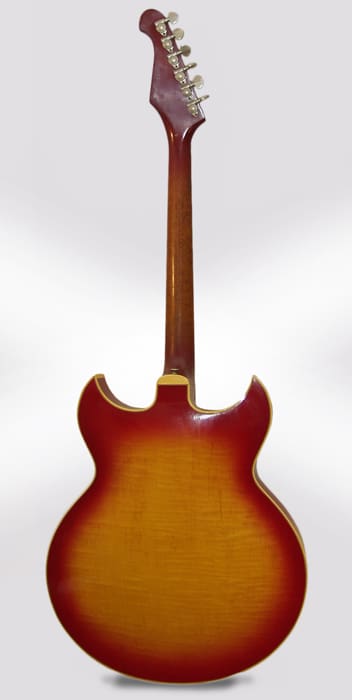 Trini Lopez rocking out in 1964 on his Gibson Barney Kessel, the guitar that inspired the Trini Lopez model.
)