Gerard Melancon grew up in a family of handymen and musicians. He became a gigging player himself and, after various frustrations with existing gear, wound up building a guitar to his own specs. That instrument established his reputation among fellow New Orleans musicians. Soon, Melancon had a new career. In this week's Bench Press, we talk Louisianna swamp ash and discuss his lineup of guitars. Check out Melancon Guitars here.
Fretboard Journal: What's on your bench right now?
Gerard Melancon: I've been doing this for 18 years and have always been in a position where I'm basically just filling orders, so I never have any just kind of stock pieces hanging around.
My entire year is pretty much booked with my dealers and distributors. At the beginning of the month, I'll start gluing wood for the all the bodies and necks, and start cutting. Once they're all cut, I'll start sanding and painting, and then assemble the stuff.
Right now I've got three pieces that are going to a dealer in China; I've got a piece for a dealer right here in Louisiana; I've got an artist guitar that I'm working on; and I think two or three other pieces for dealers in the U.S. that I'm working on this month.
I normally try to do two pieces a week. About eight pieces a month is what I average.
FJ: Do you have any help in the shop with you?
GM: My sister answers the phone and does the bookwork but no help as far as the guitar building.
FJ: It looks like you build primarily six-string electrics?
GM: Yeah, but I just actually started doing some lap steels. I have a friend of mine who works for Line 6 that has been after me for years and years to build him a lap steel. After several years of coaxing, I finally gave in and I'm going to start offering those.
FJ: Do you have any that you're in process of building right now?
GM: Actually, I do. It's based off the Weissenborn shape. I was at NAMM one year and I saw Ed Gerhard play an original Weissenborn. Man, I had never heard one of those and when I heard it I fell in love with it.
I had planned on building one, which was basically an acoustic lap steel. It's got the square hollow neck and I was going to build it for myself. I just had never had the time. Then, when my buddy from Line 6 had spoke to me about it, I said, "Well, man, what about if I make the lap steel like the Weissenborn?" So he said, "Yeah, that's cool."
I think Bill Asher is doing the same thing based on the Weissenborns. But what I'm offering that I hadn't seen anybody else offer is a baritone scale. After talking to my friend, he said, "That would be really cool. It'd be really neat to have that real big, full sound." It's tuned down to, I think, a low-C. So that's something that I'm going to offer.  I'm working on one for him right now.
FJ: Very nice. Do you build your own necks and bodies on all of your guitars?
GM: I do everything. The only thing I don't do is the hardware, the metal. I could do that, but I don't, just because it's a hassle. I don't like working with metal – you've got to run fluids and stuff when you're cutting it – it's just a big hassle. So I do all the necks, the bodies, the pickguards. most of the pickups. Some of the pickups I don't do, like the P-90s. I haven't gotten to that point yet, but eventually I will. So pretty much everything. I hand select all the wood that I use. From the beginning with just the rough lumber to the final assembly is all me.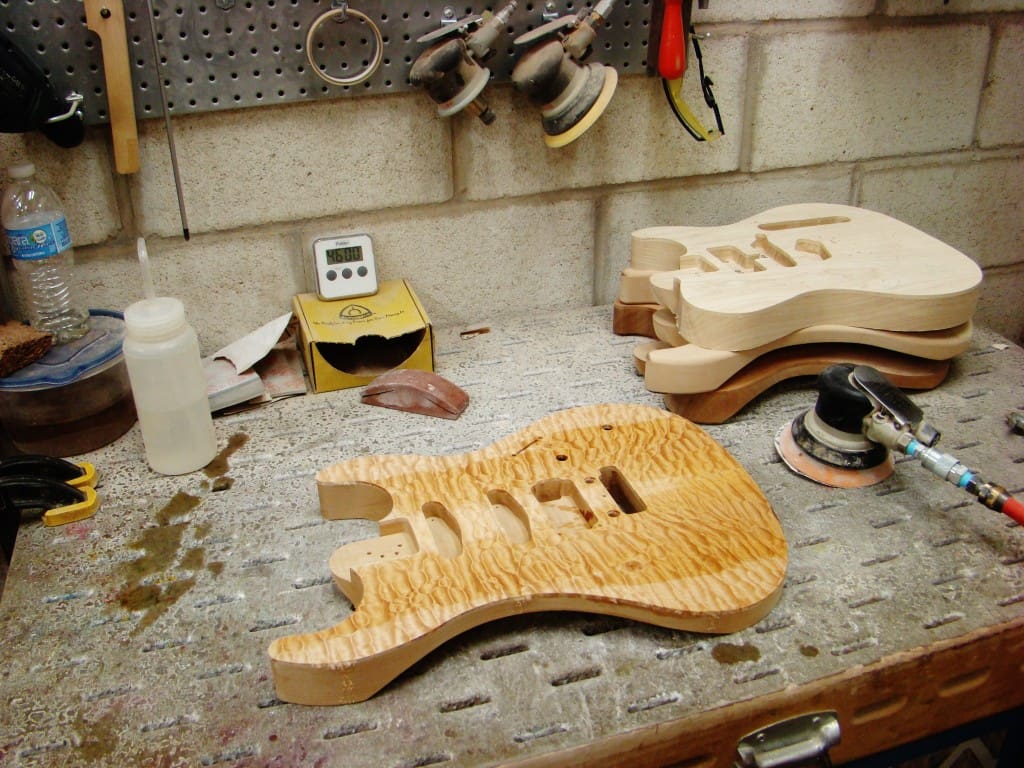 FJ: Where do you get your wood from and what are the staples you work with?
GM: Most of my guitars are Fender-Gibson inspired, so alder, Swamp ash, etc. The Swamp ash I get from the mill right down in Louisiana. We've got the best swamp ash in the nation right here in Louisiana. I buy it from a mill that's located in the Atchafalaya Basin, which is an overflow of the Mississippi River that goes into the swamps. All of the swamp ash grows in that part of the area. I use mahogany, rosewoods… and then I use the nicer tops, so you have the flame, quilted, spalted, burl maple. I also use a quilted redwood. I offer some body woods also, like korina or Black limba on a requested basis. But most of the stuff is with the traditional woods.
FJ: Let's talk about swamp ash. What makes Louisiana swamp ash stand out?
GM:  Well, the main thing is there's a lot of ash, but if it doesn't grow in the water, the cell structure is different. The swamp ash is actually lighter, and that's the better sounding ash. The denser wood is going to be real bright sounding. So you've got to get the ash that grows in the water. The trees are all grown in the Atchafalaya Basin area. The whole cell structure of it is different than like the Northern ash, which basically grows on land.
I'm fortunate to live in the same area that the trees grow in. I found someone who is familiar with swamp ash and he knows what I'm looking for. He puts it aside for me and I normally go to the mill maybe two or three times a year and pick up what he's got put aside for me.
The tonal characteristics of ash is that it's got a nice top end, it's got a real nice bottom end and it's kind of scooped out in the middle. Some of the Teles were actually pine, but then they switched to swamp ash. Because it's a porous wood, you have to fill the pores with the pore filler, which is an extra step in the finishing process, so Fender switched to alder after that.
The whole thing of tone with wood is that it's based off of the density. The more dense the wood, the brighter the tone. The less dense the wood, the less bright the tone. So every wood's got certain characteristics. Then again, you can have a 20′ board and the bottom part of the board will sound different than the top part, because, as the tree grows, the top part of the tree is smaller, so the cell structure is different there. Being a small shop, I'm actually going through the whole pile and I'm picking out the ones that are the lighter pieces, because that makes the best sounding guitars.
FJ: Give us a quick rundown of your models.
GM: I do a couple of different entry level models called the Pro and the Pro "T," and obviously the "T" designates Tele style. Those are a standard Strat or Tele. Then, I move up to the Classic and the Classic "T," which has a maple top, and then on the Tele you get the forearm contouring on the tummy. From there, you move to the Custom and the Custom "T," which are more along the lines of a Les Paul.
I also offer what I call the Cajun Gentleman, and obviously that's kind of a take-off of the Gretsch Country Gentleman. It's a semi-hollow with Filtertrons. I use TV Jones [pickups], and it has the Bigsby on it. I also offer a four- and five-string basses.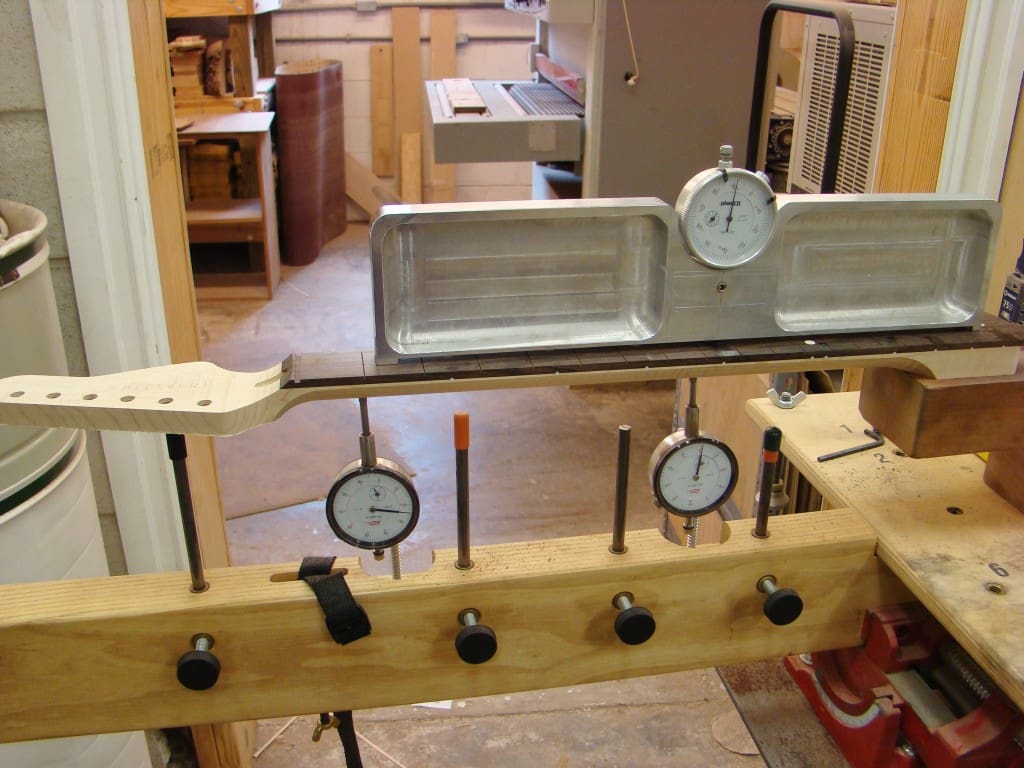 FJ: How did you get into building?
GM: I come from a musical family. My great-grandfather and my grandfather played Cajun fiddle. My father played guitar, mandolin and steel guitar. And then I played. As a teenager, I was playing in local bands around here and then I played professionally. I wanted a certain setup that Fender wasn't offering and Gibson wasn't offering. So I decided that I was going to see if I could find somebody to build it. This was before all the custom shops had come into being. There were really only one or two custom shops. I called one of 'em, and the guy said, "Yeah, we can do that, but it's going to be about a year before you see the guitar." I didn't know if I could wait a year. So I tried to build a guitar myself.
I bought the wood that I wanted. I had a router and I made some templates. I actually bought a pre-made neck. I did the body, all the routing, and put it together. I had never done any woodwork. I got a whole bunch of satisfaction out of doing that.  I was playing the guitar locally and somebody saw it, and came and said, "What is that?" I said, "Well, I built this." The guy wanted to buy it!
I decided that I had enjoyed doing it so much that I would sell it and buy some more wood and parts and make another one. It kind of spread like that. I had a guy that wanted me to build a bass for him. I built him a bass and then just through conversation he said, "I have a friend that I want to bring by." And his friend was one of the more popular musicians out of New Orleans and the town that my shop is in is about an hour southwest of New Orleans.
His friend was a guy named Tommy Malone who plays with a band called the Subdudes. He bought a Tele style guitar from me. [Tommy's] brother, Dave, played in a band that's kind of a staple in New Orleans called the Radiators. And he bought one. And then Dave was playing at the House of Blues and this guy, Anthony Brown, who was Allen Toussaint's guitar player, saw Dave's and he ordered one. It just kind of spread like that.
I didn't one day say, "I want to go into business building guitars." It just kind of happened.
[Editor's Note: Have a favorite luthier you'd like us to interview for a Bench Press column? Drop us a line here with any suggestions.]