You've been listening to The "Truth" About Vintage Amps, our podcast with the inimitable Skip Simmons, right? If not, you should be. If you are, you've probably heard mention Otis Amplification, the brainchild of his friend August Graybosch. An artist with a technical bent, August has building funky combo-heads using unusual circuits built around components that are drawn from well outside the realm of the usual suspects since 2012, and started operating as Otis Amplification in 2015. He currently offers two models, the Trudeau (~12 watts) and the Starla (8 watts), trimmed in curly koa, sporting Art Deco-ish lines, priced in the $1,500 – $2,000 range (depending on the cost of the wood, including shipping from Hawai'i), built around 6SL7 preamp tubes and 6CZ5 power tubes. He hopes to be offering a new, as yet unnamed model in the fall, with a simpler aesthetic, his first amp with a master volume, and a deceptively straightforward EL84-based, 15-watt design that he describes as "something in the vein of a Selmer Zodiac." 
After hearing Skip go on about him on the podcast with some regularity, we realized we needed to reach out to August for the Bench Press. Here's our conversation…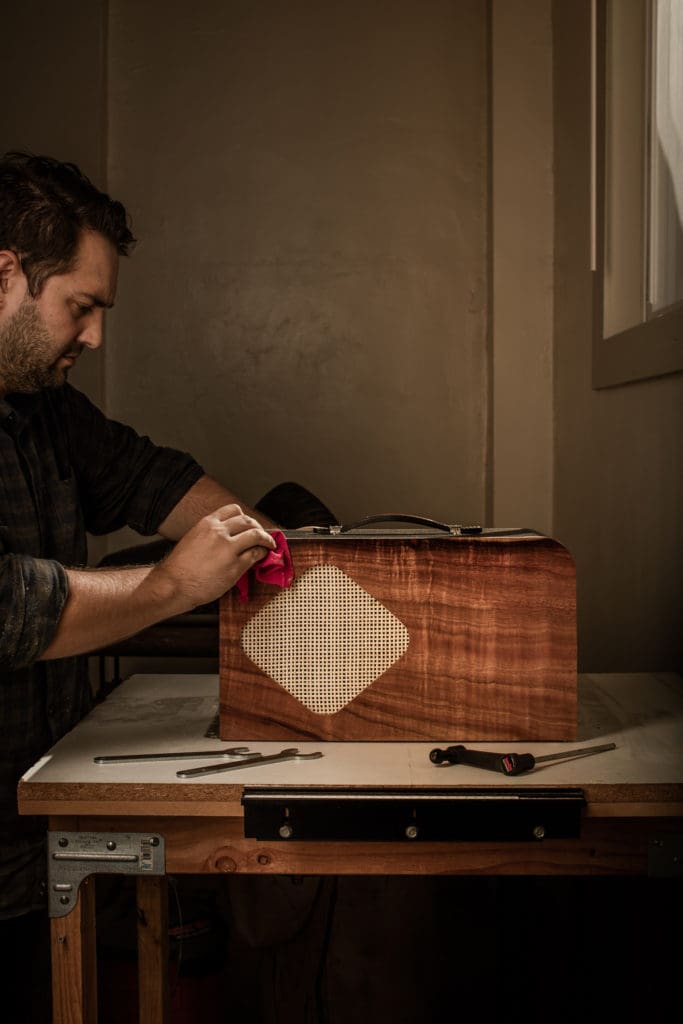 Fretboard Journal: What's on your bench right now?
August Graybosh: I'm always building Trudeaus.  Also, I have two 50-watt JCM 800/Hiwatt/5150-inspired heads I am building for friends. It has been an enjoyable challenge to get them sounding right after primarily building low watt designs recently. They sound pretty tough now and are built into the new "Volume Master" chassis I am wheeling out soon. It is an austere looking package which sort of adds to the fun of housing a shred amp in it.
FJ: How did you get started?
AG: I had an encounter with a Silvertone 1481, which is kind of a dog, but it put my 50-watt modern tube amp to shame. Later, I was floored by a Magnatone 250 while recording with my band. That amp fueled my urge to build because 250's are scarce. I sensed a market opportunity. I had been selling A/B boxes and loopers online for supplemental income while working odd jobs between art teaching gigs in New York and Chico. I met Skip Simmons when he serviced my Pac-Amp 213 and I eventually brought him my attempt at an obscure five-watt Magnatone circuit. I gave it my best shot but knew not to turn it on from a previous failed attempt. Skip fixed it and critiqued my work. I have been steadily researching and experimenting ever since and Skip was a great mentor. Skip definitely expedited my learning curve and still points me toward very inspiring, forgotten schematics, parts and info. His close proximity afforded me some extra spontaneity in my first builds. I could attempt a Magnatone 213 without the vibrato circuit because I had Skip to fall back on. I had been in the "record an EP, play to no-one in Bakersfield, and break up the band" cycle for what felt like forever. Now I could replace my mailman job with building amps. I went "postal" by walking off the job and signing up to exhibit at NAMM. I can't imagine sustaining what continues to be a long term effort without having met John Paterno and various companies who have shown me the way.
FJ: Where do you find inspiration?
AG: Past and present furniture design, home electronics, motorcycles, movie posters and art are the common aesthetic inspirations aside from musical equipment. In terms of circuitry, I have always loved old Ampegs. Some models of Valco, Gibson, Magnatone, Selmer, Fender and Vox have been a source.  The modern builds I am inspired by, like Mesa, have apparent influences from '40s schematics contained in books like The Rider. A lot of people bring up the Canadian Prime Minister when they hear one of my designs is named Trudeau. I named that amp after the General who supposedly planted extraterrestrial technology for reverse engineering at places like Lockheed Martin. It felt appropriate because I was trying to find obscure parts and circuitry for inspiration.
FJ: Is there an "Otis Sound"?
AG: My designs don't hide playing mistakes.  The player has a strong connection with the instrument. I think they work for everything besides metal and all of its sub-genres. What I put the most emphasis on was going for the best straight in tone I could manage. My amps are overly responsive and I was ignorant to all the boutique stuff out there. I started out simply trying to build amps that sounded like you had just gone back to the '60s in a time machine. After taking feedback from players, they have become more versatile, modernized and hopefully unique.
FJ: Do you have a particular philosophy about components?
AG: I could go on forever about this question. Circuit topology tends to reign supreme but you can sabotage your work by using the wrong components. There are some really poorly made N.O.S. [new old stock] components, too. For instance, the resistors in Silvertones/Danelectros are inferior to new carbon comp resistors. That being said, I am convinced that good old parts offer better sound and reliability once you implement some quality control and know which ones are still good. When I was first learning, it was not uncommon to find brand new boutique capacitors leaking over a volt of DC. Some new capacitors are pretty amazing now, but back then I felt stuck in the binary choice of Mallory 150s or Orange Drops. I still think the carbon comp resistors could catch up. The majority of old carbon comps have drifted over time but crack a new one open and compare them to an Allen Bradley. You'll want to buy a 2k Allen Bradley or equivalent and hope it has drifted to the 2.2k you're in need of after witnessing the difference. I understand the skepticism, but I think it is mostly due to people swapping one part at a time.
Old parts add up. Also, a part can sound amazing in a certain spot of a circuit and terrible in another. There are caps I love, but would never put them in the phase inverter. Then there is the other side of it, paper in oils sound awesome in most phase inverters but even the most reliable of makes gives me anxiety. I have gotten lucky and scored good amounts of nos components and feel obligated to give my customers my best and not be wasteful at the same time.
FJ: Which comes first: the circuit or the tubes? Do you tweak your circuits to suit the "oddball" tubes you find, or do you actively seek out tubes that will work with your circuit design?
AG: It is interchangeable but also not mutually exclusive. Tubes come with their inherent characteristics and "ideal" parameters that are going to influence design. There have been some pretty unique approaches to biasing a 6v6 that seem to have disregard for the tube's datasheet, but I have not been inspired to borrow from what I have encountered so far. What I am trying to say is the oddball tube selections really aren't that odd. I chose 6cz5s because I do think old tubes sound better and are typically more durable, but it was convenient to wire the sockets in a way that accepted 6973s, which are currently in production.
FJ: Can you tell us about your shop? Where's it located and how long have you been there?
AG: My shop is in Waimea, Kaua'i. I've been living in Kaua'i for almost three years and came out here to teach art at the Community College. Waimea is probably the least modernized town on the island. I enjoy the old theatre and this speakeasy pool hall that serves saimin [a noodle soup dish]. Waimea feels like a Jimmy Stewart movie. My shop used to be a bakery and I have neighbors that run tattoo shops, yoga studios and roast coffee beans. I feel very lucky. The beach is a couple blocks away and every time I complete a significant task, I can go out there and relax for a couple minutes. I have a little sound-proof bunker at home where I do all the wiring, prototyping and dry out hardwood.
FJ: Are there any upcoming projects that you're particularly excited about?
AG: I am excited about finally putting the "Volume Master" aesthetic in production with a new circuit. It still has some of the aesthetic elements of past designs but I should be able to build them more efficiently. It has taken awhile because I liked it so much that it influenced all my previous designs. I am always working on prototypes, but have opted to be more calculated in releasing them. More amp designs and smaller devices are on their way.
Photos by Mike Coots, except where noted, and the cover image, photo by August Graybosch.