We have a lot of different reasons for picking subjects for the Bench Press column. Sometimes it's as simple as an innovative design, or the use of unusual materials. We've been turned on to builders by the folks who play their creations, by chance meetings and by a truly dynamic Instagram presence. More often than not, though, it boils down to the simple fact that, dammit, we want what they're making. 
We've been hip to Daddy Mojo for a while now. Their cigar box guitars caught our eye, their move into the Mile End Coop kept them on our radar and we saw some cool shots of their work in our Sonore Festival photo essay. When a friend pointed us at an Instagram post featuring their redesigned Rosetta model a while back, though, the ensuing G.A.S. was the proverbial straw that broke the camel's back. So we reached out to Daddy Mojo's Lenny Piroth-Robert and put him through the Bench Press Ordeal…
Fretboard Journal: What's on your bench right now?
Lenny Piroth-Robert: I've got a few instruments in different stages of completion at the moment. One that's almost ready to leave the shop is a two-tone (coral pink and off-white) BeeKay model — my ode of sorts to mid-century era Chicago guitar manufacturers. This features a chambered Spanish cedar body, a two-piece maple neck (with ebony fingerboard) and an inset, reconstituted marble pickguard and headstock overlay.
The instrument is being built for country singer – drag/burlesque performer Trixie Mattel and, to her request, will be adorned with a series of single Swarovski rhinestones, a task I've actually yet to tackle! The guitar is loaded with a pair of Curtis Novak "Kleenex box" pickups – based on the original Kay design notoriously found in the Barney Kessel and Swingmaster models. Although sharing aesthetic traits with the originals, Novak's version has a smaller footprint, akin to a P-90, which suits the instrument rather well. I've described the aesthetics on this guitar as mid-century Italian furniture design mixed with "Liberace exuberance." The instrument ships to California at the end of the month.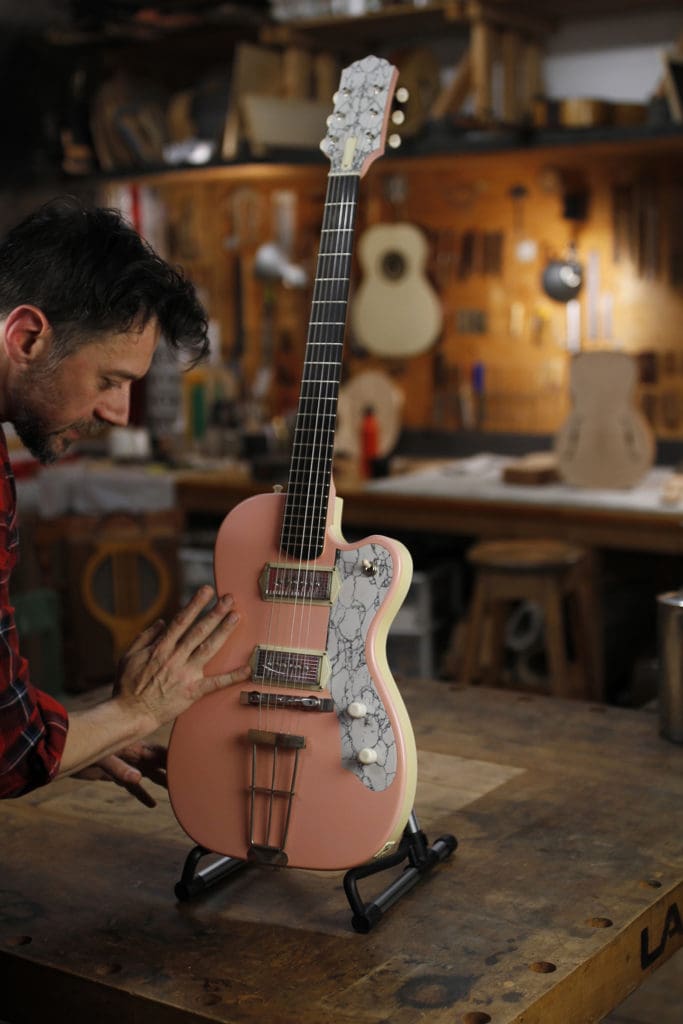 There is another more "conservative" BeeKay (although in its initial stages) being built next to Trixie's: a mahogany guitar with a torrefied curly maple neck and curly maple top. This one gets a thinline-esque celluloid tortoise pickguard and head veneer and either a set of Curtis Novak Argyle "DeArmonds" or a pair of Urquhart Teisco-styled Gold Foils — I'm really impressed with Owen's (Urquhart Guitars) stunning pickup designs. He is a builder out of Vermont I've recently discovered.
In tandem with these two BeeKay builds, I also have a pair of Rosettas being put together for the upcoming Berlin Holy Grail Guitar Show. I took some time earlier this year to completely re-design this model into a parlor-sized electric archtop, which is made entirely from laminated woods. One is a 19″ scale shell pink number (essentially a six-string baritone ukulele tuned to standard A) with "recon-stone" pickguard/head veneer, and the other is a standard 24.75″ scale in matte black finish with a brass-plated tailpiece and a brushed brass pickguard. Both are equipped with DeArmond Rhythm Chief pickups, now manufactured by Guild. The smaller one is an instrument trade with my friend Florian Bouyou of Millimetric Instruments. Florian also co-organizes the SONORE Guitar Festival in Montreal – which is where we actually started talking about this really cool builder's trade.  
Lastly, I have an Ozark model in the works. I try to stay resourceful with materials on these (the first few having been built using reclaimed Formica — in this case 1960s countertop material salvaged from my very own kitchen). This particular guitar is no exception and sports an actual dynamite crate top from the '40s that I've dismantled and joined back together for the project. The top is glued onto a sinker pine body coming from a board milled out of a 300-year-old log, retrieved from an eastern Canadian riverbed. The neck is torrefied curly maple and the guitar will boast a Regal humbucker in the neck position and a Tele AlNiCo 3 in bridge, both from Jason Lollar.
FJ: How did you get started?
LPR: I've been working on instruments for a number of years now, but designing/building guitars wasn't on my radar until I was in my early-30s. I studied visual arts at Concordia University with a specialization in painting, making a rough living as an artist in my 20s while exploring the Canadian gallery scene. I'd grown up in a creative environment doing mural work, faux finishes (which were hugely popular in '90s) and scenic painting for my parents' design firm in Montreal. They made props/window displays and conceived mannequins for old school department stores throughout the 1980s and into the early 2000s. Working for them as a kid was my first exposure to the "atelier" setting, a work environment which immediately felt natural and, as it turns out, has followed me my entire career. 
I eventually got into guitar making by building whimsical instruments inspired by Depression-era jug bands after seeing an ancient cigar box guitar for the first time on the internet. Its sheer simplicity and historical significance struck a chord. I remember thinking it was the most beautiful object I'd seen in a very long time. I made a replica for myself in the studio and, quickly, one fretless three-string instrument multiplied into a few more. Soon enough my painting space was littered with dozens of weird sounding stringed oddities. This in essence was the beginning of Daddy Mojo Stringed Instruments. After a chance meeting with Luca Tripaldi, my creative partner for the subsequent ten years, the painting studio was slowly transformed into a full-fledged guitar workshop. Over the course of a decade, we tweaked and perfected close to twenty original CBG models while developing partnerships with many brick and mortar guitar shops internationally.
FJ: Do you have a favorite guitar that's crossed your bench?
LPR: I rarely take on repairs except for friends' guitars on occasion. I'm presently doing some work on a Barney Kessel "Artist" model from the late-'50s. The Kessel line was Kay's attempt at competing with established manufacturers when trying to get into the high-end archtop market. Even though the instruments bore his name, it's a known fact that Barney Kessel himself didn't care for the instruments, calling them "terrible." He kept playing his trusted ES-350 during the four years the signature models were sold. Nevertheless, this may be one of my favorite guitar lines of all time! My own BeeKay model owes many aesthetic traits to the "Pro" model of the Kessel line-up. The one on my bench right now needs tons of TLC and belongs to Zak Izbinsky, a great jump blues player from the city.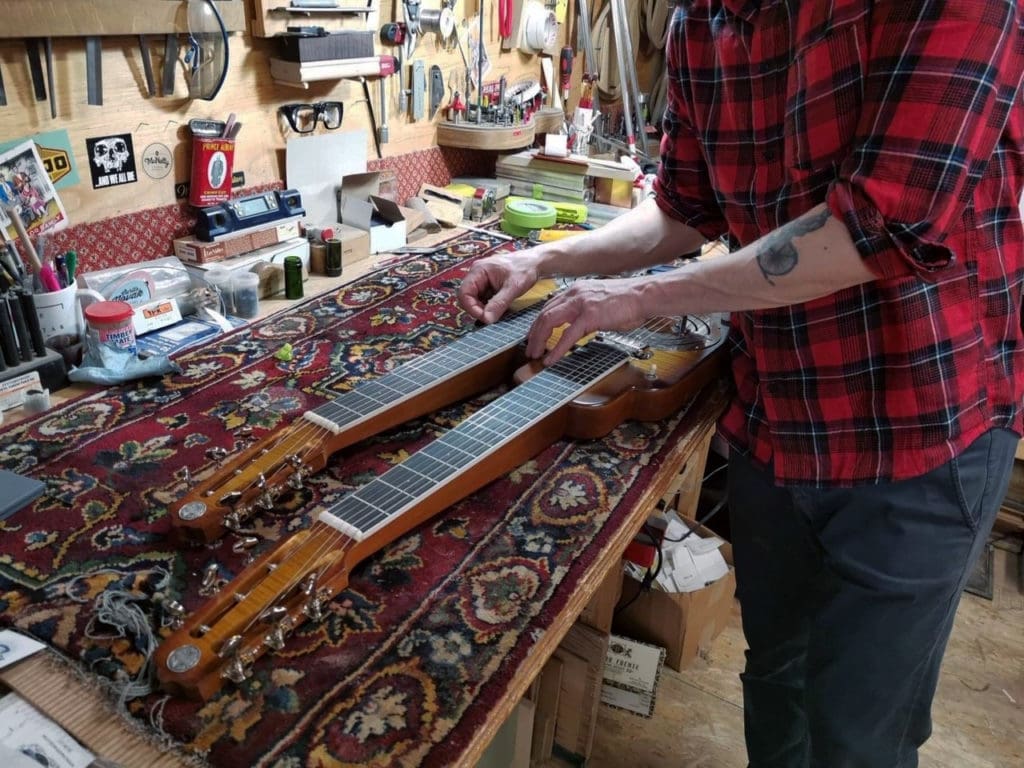 I also did some work earlier this year on a double-neck lap steel resonator guitar built for a customer during the second half of 2018. A few months after receiving it, Charly Price and his dog Tater drove all the way from Nevada City, California (in their Airstream!) to meet me and have a few modifications made to the instrument. If you'd told me a year prior that 2018 would see me design and build a double-neck/double resonator lap steel guitar, I probably would have laughed it off. I received an initial phone call one afternoon from Charly explaining in detailed form how he'd lost mobility in his left hand due to a devastating table saw accident. This rendered his career as a musician virtually obsolete for several months. After multiple operations and physiotherapy sessions, he re-negotiated his relationship with the guitar by resting the instrument on his knees while sounding notes with the help of a small bottle of whiskey (used as a slide). Open tunings were his new salvation and he adapted most of his repertoire to open E and open D minor, switching onstage between two guitars. At this point in our conversation, he went into further detail about his need for having both tunings accessible on one instrument, alternating between necks, depending on "what the composition called for"… We chatted for about an hour and his next words humbly kept me busy for five months: "Will you build it for me?" I'm still sort of dumbfounded at the thought of that project… 
Charly has since nicknamed the guitar "Frankie" after Frankie Albert, the first '49er quarterback, who invented the "bootleg play," which is a deception play. He feels this is a nice tie-in as the double neck seems to offer two sets of similar sounds, only one in major and one in minor tuning.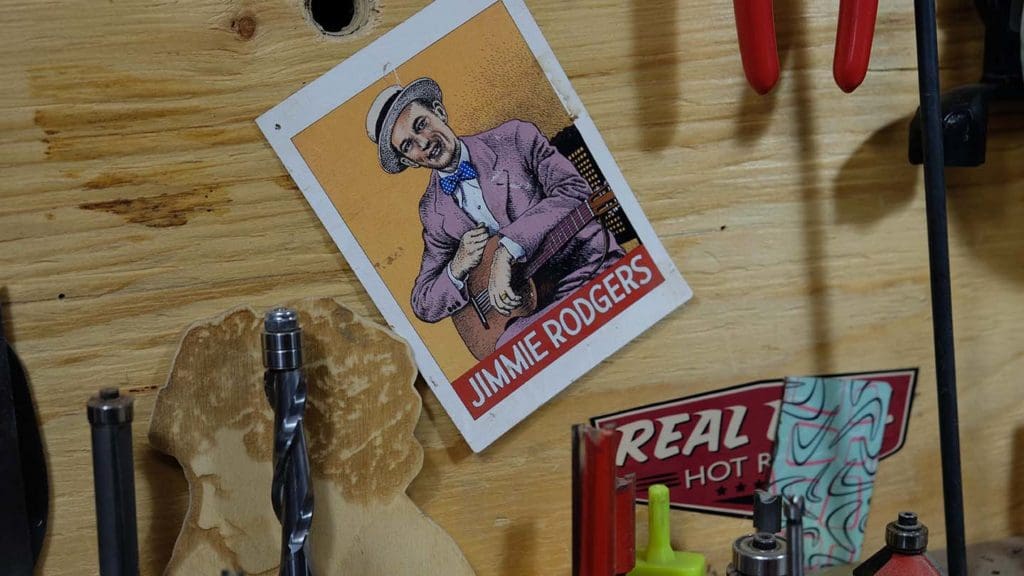 FJ: Where do you find inspiration?
LPR: I share a secondary shop (for spray booth purposes) with a talented collective of furniture builders and designers from whom I've been gleaning ideas for a little while now. I've seen the most ingenious ways of approaching simple household objects such as a bedside table, a bathroom mirror or a jewelry stand by incorporating a modernist flair, natural woods combined with a carefully selected color palette and materials as varied as granite, marble and brass. This is inspiring to me and I've been making mental notes, trying to transfer some of these pairings into the instrument realm. 
Although I'm a little less invested in "art for art's sake," or my own painting practice these days, for that matter, I'll definitely also get a good amount of stimuli from a good sculpture or painting exhibit. I flew to the UK on a whim last year to attend the "All Too Human" painting show at Tate Britain, featuring key works by Francis Bacon and Lucian Freud amongst others. A bit of an indulgent way of fueling one's creativity…but I remember being completely transfixed while there. I feel like that show subsequently fed me creatively for months. I sat in the museum cafeteria jotting down specs for a series of instruments destined for the SONORE festival that same year. I'm not exactly sure how one field of interest feeds into another like that, but it's always made a lot of sense to me. The guitar builders and shop members I work with also provide an invaluable amount of inspiration, on a daily basis.   
FJ: Tell us about your shop… 
LPR: After losing my shop in 2014, a space I'd inhabited for a little over seven years, I moved into the Mile End Guitar Coop, which at the time was home to Indian Hill Guitars (Mike Kennedy), 52 Instrument Co. (Jeremy Clark), Island Instruments (Nic Delisle) and a slew of other talented builders. I'd worked with Nic from Island for about three years prior, and when the guys heard I was basically assembling guitars out of my car, they kindly invited me to stay as long as I needed to. What was meant as a temporary fix may have turned into one of the most important professional decision I took that same year. I moved in as a full time member a few months later and haven't looked back since! Originally, the space was founded by Jeremy and Mike, who met during an apprenticeship with master builder Sergei de Jonge, himself first apprentice to famed Canadian luthier Jean Larrivée in the late 1960s. You can imagine the level of skill and knowledge that circulates here on any given day. We've since incorporated our shared workspace into a full blown cooperative entity which counts ten active members. I feel incredibly fortunate to be a part of this "greater whole" and my approach to guitar building has grown exponentially since setting shop here.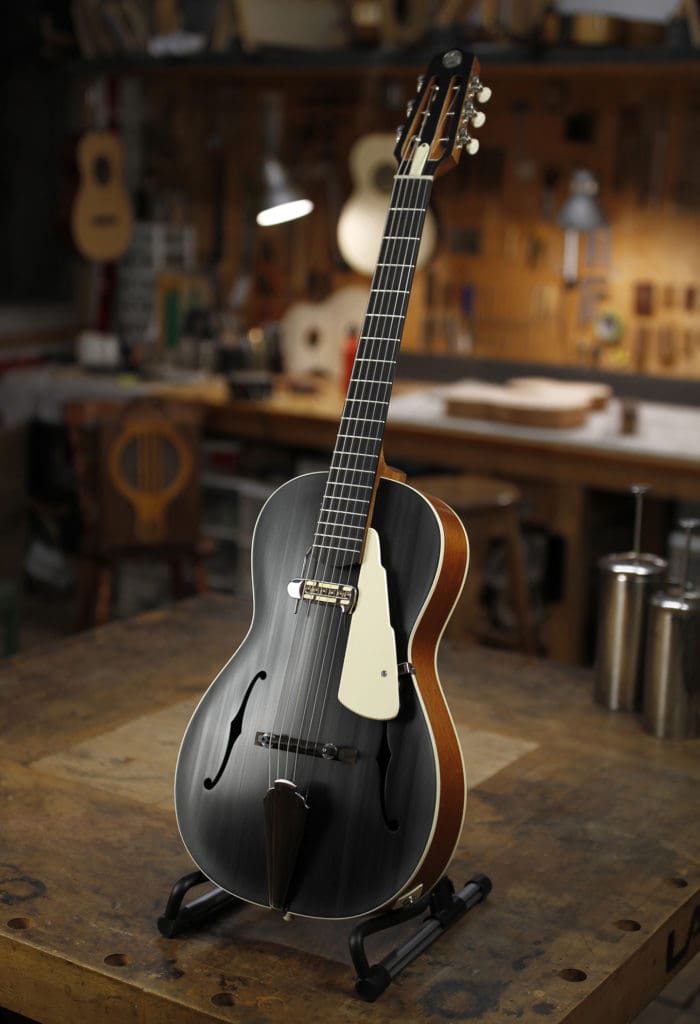 FJ: You recently unveiled a super-sexy parlor-archtop, the Rosetta, which includes a design variant that might be the most minimalist approach to Deco we've ever seen. Can you tell us about the instrument's development? And why a slotted headstock? It's a little scary to think about trying to put on a set of Thomastik flats…
LPR: Rosetta was one of the first guitar designs to come out of my shop and initially meant as a parlor-sized, carved top electric with a construction akin to that of a Les Paul or a Duo Jet. I took some time earlier this year to entirely re-design the model as a full fledged acoustic archtop. Molds were built and lots of spruce was bent! In essence, the model draws its roots in pre-war instrument design and I wanted it to feel that way, through and through. The guitar features a proprietary, cast, Art Deco tailpiece and comes in two body sizes and scale lengths: 24.75″ and 19″ with 12.75″ and 9″ respective lower bouts, the latter essentially working as six string baritone ukulele, tuned to standard A. 
The initial idea behind the instrument was a cross-pollination between pre-war parlor guitars (think Oscar Schmidt, Stella, early Martin, etc.) and the late-1930s ES-150/ES-250 archtops manufactured by Gibson (another personal favorite). The first Rosettas featured a Charlie Christian pickup in the neck position, a chambered mahogany body and a carved maple cap. The latest 2.0 iteration is built with structured laminated sides (yellow cedar and mahogany), an arched laminated back and a three-ply, pressed, laminated spruce top. This new version sports a DeArmond Rhythm Chief re-issue pickup that mounts to the fingerboard. I must admit these get very close to the sound of the original harnesses developed by DeArmond (meant to retrofit acoustic jazzboxes) at the dawn of guitar amplification. 
It was tricky finding the right strings for the instrument and, as you've mentioned, my first go-to were indeed flatwounds. I did however find that these muted the instrument's acoustic voice a little too much and I finally settled on D'Addario nickel-bronze acoustics (12-53). These give both the clarity and acoustic projection I was looking for while getting sufficient pull from the magnetic pickup when plugged in.  
FJ: Are there any upcoming projects that you're particularly excited about? 
LPR: I'm working out an interesting custom project at the moment which is still in the drawing phase: A double cutaway version of my BeeKay model, with a laminated archtop and violin cut-outs [f-holes]. This will have a carved back echoing the top's contour and should feel like a smaller, cozier ES-335. I'm also very much looking forward to this year's Holy Grail Guitar Show in Berlin! I'll be bringing two Rosettas with me to the event, along with a Formica-top short scale Ozark, in sea foam green. This world-renowned event has amassed quite a bit of traction in its five year run and will feature over 130 builders from the world over. They are calling this 2020 edition the "The Grand Finale"…I'm incredibly excited to be participating. Another show I'm looking forward to is the 4th incarnation of the SONORE Festival, right here in Montreal. Last year's event was a huge success and saw Julian Lage perform closing night, with a slew international builders attending and many friendships forged. I am very much looking forward to this year's edition!