First South by Southwest was cancelled and we said, "Wow." Then Coachella was postponed and we started getting worried. Next we heard about Big Ears in Knoxville, Musicmesse in Germany, and then Paul Reed Smith cancelled their 35th Anniversary "Experience Music" event. Asian tours have been nixed entirely, Instagram is full of Photoshopped European tour posters with stops in Italy crossed out, and something new is added to the list minute by minute. Today, nearly every venue in Seattle has cancelled its shows. These are difficult times, in so many ways.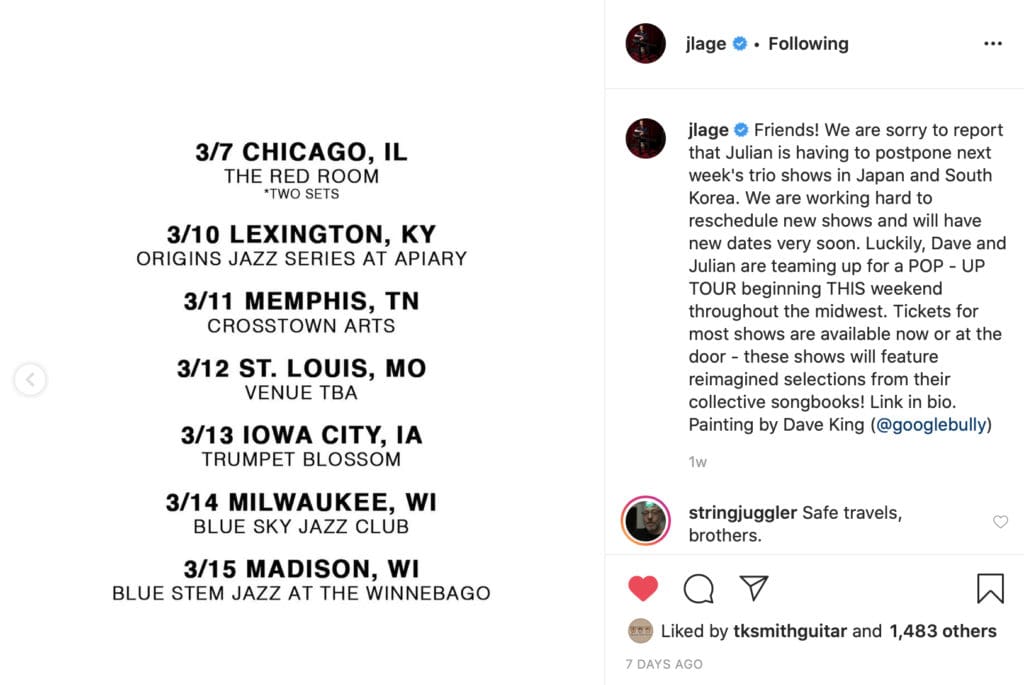 We can't imagine how potential economic repercussions will ripple through the Fretboard Journal community, from retailers to luthiers. It's difficult not to sound hyperbolic, but safety and survival have never been so complicatedly intertwined.
So we want to do our part to help: Today, we're announcing the launch of #FJFest, an online showcase for all the makers, musicians and educators out there in our community affected by this. The fun starts next week: We'll be sharing guitars that luthiers crafted for forthcoming shows (nearly all of which have been postponed); music from artists who would love for you to check out their Bandcamp pages or teach you a Skype lesson; plus a lot of surprises. We may not be leaving our homes much these days, but we can still support each other. You can email us at festival@fretboardjournal.com if you'd like to contribute. We will also happily talk to sponsors or anyone else who wants to help make this homebrew (literally) festival as great as possible.
#FJFest will live on these pages, as well as our social media channels.
For luthiers/makers: Email us photos (2000 pixels wide, min.) of a few of the instruments you've been working on, a description of what we're seeing and a brief bio. If possible, shoot a little video of your shop, too and a quick demo. You know our crowd: We love the little details. We'll share as many as we can.
Musicians: We'd love to share a video of your work and links to places where folks can support you. If you're looking for Skype students, consider offering a free video tip that we can share to get folks interested in your work. Again, we'll share as many as we can.
We will also be hitting up some of our contributors and historians for some interesting #FJFest content…
Needless to say, we shouldn't be your primary source for information on how to get through this. There are some great resources out there for freelance artists on this page. Follow your favorite musicians and keep an eye on Kickstarter, Patreon, GoFundMe, and the like. And if you can't help — and certainly not everyone can — share information that can, without necessarily adding to the noise.