Mark Goldenberg takes a deep breath, closes his eyes, and gently and quietly launches into his newly-composed "Song Zero."  He's playing Michi Matsuda's "concept guitar"that resembles an early Martin guitar with Stauffer headstock and European, Renaissance-era body shape.  It's finished in a sort of gun-metal gray lacquer that is tinted with, well, gun powder.  The sound is ethereal and a once boisterous audience turns silent and every member leans forward in his or her seat in an attempt to catch every nuance of Goldenberg's performance.  It's a breathtaking performance of a gorgeous composition that showcases the guitar as much as the composition and performer.
I'm at the third and final day of the three-day Montreal Guitar Show.  It's been a wondrous and enjoyable three days in which I've connected with old friends, made new friends, and, well, played at least one hundred guitars.  The guitar show runs from midday until early evening, when guitar geeks head out onto the streets of Montreal to catch the evening offerings of the Jazz Festival.  It's an extraordinary pairing of guitars, jazz, and the offerings of a truly cosmopolitan city.  As evidenced by the smiles on the faces of my teenage kids who accompanied me on my road trip from Connecticut, there is something for everyone at this venue.
So, here I offer a few Montreal memories.
Favorite moments
Stepping over the threshold.  OK, in many respects, this is your typical guitar show with rows of guitar-filled tables fronting eager, smiling luthiers.  There are about ninety purveyors of acoustic guitars and forty offering the amplified version.  Assuming an average of three guitars per luthier, you've got over 400 guitars before your eyes.  Among the acoustics, fingerstyle flattops rule the roost, but there are a few dreadnoughts, archtops, classicals, and even a harp guitar.  Solid guitars dominate the electrics, and they come in all shapes and sizes.
At previous guitar shows I discovered that a patron can walk in, grab a guitar and a chair, and sit down to pick for a while.  You can check the playability and inspect the flawlessly executed craft.  But, you can't hear the things, despite the rising popularity of side ports.  Several thousand people will also be playing guitars, some of them electric, chatting, and generally contributing to the musical party atmosphere in the same room.
The organizers of the Montreal Show have taken two steps to improve the guitar show experience.  First, though there are acoustic and electric guitars here, never the twain shall meet.  Take the escalator up a couple of floors from the Hyatt Regency's food court and turn left for acoustics or right for electrics.
Most importantly, however, is that the Montreal Festival features isolation booths that really enable patrons to hear an instrument.  These are six feet square, roofed, and relatively sound-proof cubicles.  They are dispersed to the throughout the acoustic room, but sit lined up like porta-potties in the electric venue.  The booths are well used, so you might have to wait for several minutes to access one.  But, folks are polite and aware of the wishes of others and, though I solicit input, I hear no complaints.  The common response is something like, "Yeah, these are great.  I can really hear the guitars.  These people have found a way to make a guitar festival even better."
Indeed.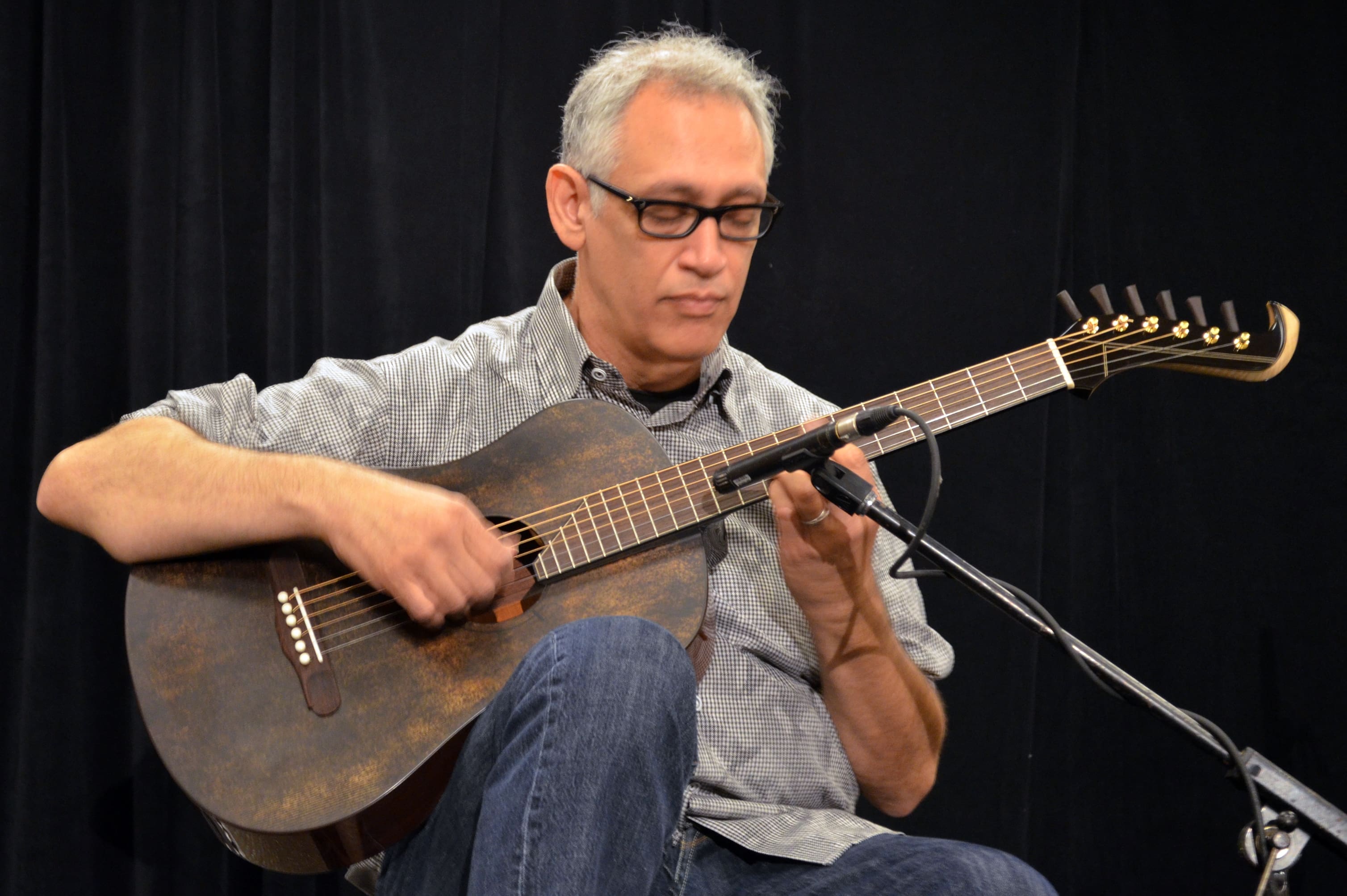 Mark Goldenberg plays a Matsuda.  I first met Mark while on the road with Jackson Browne to write Fretboard Journal's cover story.  I'd not heard Mark play before, but became instantaneously captivated.  His solo acoustic CD remains one of my all-time favorites.  I was thrilled to learn in Montreal that he has just finished recording the songs for a second CD.  I was even more thrilled when while demo-ing the Matsuda guitar, he played "Song Zero" and other songs from the new CD.
It's always a thrill to hear Mark play, especially when he plays solo.  Here, he does the unthinkable by offering what is both a brilliant performance and brilliant showcase for the instrument he is demonstrating.  The songs, which range from his original compositions to instrumental covers of songs like Jimmy Webb's "Wichita Lineman," are gorgeous, quiet, and dissonant in spots, offer interesting and at time challenging harmonics, feature single note runs, and cover the entire fretboard.  In a word, they are perfect for this context.  An astounding 20 minutes.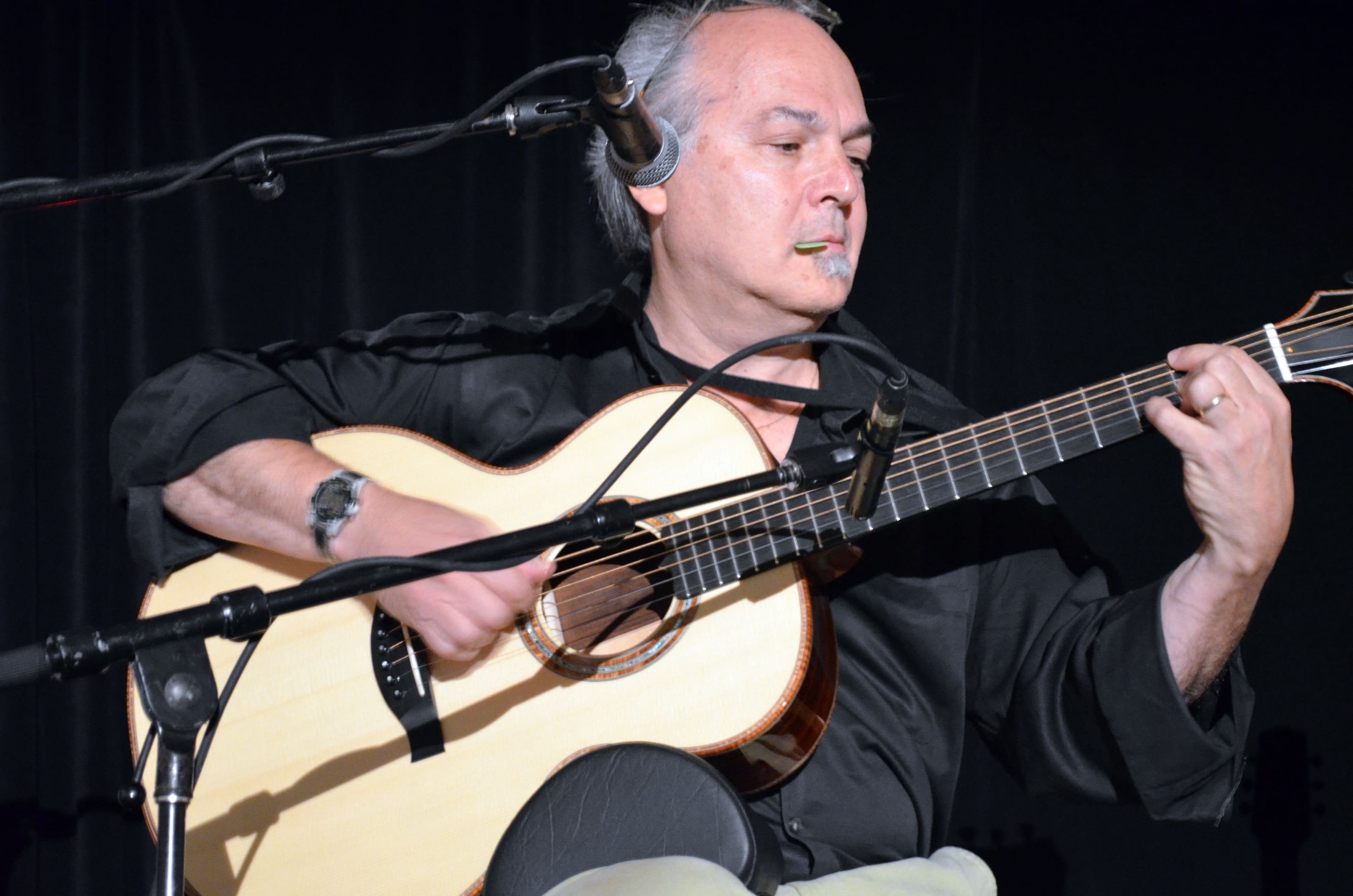 Paul Asbell plays a Hoffman.  Another of my favorite guitarists.  This guy can play anything.  Really.  He's equally at home playing bluegrass, old time, jazz standards, or, hand him an electric guitar and he'll show you why the likes of Muddy Waters, John Lee Hooker, Howlin' Wolf, Lightnin' Hopkins, Otis Rush, Magic Sam and, Paul Butterfield have sought him out as a sideman.  Here, Paul does the coolest thing at the Festival by opening his demonstration with a medley of tunes associated with and dedicated to the recently departed Doc Watson.  The medley also allows Paul to show off some flatpicking and fingerpicking on the Hoffman 0 and small jumbo guitars.  Great stuff!
Claude LaFlamme plays a Pellerin harp guitar.  I first met Claude at last year's 9th annual Harp Guitar Gathering.  There, he mesmerized me by playing his own compositions on his Michel Pellerin harp guitar.  Here, he captivates me again.  Claude is a tremendously talented player who can bring out the emotion in a composition.  He's the perfect match for the harp guitar, taking advantage of a range that exceeds that of a grand piano.
Antoine Dufour plays a Beauregard.  One of my favorite players paired with the work of one of my favorite luthiers!  This is the one demo from which I exit to hear folks asking others, who was that player?  Antoine is a force!  But, he's also a subtle player.  A pounding, percussive phrase leads seamlessly into a quiet, legato segment.  A striking, dissonant passage yields to a whispering couple of melodic bars.  The Beauregard cutaway OM handles the demands with aplomb.
Favorite guitars.
Here are a few of my favorite instruments.  I played as many as I could and remembered those that I could, well, remember.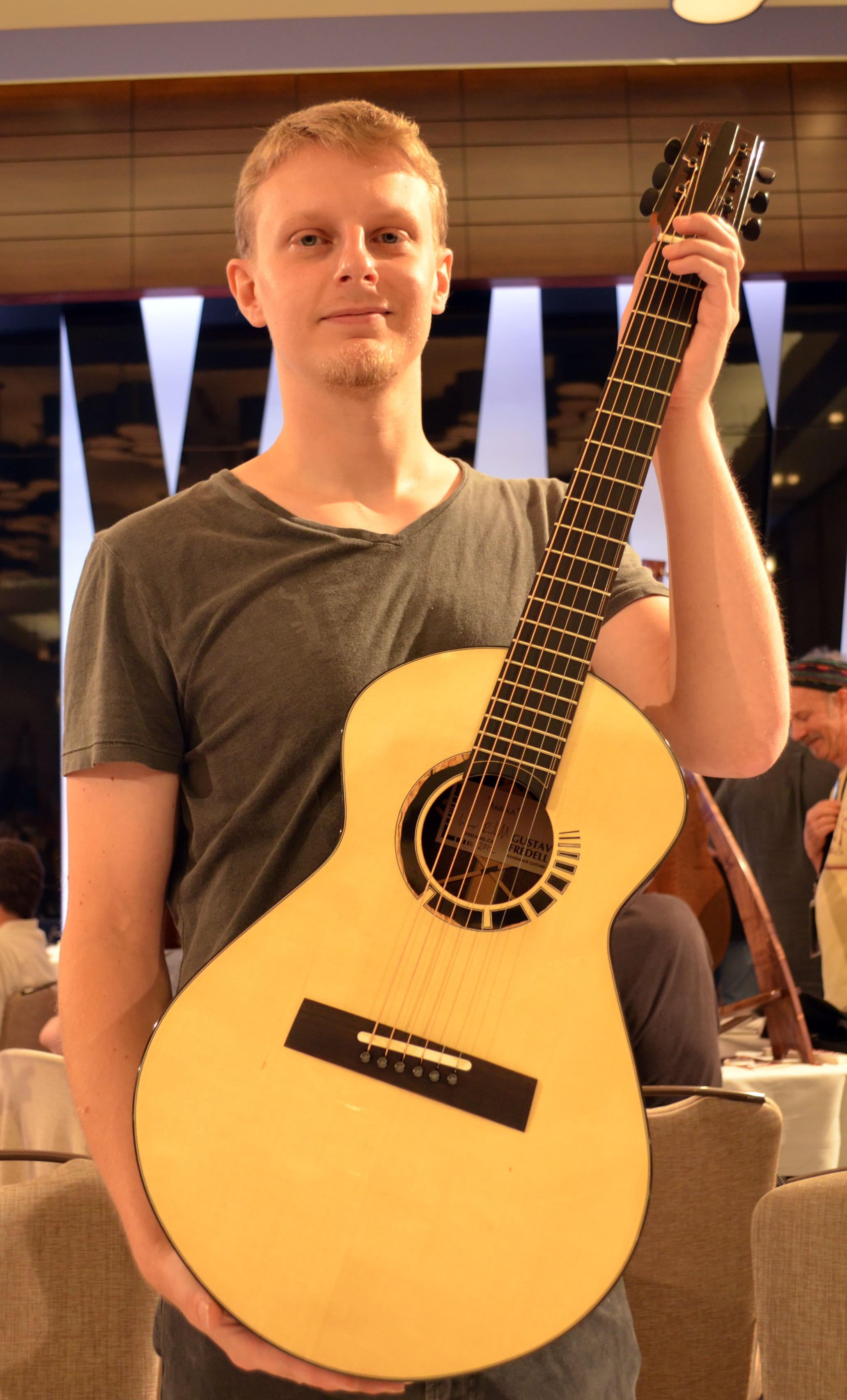 Gustav Fredell size 0.  My favorite.  Gustav spent four years studying the craft of furniture and guitar-making in his homeland of Sweden.  A little over a year ago he began a 30 month apprenticeship with Ervin Somogyi.   Given the quality of this instrument that he has completed while halfway through his studies, this young man has unlimited potential.  This 0 sized guitar was the most responsive guitar I played.  A beautiful, sensitive, little thing.  Not for the blues, but perfect for some quiet, late-night fingerstyle on the deck out back, under a clear sky, with a glass of fine wine close at hand.
Mario Beauregard OM.  The perfect fingerstyle guitar. European spruce top, Blackwood back and sides.  Perfect setup, warm and smooth tone, and nearly infinite sustain.  This guitar can handle anything.  Play this one mid-day on the front porch with a fine wine, craft beer, or single malt.
Michel Pellerin jumbo.  Simply put, a great, all-round guitar.  This guitar has volume, responsiveness, and great playability.  Oh, and exquisite craft.  I had a hard time yielding my isolation booth while playing this one.
Meredith Coloma Gypsy OM.  Here is a quadruple threat:  Meredith Coloma is a singer, songwriter, guitar player, and guitar maker! In her teens, she completed an apprenticeship with Roger Sadowsky in New York and then moved home to Vancouver to serve as the only apprentice ever taken on by Michael Dunn. And, with a back inlaid with an actual sunburst and angular inlays on its top, she's offering the most visually stunning guitar at the Festival.  Oh, and it plays and sounds great, too. The internal sound chamber makes for even volume all the way up the fretboard.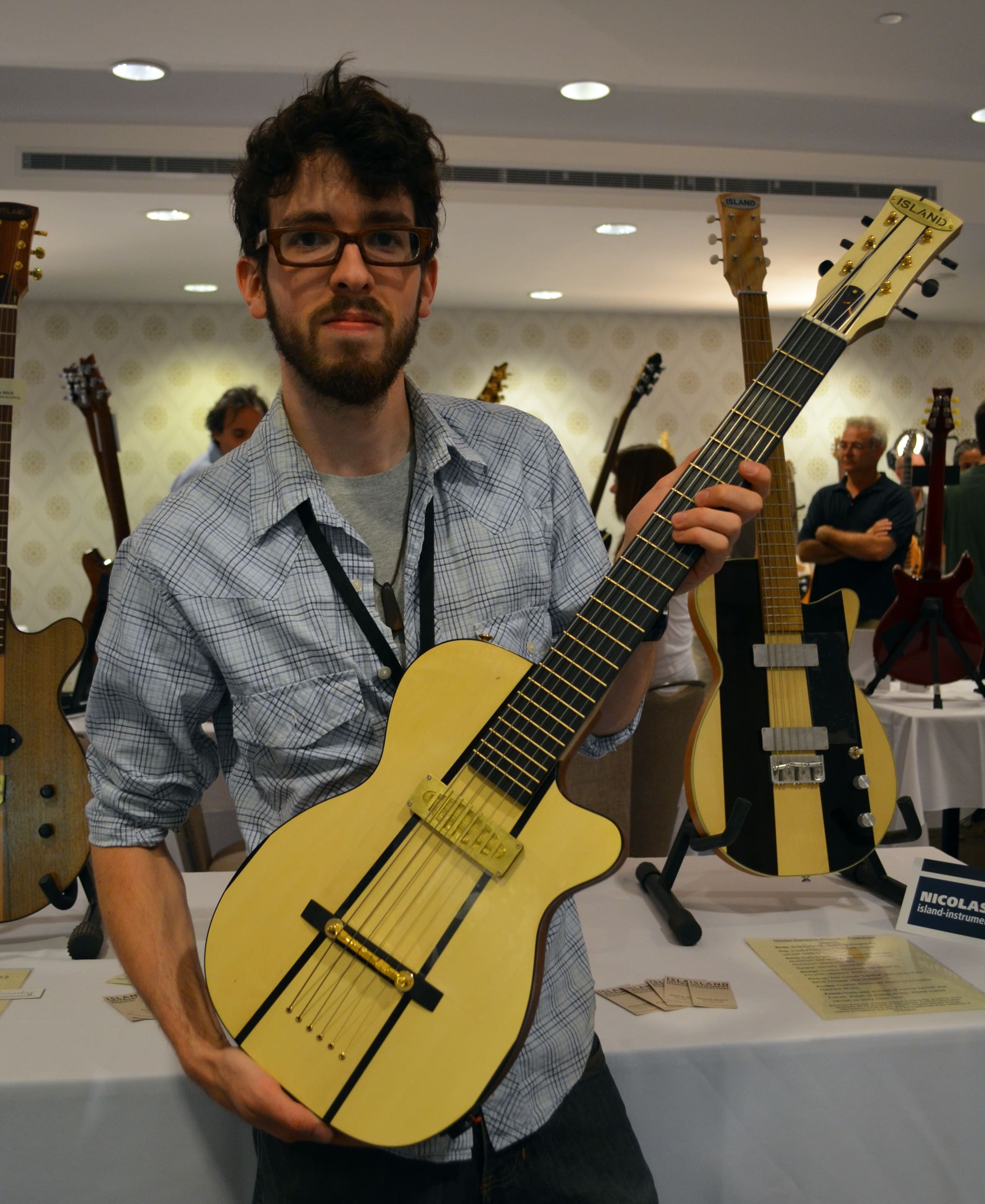 Island Guitars: Harmony H44-inspired electric.  OK, I admit it, my electric guitar days ended at about the same time that my hair follicles began to depart.  But, I still have an old Stratocaster stashed somewhere in my house and I get the occasional hankering to plug in and sit in with my son's band.  That inevitably yields a look from my son that clearly communications, "Yeah, like you're cool enough to jam with us."  Still, maybe if I had a cooler guitar?   So, I spent an hour or three wandering the electric guitar offerings.  There were dozens of finely crafted tributes to the Les Paul, Telecaster, and Stratocaster.  There were perhaps more that combined the looks of medieval and futuristic weaponry (yeah, I'm getting old).   All looked beautifully crafted and a couple might even have gotten me a session with my son's band.  But, the coolest to my eyes, ears, and hands, by far, was Nic Delisle's Harmony H44-inspired offering.  Nic builds under the moniker "Island guitars" and features domestic and reclaimed woods in his instruments.  Pickups are built by Pete Biltof of VintageVibe Guitars.  All the funkiness of an old Harmony, but in a screamingly beautiful package.  After leaving the Festival, I showed my son a photo of this guitar.  'Yep," he said, "We would have let you sit in … but only so we could get that guitar from you."
Cooler than cool.  I need one of these.
Coolest Features
McKnight Osage orange rosette.  My favorite rosette of the show.  We all know that Tim McKnight builds a great guitar, but not all of us know that Mary McKnight designs the aesthetic features.  When she learned that Tim was building a guitar with back and sides constructed of Osage orange, she designed a rosette to look like a sliced open, well, Osage orange.  Somehow, Tim was able to create the design with wood and dyes.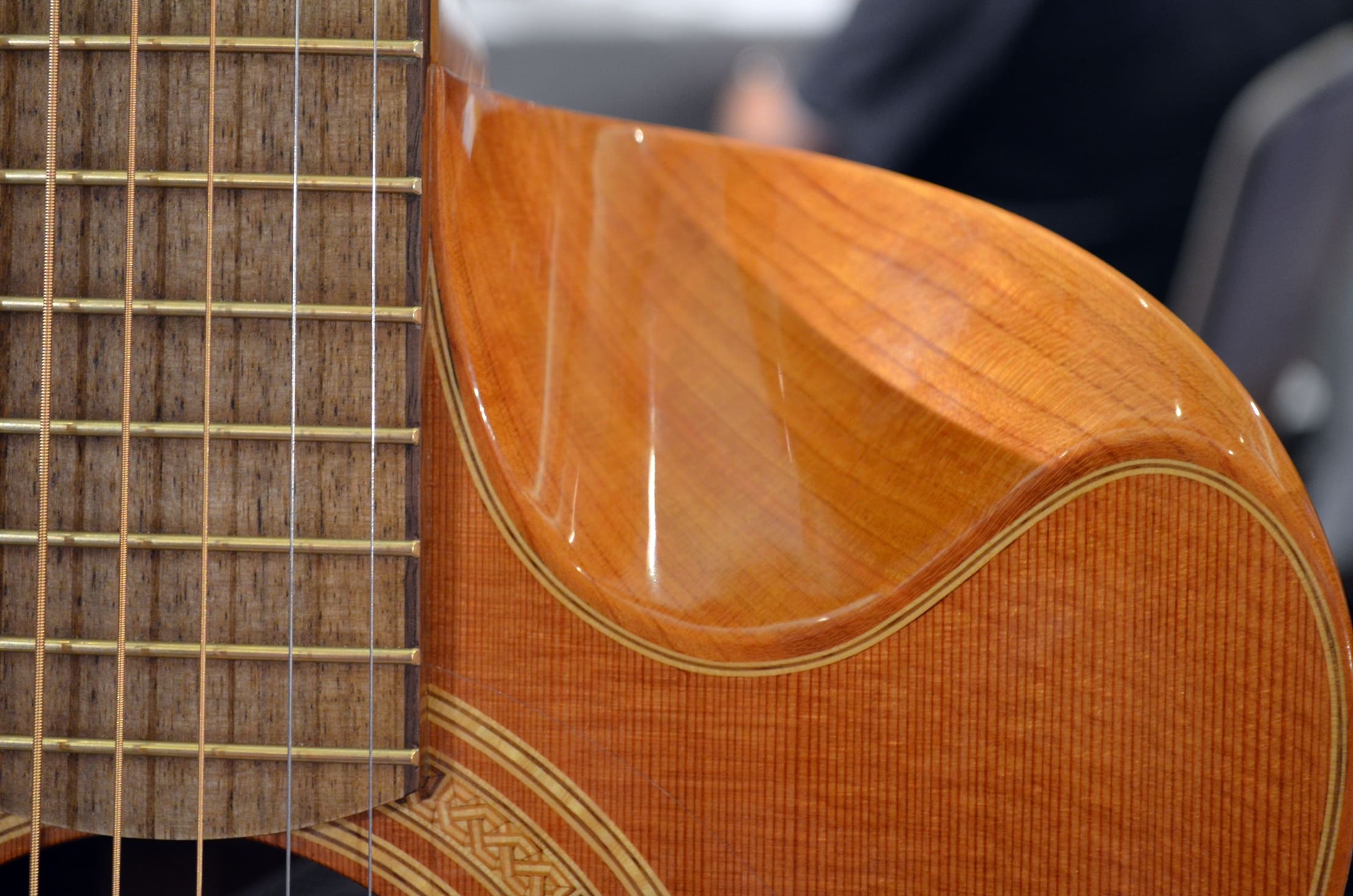 Alan Carruth dipaway, er make that scoopaway.  We've all heard the controversy: a cutaway aids access to upper frets, but by reducing an instrument's internal volume may, say some, affect the instrument's tone.  Leave it to Alan Carruth to invent the solution:  the dip-away.  This works as well as a traditional cutaway, minimizes the intrusion into the guitar body, and looks really cool.
Update.  My friend, fabulous guitar player, the performer who demoed Carruth's guitars at the show, and the owner of the guitar sporting Al Carruth's solution to the cutaway, Ken Bonfield, contacted me.  "So I just gotta ask. You're a wordsmith, doesn't Al's bevelled cutaway deserve something more elegant than 'dipaway'? Sounds like something you say to inebriated college students."  Ken's got a point, and a line that I could have used last weekend at Lollapalooza.  Meltaway or sculptaway might do.  But, I think that I'll now call Al's elegant solution a scoopaway.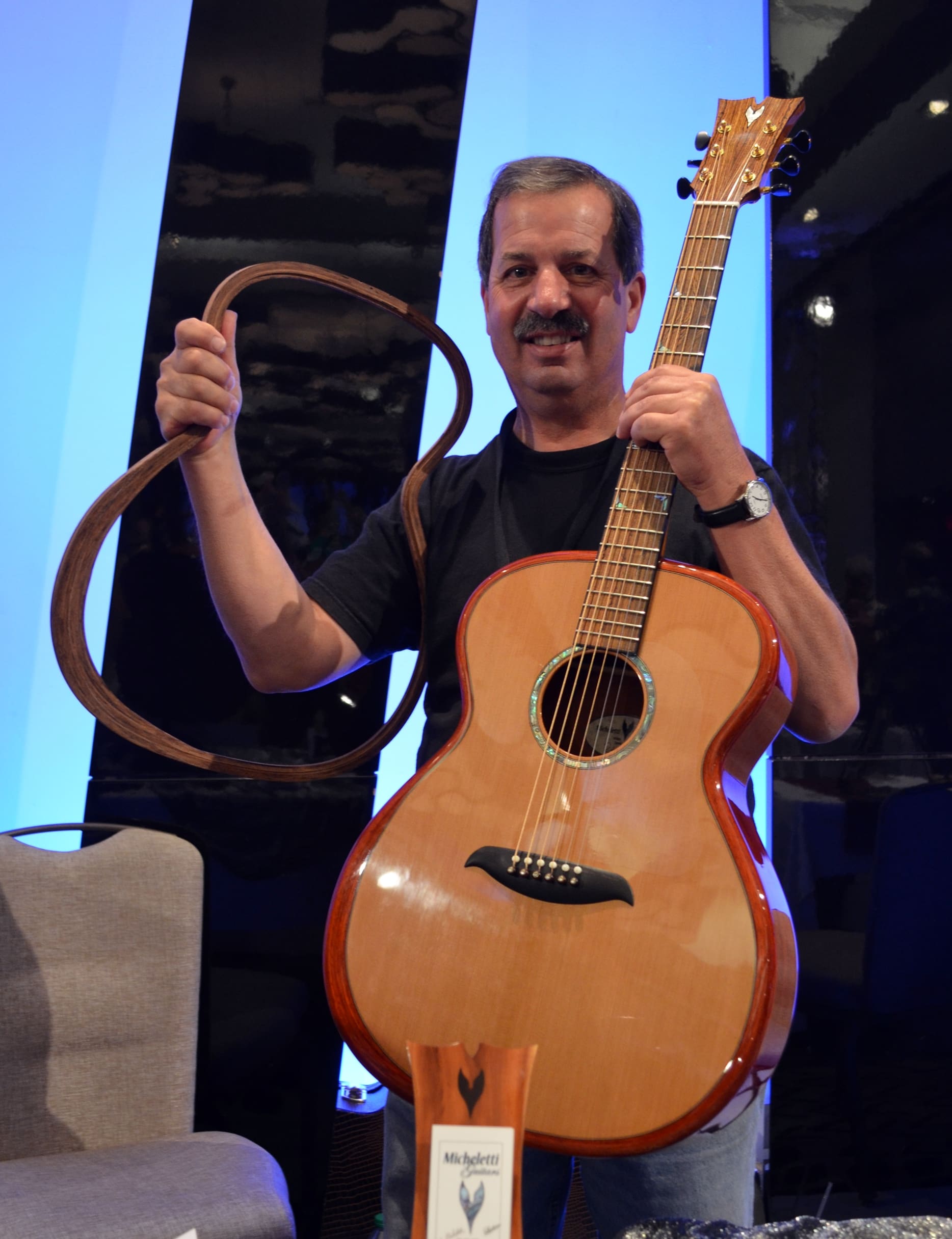 Rick Micheletti rounded edges.  More and more luthiers are offering the old pickers' features like smaller bodies, beveled arm rests, and beveled waist cutouts.  Rick Micheletti exhibits the now-why-didn't-I-think-of-that invention of the show:  all-rounded edges.  In a patent-pending technique, Rick has replaced the guitar's kerfing with a nicely rounded ring of wood.  The result is a very comfortable and good sounding instrument.
Kevin Pederson adjustable bone saddles.  In the never ending quest for perfect acoustic guitar intonation, a number of the show instruments feature wide saddles that maximize the amount of compensation one can achieve on an immovable chunk of bone.  A couple of guitars also feature compensated nuts.  Kevin Pederson offers the patent-pending solution:  adjustable, individual bone saddles.  The total amount of bone material used is about the same as that in the modern, wide saddle and each piece can be moved back and forth by the turn of a screw.
Conclusions
This is the first year of the every-other-year arrangement of the Montreal and Healdsburg guitar shows.  The pact by the two venues is designed to allow luthiers and patrons to attend both events rather than choosing between them.  So, the Healdsburg show will occur next year and the Montreal show will next be held in 2014.
I'm already looking forward to both.