1965 Mosrite Ventures
Semie Moseley never had the success he deserved. He was an excellent craftsman and he had some very interesting ideas about designing and building guitars, but by all accounts he was a terrible businessman who was never able to capitalize on his considerable talents. Moseley got his start building in the early 1950s at the Rickenbacker guitar company. While he was there Moseley met a recent immigrant from Germany named Roger Rossmeisl, who taught him quite a few European building techniques. Over the years, Moseley incorporated some of the ideas he learned from Rossmeisl, such as the zero fret and the German carve around the guitar's edge, into his own creations. For most of the 1950s Mosley specialized in custom guitars but in 1963 he met Nokie Edwards of the Ventures, who liked what Semie was up to. The band struck an endorsement deal with Mosrite and it looked like Moseley was finally on his way.
This lovely blue guitar was made in 1965, during the peak of the model's popularity. The first few Ventures models had glued-in necks but they turned out to be too expensive to build so in 1964 Moseley designed a bolt-on neck that was similar in style to the guitars Leo Fender was building. Mosrites had very slim necks, perhaps a bit too slim for my hands, but a lot of great players seem to like them. These guitars sound really good, with a sort of a refined twang, if that makes sense.  The Ventures were quite popular in the US but in the late 1960s and for most of the 1970s, the band was huge in Japan. To this day the Ventures are still quite popular there and there are dozens of tribute bands playing the classic instrumentals, all of whom are trying to be as authntic as possible. Consequently, most of the Mosrites from the 1960s period have made their way to Japan, making them quite scarce here in the US. If you'd like to add this guitar to your quiver, walk, don't run to Gruhn Guitars with $4500 in your hand.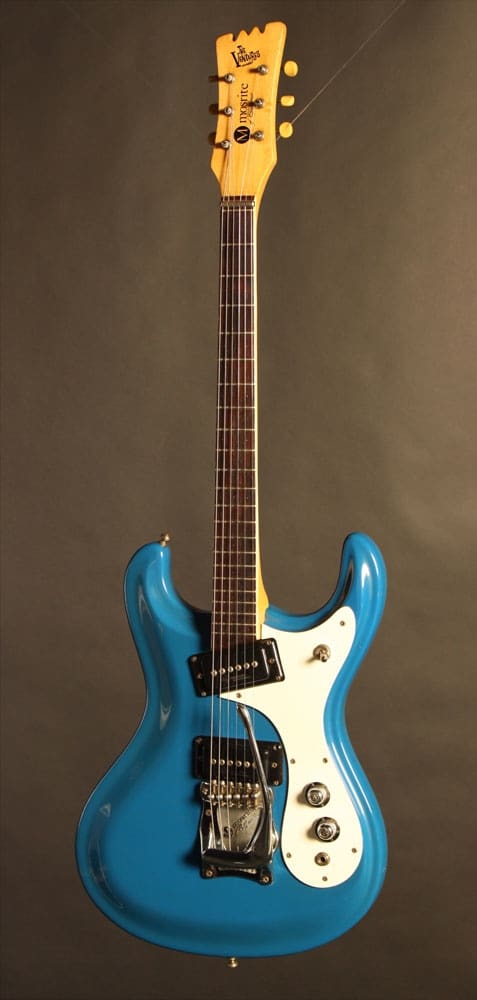 Here's a nice clip of the Ventures playimg live in Japan in 1966.
And here's the M Ventures, a modern Japanese Ventures tribute band replicating the 1966 concert.