Nic Delisle of Island Instruments is a young builder in Montreal, Quebec, who produces a dizzying array of eye-catching instruments: electric and acoustic guitars, bass guitars and even a tiple. His designs are forward-thinking and retro all at once, mostly using "domestic, salvaged and reclaimed timbers." Although we once featured his shopmate, Mike Kennedy, in our Bench Press column, Delisle first came to our attention via his wonderful Instagram feed, piquing our interest with his gorgeous "milk paint" finishes and the unusual goldfoil MOJO Pickups he favors.
Fretboard Journal: What's on your bench right now?
Nic Delisle: I've got tons on the go right now… I think I'm working on more guitars at one time than I've ever done in the past.
I'm working on a unique Forty Four (my flagship model) that has a reclaimed Cedro Espino body, salvaged redwood top, mahogany neck and Rainforest Alliance-certified ebony fretboard. Celluloid binding everywhere, two of my proprietary Hershey bar pickups wound by MOJO Pickups (who has been just knocking everything he does for me right out of the stratosphere). This guitar is getting equipped with the full Mastery suite: bridge and vibrato. I'm pretty excited about using the product. There's a reason it gets the praise it does. They look and feel beautiful and I'm stoked to see how they mesh with my instruments. This is actually the first vibrato/trem-equipped guitar I've ever built – so that's exciting!
I've got a Carny on the go, which is my take on the Silvertone 1448/Amp-in-case. This one is standard spec: One-piece solid vertical grain Western Red cedar body with ivory milk paint, poplar neck with my hybrid neck construction (the neck extends deep into the body, past the bridge and the bridge is bolted through the neck tenon into a threaded insert in the body), 23.5″ scale, Black Locust fretboard, MOJO lipstick pickup, CJ Tooling bridge with rosewood saddles and Italian celluloid pickguard and bindings. The guitar comes with the Benson Amps "Drifter" amp-in-case: 5 watts, all tube, with tremolo and an 8″ speaker – it's entirely handmade and point-to-point wired in Portland, Oregon, by Chris Benson.
Another special project on the bench is a Kay Thin Twin spin-off for a customer in Prague who I had the pleasure of meeting (and delivering a guitar to) at the Holy Grail Guitar show in Berlin this past year. I don't foresee adding the model to the lineup, so this is very likely a one-off. It's got a 2″ thick walnut body that has been hollowed out – a terribly wasteful way to build a guitar of that size – a Sitka spruce top, Peruvian walnut neck, reclaimed Zapatero fretboard and ivoroid bindings . It'll be getting two of my Hersheybucker pickups (humbucker versions of my Hersheybars that fit into the same housing), a BIG firestripe pickguard (like the originals) and a handmade brass tailpiece (along with other raw brass appointments). The shape is SO much bigger than my norm, it feels quite alien to be working on such a big instrument.
Traveller #2 is on the bench as well. A 23.5″ scale version of my tiny (9″ in the lower bout) headless guitar. This one will be shipping in a custom gig bag as opposed to the spy kit. It's got a solid red cedar body in Sonic Blue milk paint, Douglas fir neck, composite fretboard, MOJO Hersheybar and Hipshot hardware. The whole idea came from building a quality guitar for my friend's 7 year-old daughter. That is my Tyke model. It got the gears turning and things got transposed to a headless version with an easily detachable single-bolt neck. Both guitars meant for kids and guitars meant for traveling are cheap, shitty, or gimmicky and usually all of the above, so I'm trying to change that. I'm building quality instruments that are inspiring tools for players (whatever their age/size) and that are meant to last a lifetime. So far I'm three Tykes in and this is Traveller #2 and I have to say I'm super pleased with the results. The consensus has been that the guitars play effortlessly, feel much bigger than they are and sound great.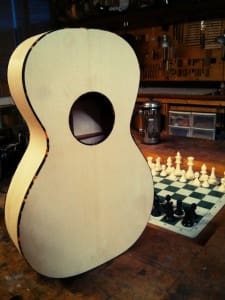 Modern Romantic #3 is my parlor sized nylon string guitar. This is another sort of hybrid instrument that blends old school silhouettes and new school ideas. (I guess that's kind of my thing.) The shape is inspired by guitars from the Early Romantic era and old Martin parlors and such, but it features a heel-less adjustable neck and a sorta pimped out ladder bracing pattern that my shopmate Jeremy Clark of the 52 Instrument Co. came up with. Birch back and sides and an Engelmann top, poplar neck, Black Locust fretboard and Italian celluloid appointments. This one has been on the bench for a long time now, but this is the year I finish it. It'll be going to Australia.
Lastly, the final three Anzols from the inaugural run. One, Forest Green with either an ivoroid or gold pickguard, will be headed to Found Sound in Australia and the other two I will be finishing to my liking and selling through my Reverb.com shop.
FJ: You have an admirable, thoughtful and responsible approach to the woods you use; can you tell us a little bit about how you choose and source your materials?
ND: It's exactly as you put it – a responsible approach to the woods. There's no real secret recipe and I don't believe much in any magic woods or combinations or whatever. There's definitely a canon of materials in the guitar-making tradition – they continue to be glorified today but I don't know that the average guitar buyer has stopped and really ever thought about why. I'd wager that the reasons are primarily socio-economic and NOT related to tone. Sure, Brazilian rosewood is a great sounding wood, but the quality of sets in circulation today is pretty abhorrent. Ebony is a stupid wood for fingerboards. Sure, it's hard, but it's very hygroscopic (not stable!) and, again, the stuff for sale today is mostly of dubious quality/provenance, outrageously priced and not even all that black!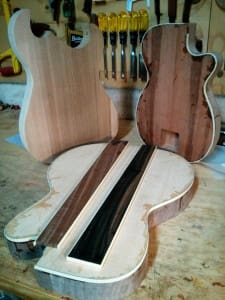 I am passionate about using reclaimed/recycled/sinker woods that tell a story, but it's just something I do. I refuse to sound off about the mystical sonic voodoo properties of salvaged Douglas fir or reclaimed redwood. The stuff can build great guitars, as can dense exotic woods. Both can build shitty guitars too. What's most important for me is that the guitar be made from quality materials, be constructed with integrity and use top-shelf components (generally made by people who I know personally and whose work I respect tremendously). My guitars are all very much a personal expression. My aim is to design the guitar as a complete package, that doesn't sound, feel or look like anything else out there… and it ain't just because of the reclaimed fir.
As for where I source my materials, there's no real secret there either. I spend time in the local lumber yards, I've developed relationships with a couple of excellent sources and I keep my ear to the ground.
North America is abundant with beautiful timbers well suited to what I do and I just don't see the need to look elsewhere, especially if I can put a name to the face of the guy who felled the tree or dragged it out from a body of water. It just seems logical to me.
FJ: You use some different woods for fretboards – Black Locust, Zapatero, etc.; how'd you discover them, and what makes you choose one over another for a particular instrument?
ND: I discovered both of those through a wood supplier. They were stocking some weird unconventional woods that were a product of a project they did in South America, focused on responsible forestation and growing local economy. The Black Locust is a domestic wood that's super hard and, although it's pissy yellow, it ebonizes well. It's my go-to. I use the other stuff when the customer wants brown, or something different.
FJ: You have a couple of instruments available at the moment, including a guitar you built for the Holy Grail Guitar Show that's made with a recycled plywood body; can you tell us a little more about its construction? What about the tailpiece that you designed for it?
ND: Ah… Re-Ply #2. That project started maybe three or four years ago. Luca, one of the guys from Daddy Mojo, was working on plywood furniture and had the idea for a guitar body showcasing all the laminates (somebody had probably already done it). Maybe a year or so later I came across this sheet with the graphic on it in the trash outside someone's studio, and I had the lightbulb moment. I also had a ton of plywood in the garbage so figured it was time I make the guitar Luca had in his head and had put in mine. The graphic sheet was big enough to yield two tops. The bodies were made of 20 to 30 pieces of plywood glued together on their faces, thus having the laminations on the "show" side of the guitar. The idea was also a comment (and experiment) on what I think about the idea of "tone" wood, and fancy exotic shit. The owner of #1 says it's the most resonant electric he owns, and the consensus in Germany with #2 was that the guitar was a "lively little beast," so…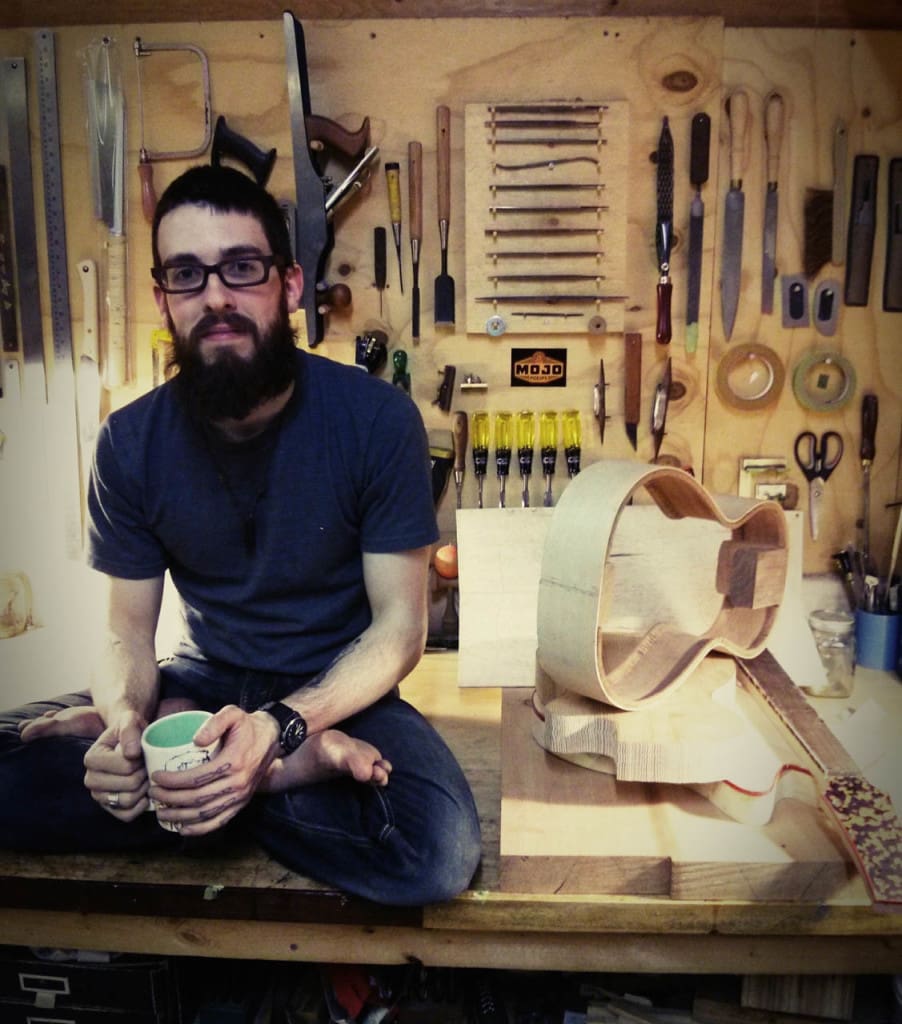 As for the tailpiece, it was actually designed independently (this is the third guitar to sport it). I'm a huge fan of Ken Parker (who isn't?) and it was inspired by his tailpiece and master builder Jeffrey Elliott's pinless pin bridge design. I guess Parker's tailpiece is similar in principal to Beauegard's and I'm not sure who came up with it first – I think maybe Mario, actually but Ken was who I first noticed it from. Anyway! There is a stainless steel post that goes through the entire body of the guitar, up through the back that anchors the aluminum tailpiece. To my knowledge I'm the only one who uses this system, so I guess that's my contribution to the evolution of that style of tailpiece. Changing strings takes a little longer/requires slightly more attention but I'm okay with the trade off.
FJ: What's your wait time for custom orders?
ND: Approximately 8-10 months.
FJ: Where's your shop? What can you tell us about the space?
ND: The shop is located in Montreal's Mile End district, which is basically the city's hipster/artist central. The postal code for our area actually has the highest concentration of artist workers in Canada.
The shop is a cooperative space that was started by Mike Kennedy of Indian Hill Guitars and Jeremy Clark of the 52 Instrument Co., who are extremely talented steel string and concert classical guitar builders, respectively, who both apprenticed with the Canadian legend Sergei DeJonge. They, along with Dion Bews, were forced to move shops in 2010 and that's when I joined up. It is now also home to Daddy Mojo Stringed Instruments (who is actually the person I got started with in the business almost nine years ago now) and a number of talented hobbyists and budding builders. We're eight people in total, all working out of the 2000-ish sq. ft. space. It's a really amazing thing and it has allowed me to do what I do almost full time from the get-go, for over five years. I straight up would not have been able to cover the costs required to set up and maintain a shop and get going in this business otherwise. Besides the economical benefits, it's also an unbelievably rich learning environment. Everyone is super open with their ideas and sharing of knowledge. I believe this has allowed me to progress and develop exponentially faster than I would have flying solo. Generally if there's an idea that pops up, 4-5 other guys will have experimented with and tweaked it by the time I get to it, so it's already gone through all that development. We all do our own thing but each of us influences one another in some way… I'm extremely thankful for this little community we've built.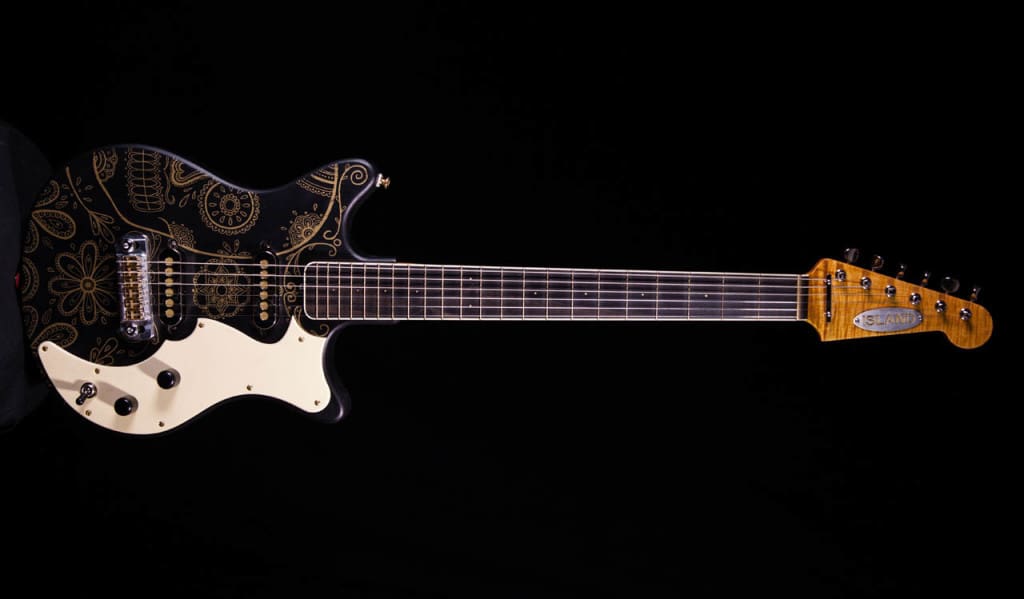 FJ: Anything coming up that you're particularly excited about?
ND: We got a chess board in the shop now, that I'm pretty stoked about. My wait time is probably going to increase, hahah!
I'm really excited about these compact headless guitars… I think the headless design makes a lot of sense, and they are having a resurgence now with the likes of .strandberg and Kiesel/Carvin – but I have my own, very different, retro take on the idea that I'm looking forward to expanding. I have a couple of headless Forty Four projects on the bench, and maybe a headless weirdo six-string bass. Speaking of basses: I'd really like to re-develop my line. I have an idea for a 33″ scale hollowbody with Guild-style BiSonic/Darkstar pickups… Just need somebody to order the prototype to get things moving! I've also got the first steel string Modern Romantic to build, which I'm looking forward to. I'll be working with some of Jeremy Clark's lamination ideas and experiments, but I can't say much more just yet… Should be a busy year!
Learn more about Island Instruments at islandinstruments.com.
Guitar photos by Mat Barbeau.