 A living legend needs a place to hang his hat like anyone else, but it's still surprising to find Wade Mainer, one of the early stars of country music, making his home in a humble company house in frigid Flint, Mich. Mainer may not be as well known as some of his contemporaries, but his innovative two-finger banjo style and precise ensemble sound helped write the blueprint for bluegrass music. His distinctive arrangements of classic songs such as "Maple on the Hill" and "Take Me in the Lifeboat" introduced them into the standard bluegrass repertoire, where they have remained ever since he first played them on stage and radio in the 1930s.
Mainer is not as recognized as he should be, considering his contribution to American music, but he is far from forgotten. In April, he celebrated his 99th birthday with scores of friends from around the country. Many, like renowned Asheville, N.C., musician David Holt, have been attending Mainer's birthday parties for years. Holt recently devoted a segment of his Folkways program on North Carolina's PBS network to Mainer's story. "I call Mainer the grandfather of bluegrass music, because Bill Monroe was the father, you know," says Holt. "Bill Monroe credits Mainer as one of his main influences. Doc Watson credits Mainer. Ralph Stanley credits Mainer as one of his main influences, and he certainly was a main influence on me and lots of other people — in large part because of his music, which is very clear, clean and precise music, but it still has a lot of feeling."
While the snow fell outside, Mainer and his wife, Julia, graciously invited me in their home to chat over a warm breakfast. The poetic rhythm of Mainer's narratives, combined with Julia's home cooking and the crackle of classic AM country, seemed like a portal into the 1930s. The lengthy discussion naturally led to hours of playing music, and hearing Mainer sing songs that have become standards — like "McKinley's Blues" or "Blue Ridge Mountain Blues" — felt like hearing them for the first time, offering a glimpse of how they sounded before the commercial process smoothed the rough edges, lopping off the odd measures and extra verses.
As Mainer's stories began to unfold, he felt compelled to issue disclaimers on their accuracy. He's granted dozens of hours of archival interviews to historians from institutions like the Smithsonian and East Tennessee State University, and he was wary of contradicting himself. But as he unlocked his memory's vault, he revealed the deep sentiments of a man who is perhaps the most significant living link between the old-time tradition and the polished sound of modern bluegrass.
Early Days
Wade Mainer was born on April 27, 1907, and grew up on a mountain farm along Stoney Knob Road outside of Weaverville, N.C., just north of Asheville. Like many self-sufficient farming communities at the time, families spent what little money they had on staples like sugar and salt to supplement what they had grown and raised. "My mom and dad would hitch up a team once a week and go into Asheville," says Mainer. "It was only six miles to town. They'd load up a buggy or a wagon and set out milk and butter or meat and peddle it on the streets to buy the sugar and stuff."
The farming community may have been poor, but it was closely knit. The farmers had a "good neighbor policy" and tended to each other's crops in the event of sickness, and they were happy to help newcomers construct a log home. Old folks who had outlived their working years would often spend their time singing old songs. "They just made their own way with their music for entertainment, for themselves," Mainer says. Gesturing to the digital recorder in front of him, he adds, "I wish I had something like you have here, back then. They didn't have the instruments to sing with, you know. They'd just sing a cappella all the time."
After finishing communal tasks like shucking the corn, the farmers would often sing into the early hours of the morning. Mainer still sings the songs he learned from his father and his friends on these occasions. "You could hear [my father] sing all over the mountains whenever he took a notion to," Mainer recalls. "And he had some songs that were good ones."
If someone did want to play a musical instrument, they had to make it themselves. Mainer recalls some of his neighbors made two- or three-string banjos out of the rims of sieves used to separate grain from chaff. Banjo heads came from the hide of available animals like groundhogs or cats. "I don't know how they got a hold of those steel strings," he says.
When he was still young, Mainer left home to live with his older brother-in-law, Roscoe Banks, a left-handed fiddle player who owned a sawmill. Mainer swept the floors for 50 cents a day so he could learn music from Banks, who regularly performed for barn dances. Young Mainer would watch Banks' brother play banjo in the drop-thumb style and during breaks he would tinker with the banjo. He was a fast learner and he soon began filling in when a band member failed to show up for a gig.
"Nobody taught me any banjo, I had to pick it up myself," says Mainer. He played with Banks until he was about 12. "I did the dust until I learned all the songs I could from him," he laughs. "He knew a lot of those old songs handed down from the 1800s. Songs of the old-time like 'Log Cabin in the Lane,' and dance music like 'Sally Ann,' 'Cripple Creek,' 'Old Joe Clark' and 'Dance All Night with a Bottle in Your Hand' and all of those songs."
Mainer's Mountaineers
When he was in his early teens, Mainer moved to Concord, N.C., to live with his older brother, Joseph Emmett. J. E., as he was called, was nine years older than Wade and left home at an early age to ramble between towns and jobs before settling at the cotton mill in Concord. "So I went to the cotton mill where my brother worked, and they gave me a job right off although I wasn't but that high," Mainer says, holding out his hand to show how short he was. Mainer mostly swept floors and cleaned up trash because he was so young. "They worked anybody. Anybody from 10 years old on up," he says.
Among the Mainers' coworkers were Dorsey and Howard Dixon, who later achieved country music fame as the Dixon Brothers. Dorsey Dixon, who is best known for writing the classic "Wreck on the Highway," also composed "Babies in the Mill," about his experiences as a child laborer in the cotton mills.
After a long day of hard work at the mill, the Mainers would play music together. Like his younger brother, J. E. originally started out as a banjo player supporting Roscoe Banks at dances, but he soon took up the fiddle. After moving to Concord, his skill with a bow earned him a local reputation.
By the early 1930s the Mainers' instrumental skills had progressed to the point where they felt they could start playing professionally. They joined up with "Daddy" John Love, a Jimmie Rodgers-style guitarist, and brothers Lester and Howard Lay to form Mainer's Mountaineers. The new band was heavily inspired by Gid Tanner and His Skillet Lickers and also learned songs from the 1920s recordings of players like Fiddlin' John Carson.
They still worked at the cotton mill, but they managed to earn extra money playing dances and entering music competitions. "Yeah, we'd play anywhere we could get a nickel or a dime," Mainer explains. They won first prize at fiddle contests so frequently that the organizers eventually banned them from competition. "They'd beg us to come and play, you know … draw the crowd," says Mainer, "but we wouldn't go."
However, the Mountaineers did volunteer to play Saturday nights on WSOC, a small station in Gastonia, N.C., beginning in 1932. The show, entitled The Wayside Program, was intended for the elderly who were shut in. "We never charged them or anything," Mainer remembers. "We would go out and play for them because it felt so good and they treated us well there too."
In 1934, the Crazy Water Company offered to sponsor Mainer's Mountaineers. A company representative had heard about the band's growing reputation and one day he dropped by the WSOC studio to listen. He liked what he heard and made the young musicians an offer, and before they knew what was happening, they were renamed the Crazy Mountaineers and were playing on WBT, a massive 50,000-watt station in Charlotte. Almost overnight, the Crazy Mountaineers and the Crazy Water Crystals Barn Dance became household names across the North Carolina Piedmont. Shortly thereafter, Crazy Water Crystals would ship the band across the South for several years — to WWL in New Orleans and back to WWNC in Asheville before returning them to WBT and stations like WPTF in Raleigh.
In 1935, soon after landing their Crazy Water sponsorship, the Mountaineers went to Atlanta to audition for RCA Victor's Bluebird Label. The band now featured Love and an 18-year-old guitarist named Zeke Morris. Bluebird signed the group immediately, challenging the performers to deliver perfection. "They didn't like you to make a mistake," Mainer recalls. "Of course they just had one mic for you to work on. Four or five people would work on one mic. Usually they would have a room in the hotels and they'd run the wires from where the musicians were into where the machine was. Those songs went into wax when you was playing it."
The 1935 Bluebird sessions yielded 14 recordings, including their version of "Maple on the Hill," featuring Wade Mainer singing lead and Zeke Morris singing tenor. Paired with "Take Me in the Lifeboat," the record sold more than a million copies, making the Mountaineers the most popular Southern string band at the time.
Thomas Sneed, mandolinist for the revival old-time band the Reeltime Travelers, notes that, "The 'Maple on the Hill' and 'Take Me in the Lifeboat' record was a smash hit right off the bat. So you're talking millions of records to hillbillies who might not have had a lot of stuff in their house." Sneed spearheaded an archival video project of Mainer with Mike Seeger. "One guy in Tennessee told me his wind-up Victrola was a 'king's treasure.' That was the best thing in their house. I think a lot of people felt like they knew the Mainer's Mountaineers."
For the Mainers, the break could not have come too soon. "Oh yeah, we sold a lot of records," Mainer recalls. "That's what helped us out. If it hadn't been for that, we would have been in bad shape. We'd take them out on our show dates, and everybody around there that had a machine would buy a record."
While the Crazy Water Crystals sponsorship was a wonderful opportunity, the company demanded grueling hours for measly pay. A typical day would find the Mountaineers driving out of town to an evening personal appearance, often with multiple shows, then driving back through the night to return for their radio spot at 4:30 or 5 in the morning —  just in time to reach the farmers as they returned from tending to their animals.
After grabbing a few winks at a nearby apartment, they would be back on the air at noon for the farmers' lunch hour before once again hitting the dirt roads of Appalachia to make the next evening gig. At first they drove a Model T Ford until they could afford a larger Model A, which had open sides that forced the band to stay close to the exhaust pipe to keep warm in the winter.
The Crazy Water Crystals emcee would collect the money at the door of the band's shows and then pay them a small salary. "Crazy Water Crystals would give us a job, pay us maybe $5 a week, if it did get up to $5 — it didn't at first," says Mainer. "J. E. got a little bit for being the leader of the band. You know, he got enough to buy our strings."
Five dollars a week was a dire wage, even in the depths of the Depression. In 1934, a national strike of a half-million cotton workers led President Franklin D. Roosevelt to impose a minimum wage of $10 per 40-hour workweek. With half that pay, the band would often go without meals in their early days. "You'd be surprised what I ate when I was on the road when my brother and I first started out," Mainer says, remembering his meager suppers of mashed potatoes. "We'd go into a man's grocery store, tell him we want a couple of potatoes to eat. We had it rough, but we stuck with it."
Although the Mountaineers earned even less money than cotton mill workers — and labored longer hours to get it — they enjoyed their work. The music was powerful, and they loved delivering the goods to their devoted audience, whether on radio or in packed schoolhouses. "Maybe two or three hundred people would come to hear us play," Mainer recalls, "carrying their lanterns and driving their horses and riding their wagons and picking up people along the way to come to our shows."
While on the air, the band would encourage listeners to send in song requests, and their audience responded by sending in piles of mail, often suggesting songs that were unfamiliar to the band. If the band could not locate the melody, the first member to write the tune would claim the song. By assuming the role of song collectors, the Mountaineers forged an even stronger bond with their audience and expanded their already extensive repertoire.
Sons of the Mountaineers
Sometime around 1935, Wade Mainer met Julia Brown, a singer who performed under the name of Hillbilly Lilly, and soon began courting her. According to Mainer, he fell in love as he was rolling up her driveway to perform for her father's birthday. After three years, they were married, and Julia often traveled with Mainer, organizing the business aspects and recording and performing with him in later years.
As time progressed, Mainer grew disenchanted with the Crazy Water Crystals operation. With such overwhelming popularity, he felt the group could have easily earned more by striking out on its own, but J. E. strongly advocated staying. Mainer quit several times when the company denied him a raise, but the Crazy Water folks would always chase him down and offer him higher pay. After going through this cycle a few times, Mainer had more than doubled his salary to $12 a week. In those days, few performers held enough clout to compel a powerful sponsor to chase them down.
Throughout all of this, Mainer and Zeke Morris had mastered the "brother duet" style of singing made famous by the Delmores and Mainer's old cotton mill coworkers the Dixons, and the pair even made a few records independently of the Mountaineers. By 1936 Mainer finally tired of the low pay, so he and Morris left the band and traveled to Raleigh, where they quickly began performing on WPTF.  His decision was immediately justified when their wages increased to $35 per week. And, since they were free of the Crazy Water Company, they could keep all the money from their concerts.
Mainer and Morris began to record extensively for Bluebird. (Mainer also recorded with his two young cousins, Buck and Buddy, under the name of the Little Smiling Rangers.) The duet would occasionally round out their sound with some fiddle — played first by Homer Sherrill, who had played with the Blue Sky Boys, and later by Steve Ledford. The magical chemistry between Mainer, Morris and Ledford had an enormous impact on countless musicians. Mike Seeger remembers when his father let him spin "Riding on That Train 45" and "Down in the Willow" in the mid 1940s. "'Down in the Willow Garden' was one of the first things I'd play," says Seeger. "The way that they clicked was entirely unique. That was the closest thing to bluegrass until there was bluegrass."
Although the group was doing well, Morris left in 1937 to form a new group once his younger brother, Wiley, was old enough to work in music. The Morris Brothers scored an early hit with "Salty Dog Blues," which became a bluegrass standard, and gave both Don Reno and Earl Scruggs their first steady gigs. Meanwhile, Mainer started a band he called the Sons of the Mountaineers. While J. E.'s Mountaineers continued on the old-time string band path, Mainer's band emphasized smooth vocal harmonies and well-crafted arrangements that presaged the complexity of bluegrass.
Like many bands of the day, the Sons of the Mountaineers incorporated comedians into their act. One memorable figure named Panhandle Pete made a name for himself as a multi-instrumentalist. Mainer remembers him playing 16 or 17 instruments at once, including banjo or guitar, harmonica, cymbals on his knees, a train whistle, cowbells, a garden hose and drums on the floor.
Mainer remembers one particular night, when he and Ledford were exchanging stage banter, and Pete was planted in the audience wearing cartoonish hillbilly attire. "He jumped up," Mainer recalls, "and he said, 'Go on and get with the show! I'm gonna come up there on the stage and whoop every one of you if you don't put on the show,' like he was drunk, you know." Then Pete was supposed to go onstage with his one-man-band act, but members of the audience threatened to take him out back for a beating. "That scared him up a little bit. He didn't ever want to do that anymore."
Mainer never had an altercation at a show, although his personal appearances would take him to far-flung, relatively lawless territory. Mainer believes it's because he was kind to everyone, including potential troublemakers. Mainer would not drink, and he forbade alcohol at his shows, but once, when a few penniless drunk men tried to sneak in the back door, Mainer offered them free admission in exchange for their being quiet. That way, he says, even the drunks would watch his back.
The personnel in the Sons of the Mountaineers shifted throughout the years, but in 1937 Mainer assembled his best-known lineup with guitarists Clyde Moody and Jay Hugh Hall, who were working together as the Happy Go Lucky Boys. Together with Ledford on fiddle, they cut 44 sides for Bluebird while working radio stations in Raleigh, Asheville and Columbia, S.C. (After his tenure with Mainer, Moody joined Bill Monroe's newly formed Blue Grass Boys just before they ascended to WSM's Grand Ole Opry in 1940.)
Mainer's next version of the band featured Tiny Dodson on fiddle, Howard Dixon (from the cotton mill days) on lap-style slide guitar and the vocal harmony of the Shelton Brothers. While they were working at WWNC in Asheville, Alan Lomax sent a crew to document their performance for the Library of Congress. (County Records released these recordings in 1973.) The group then moved to Knoxville, Tenn., to work for WKLX shortly before the outbreak of World War II. Mainer appeared with the Shelton Brothers on his final session for Bluebird in 1941.
During World War II, Mainer and his wife Julia bought a farm in Mocksville, N.C., and began raising their family of four children. With his touring hampered by high fuel prices and wartime rationing, Mainer stayed close to home. He did travel in February 1941, though, when the Library of Congress requested he play for President Roosevelt at a White House dinner. After his band's performance in the Blue Room, Mainer enjoyed talking with the president, whom he strongly supported. "I sat and talked to him just like I'm talking to you right now," he recalls. "He asked me to talk to him for about 15 or 20 minutes."
Mainer also traveled to New York in 1944, when a telegram arrived inviting him to appear on a BBC broadcast of the ballad opera Chisholm Trail, which was produced by Alan Lomax. He didn't have a working band at the time, so he chose future stars Red Rector and Fred E. Smith, both young Asheville musicians, to accompany him. They appeared alongside J. E. Mainer, Woody Guthrie, Sonny Terry, Burl Ives, the Coon Creek Girls, Cisco Houston and Lee Hays.
Throughout the late '40s, Mainer continued radio work in North Carolina and made a few tracks for King Records, including a few sides with Julia. (In 1945, when the producer requested that he cut "The Train That Carried My Girl from Town" with slide guitar, Mainer skillfully obliged by using a pocketknife for a slide.) Mainer also performed occasionally with Jim and Jesse McReynolds, who were just starting out.
After the war, music began to change. Country bands were starting to use electric guitars and drums, and Mainer's banjo-driven sound was becoming increasingly anachronistic.  Finally, in 1953, Mainer, Julia and their children joined the migration of Southerners to the industrial North to look for work. After a couple of false starts, Mainer finally landed a job operating machinery at the General Motors plant in Flint, Mich., and built a modest brick house for his family.
Mainer and Julia always maintained honest and humble Christian convictions, living lives of simplicity and kindness. Upon moving north, they moved deeper into religion and gave up performing secular material in public. Although Mainer did cut one record for King in 1961, from the mid 1950s on, he and Julia concentrated on playing gospel music in local churches. Wade Mainer dropped out of sight so completely that longtime friends such as Tex Ritter assumed that he had passed away.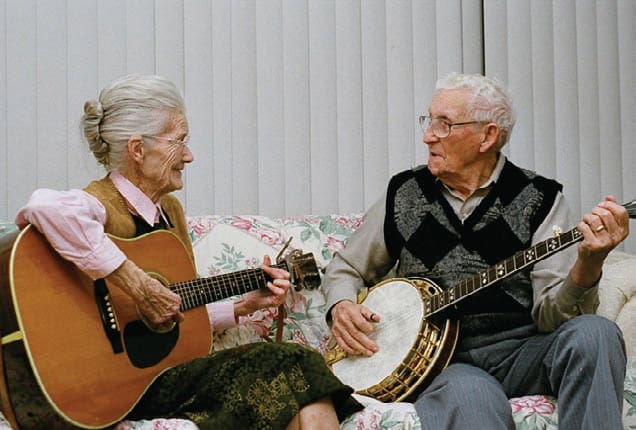 Revival
In 1971, almost two decades later, a young record collector in Brighton, Mich., named John Morris heard that Mainer lived nearby. Connecting through the telephone operator, Morris and Mainer quickly established a strong friendship. Morris, who had grown up listening to Mainer tracks like "Maple on the Hill," had the notion of starting a record company, and he convinced Mainer that recording some secular songs would not necessarily be contrary to a Christian ethic. Mainer agreed to record a volume of old-time songs, and they coined the name Old Homestead for the new label.
Morris set out to spread the word about Mainer's legacy to the old-time revival community and produced concerts in Lansing and Ann Arbor. Wade and Julia Mainer enjoyed performing for the attentive college audiences and they delighted in picking musicians from the college crowd to back them up at shows. When it came time to enter the studio for the first time in decades, they included both young Northern enthusiasts and transplanted Southern musicians on the sessions that produced the Old Homestead LP First Time in Stereo.
Bluegrass fiddler Steve Whalen was one of the young Northerners who played on the recording. "I really looked at Mainer as an icon," remembers Whalen. When Whalen first entered the home studio in Brighton, which had egg cartons on the walls to dampen the sound, he felt "a tremendous sense of history. This was a guy that really set forth a style that, I think if not directly, then at least indirectly, influenced [Earl] Scruggs. I really had that sense that this is a really important historical thing. The music I'm trying to play, this is where it came from." Whalen recalls that Mainer would politely ask him and the others who had bluegrass backgrounds to play simpler lines that were closer to the vocal melodies. The result was strongly reminiscent of Mainer's classic recordings from the 1930s.
Mainer also participated in various archival projects, including an appearance at a folkloric banjo forum in Washington, D.C., at Ralph Rinzler's request. Mainer describes how the event highlighted similarities and differences between regional and ethnic styles, "including the black man's music and the white man's music, and where the music got started from … Africa. There's a lot of history along that line in the music." When the banjo players showcased their versions of common tunes, Rinzler placed Mainer at the end of the line because his style was the most modern among the old-time musicians.
Festivals around the country began booking the Mainers for performances. They played at the 100th anniversary of Franklin Roosevelt's birthday in Washington. After Ralph Rinzler passed away, they honored their friend with gospel songs at his memorial service. When the couple finally played the Grand Ole Opry in 2002, they received four standing ovations. Mainer received awards from the NEA, the IBMA, Ralph Stanley and the Uncle Dave Macon Days — most of which were destroyed when his house burned in 1996.
The Mainers now live in a small company house along a dirt road in Flint. They rise each morning and say grace over a Southern-style breakfast before Mainer reaches for the radio to tune in classic country on WCXI. "It's only 1000 watts, but it reaches the whole county," he says with a smile. "They play my music all the time."
In late 2004, Mainer decided to sell his banjo, a 1933 Gibson RB-Granada, to raise money for his family. Mainer had purchased the instrument from a recently discharged veteran in 1935, trading a Vega banjo as part of the deal. Stan Werbin, owner of Lansing's Elderly Instruments and a longtime friend of Mainer's, has received a few dozen inquiries, but no one has met the firm price of $160,000.
"It is gold-plated and engraved, with fancy maple and a beautiful Cremona sunburst finish," says Werbin. "This is about as fancy a prewar five-string banjo as you can get." Because four-string banjos were far more common in that era, Werbin estimates that only about 12 prewar Granadas with one-piece flanges and flathead tone rings are known to exist, making the model one of the most sought-after banjos in the world. Its distinguished journey with Mainer, complete with 70 years of moderate wear, might just render it priceless.
Mainer represents much more than simply a transitional figure in country music. He's earned a reputation as a gentle soul, concerned more about his music and integrity than with chasing his own fame. Nevertheless, he wishes he had a little more recognition within the bluegrass community for helping blaze the trail for other bands. "That's a pretty good thing for them," he says. "I'm glad because people have really enjoyed the music."
[Editor's Note: This interview was originally published in the Fretboard Journal #3 in 2006. Wade Mainer passed away at the age of 104 on September 12, 2011.]