Whether due to financial shortcomings, boredom, space constraints or restlessness, every guitarist has a tale of the "one that got away," an instrument that we should have held onto, but, somehow, didn't.
In the case of Bill Frisell, the one that got away was a custom 1968 Gibson ES-175. In his 20s, while the young musician was still discovering his singular voice, the Gibson was his main guitar and constant companion. And then, in a move he'd regret for decades, he sold it.
A little back story from Frisell is in order. "My first electric guitar was a Fender Mustang, in the summer of 1965, the summer before ninth grade," he recalls. "That was the beginning of my career as a guitarist. Maybe a year later, early in high school, I sold the Mustang and got a Fender Jaguar. I moved up! And that's what I played early in high school. But then in the Fall of my junior year of high school, I heard this Wes Montgomery record…
"My band director asked me to learn this Wes Montgomery song, 'Bumpin' on Sunset,' for an all-school talent show," he says. "That was a major moment. It was a door opening to the vastness of where I am now. It was sort of the beginning of what I've been trying to do ever since."
Frisell performed "Bumpin'" at the talent show on his Jaguar. But, from staring at album covers, he knew that Montgomery used a Gibson L-5. "There was no way I was going to afford an L-5," he says, "but not long after that I went into a music store and they had a Univox archtop. It kind of looked like an L-5, it was about the same size." The store owner, sensing Frisell's naiveté, traded him straight across, his Fender Jaguar for the Univox. "He was salivating," Frisell says in hindsight, "the Jaguar was worth 10 times as much as the Univox."
"By some miracle, I called one guy that I knew and eventually it led to me hearing about Dale Bruning," Frisell adds. "I go over to his house with my Univox guitar and, at that time, he had just gotten this [Gibson ES-175] guitar. He had ordered it from Gibson, a one-off. It's basically an ES-175 but the headstock is bound, the F-holes are bound and the neck is a five-piece maple neck, more like an L-5 neck. And the fingerboard is ebony and the bridge is ebony. I think the back is maple instead of mahogany, too." Upon receiving the archtop, Bruning customized the guitar a little further. He swapped out the gold Kluson tuners and replaced the humbucker with a '50s P-90.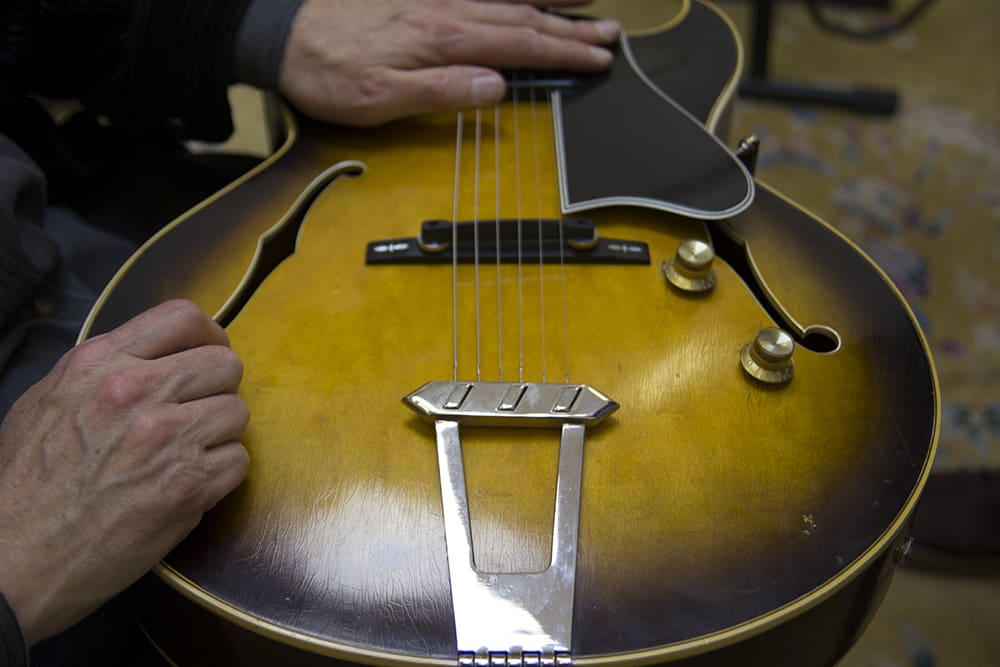 "I start taking lessons [with Bruning] and I'm getting more and more serious," Frisell says. "I finish high school and I'm like, 'I'm going to play guitar.' I had a meeting with my parents with Dale. They wanted to know if I was out of my mind. He was amazing. He said, 'I think Bill is serious, I think he wants to play.' He was really encouraging. I get out of high school [in 1969] and I still have that Univox. By 1970, Dale had found another, older, early '50s ES-175 and he decided to sell this to me. It was a big deal, he was passing this along. I think he sold it to me for $450.
"It was a heavy thing, the best guitar I ever owned," he says. "I got it directly from my teacher. Right around that time, I met Jim Hall. I also met Johnny Smith around that time. I had a real guitar; I played it non-stop. I just lived with this guitar. Everywhere I went, this was my only instrument. This guitar came at the point where I decided that music was going to be my life," he says.
Frisell would tote the ES-175 to Gordon Close's Melody Music store in Denver, where he began teaching guitar. "I was teaching mostly little kids and I was so out of touch," he says. "A little girl would come in with her mom and I'd be like 'Man, you've got to check out Charlie Parker.' I was so not the right person to be teaching these kids." One of Frisell's early students was a young Kenny Vaughan. "He was really into Yes at the time," Frisell remembers, "but he really took on whatever I told him."
"So much stuff happened with this guitar," the musician says. "Jim Hall had his hands on it, Johnny Smith had his hands on it."
In 1975, Frisell moved to Boston with the ES-175. There, he purchased a second instrument, a used Gibson SG for around $200. "I was playing louder," Frisell explains. In 1978, just prior to moving to Belgium, he sold the ES-175 to a Boston area music store for around $400. "I was so stupid," he says. He immediately felt pangs of regret. When he returned to the States, he returned to the Harvard Square music store to seek out his old archtop. The store was out of business.
"Then it was gone," Frisell says, "but I always thought about it." He occasionally did a web search for "Gibson ES-175 with maple neck" to no avail. A few years ago, when Frisell's mother passed away, he had to clean out her house. He discovered a scrap of paper with the Gibson's serial number on it. "I just kept that piece of paper up on my desk," he says. "And then I also knew that it was made in 1968."
One evening in Seattle, Frisell was hanging out with a friend (guitarist Danny Hoefer, who also works for Gibson), sharing "the stories about all the guitars that got away," he says. "I told him this story. Since [Hoefer] works for Gibson, I gave him the serial number, not thinking that I'd get the guitar back but maybe that he could talk to someone at the factory and maybe they would remember the time when they made it. Just putting it out there." In January 2014, Frisell was gigging in San Franscisco when he received a text message from Danny, "Bill, I think I might have found your guitar."
The Gibson ES-175 was pictured on the Facebook page for Thunder Road Guitars, a vintage shop located in West Seattle. Hoefer called the store up to verify the serial number (it was indeed the same guitar) and Frisell quickly contacted the store to hold it until he could get back home and buy it. When Frisell was reunited with the guitar, he was happy to see it had been played but not abused. "No one put a Floyd Rose on it," he says laughing. Aside from a professional refret done by the previous owner (which he's grateful for), "nothing has been altered at all."
Not much is known about how the ES-175 found its way to Seattle, around 12 miles from Frisell's current home, from that store in Boston nearly 40 years ago. But one thing is certain, Frisell won't be parting ways with it anytime soon.
"It just feels amazing. My hands were formed on this neck," he says. "I probably could have just played that Mustang my whole life," he says with a laugh. "But this is the one that I should have never sold. I know it's a material object. But all of the guitars that I have some sort of other thing going on."