For live music fans in Seattle, the weekend of December 6-9, 2013 was an embarrassment of riches: Pearl Jam played an epic, three-hour concert at Key Arena on Friday; Saturday included shows with Joe Henry, the Black Crowes and Aoife O'Donovan; and, yesterday, Jeff Tweedy of Wilco performed a solo set at the Moore Theater. This is always a music-centric city, but the last three days were a tad overwhelming.
For this guitar geek, the most rewarding concert was Joe Henry's intimate solo performance at the Triple Door. Henry performed a handful of solo shows — something he has never done — in select cities where he has a favorite restaurant (in Seattle, it's Brad's Swingside Café). He delivered a beautiful set that leaned heavily on new material (he was vague about a release date), as well as gorgeous versions of "Odetta," "Short Man's Room," "Eyes Out for You," "Our Song" and many other favorites from his lengthy career.
Henry is no stranger to The Fretboard Journal: He was featured in the FJ #26, talking about his love for vintage Gibsons and his relationship with Folkway Music, where he purchases most of his guitars. He's also been a guest on one of our podcasts and, in an issue or two, we'll be publishing an interview that Henry penned for us with steel guitar whiz Greg Leisz.
I was expecting to see the 1932 L-0 or perhaps a vintage Nick Lucas onstage with him (he spoke at length about his love for each in our article), but he played an unlikely guitar for nearly the entire hour-plus show, an ARK New Era Senorita, built by luthier Tony Klassen. And it sounded wonderful.
As some of you may know, the Senorita is a replica of the ultra-rare '30s Bacon & Day guitar John Fahey held on the cover of Requia (the above video features Fahey and the B&D in action). Presumably built by Regal and blinged out by the Bacon & Day's in-house staff of banjo artisans, Senoritas were probably just the ticket for '30s radio stars or stage acts who wanted to stand out in a crowd. Fahey eventually found his (raising the guitar's cool quotient), but a rhinestone studded guitar is not the typical instrument of choice for erudite singer-songwriters… so I decided to ask Joe about it.
"Tony built me two early this year, both with design tweaks that Tony and I collaborated on," Henry said in an email about his ARK. "The Senorita, which I had last night [has] mahogany back/sides, but most significantly [a] big body but short-scale/12-frets to the body (the only way I roll any more)."
And the other Klassen? "The other (pictured on his site and below) is also a short/12-fret, built to the dimensions of a Nick Lucas Special, but with a pearloid fretboard like an L-Century," Henry explained. "It is, frankly, quite incredibly and was out of the case with the glue barely dry…deep, throaty, with a growling, disntinct low end (even when tuned down to C), and bell-like trebles. Really something."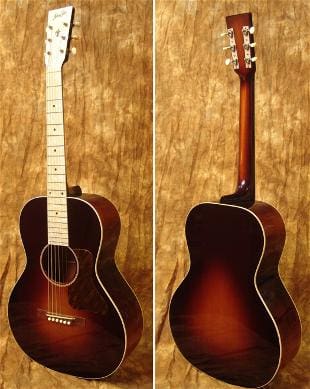 Henry is known for having an impressive collection of vintage instruments and great ears (there's a reason he's won Grammys and produced critically acclaimed records by Bonnie Raitt, Billy Bragg, Aaron Neville, Solomon Burke and many other greats). So it's safe to assume he's a discerning collector of instruments. Of the Senorita, he said, "It is turning into something quite special and should continue to. I have never had a romance with a new instrument, but am with this one."
Henry encouraged the audience to ask him questions during the set. At one point, a fan asked him about the guitar. He explained that Tony Klassen built it and then joked that he likes his guitars the way he likes his music, "dark and thuddy." I'm not sure if that's the best description of the guitar's tone, but it sure sounded great.
[Photo of Henry taken by Brian Saunders at the Triple Door, December 7, 2013.]