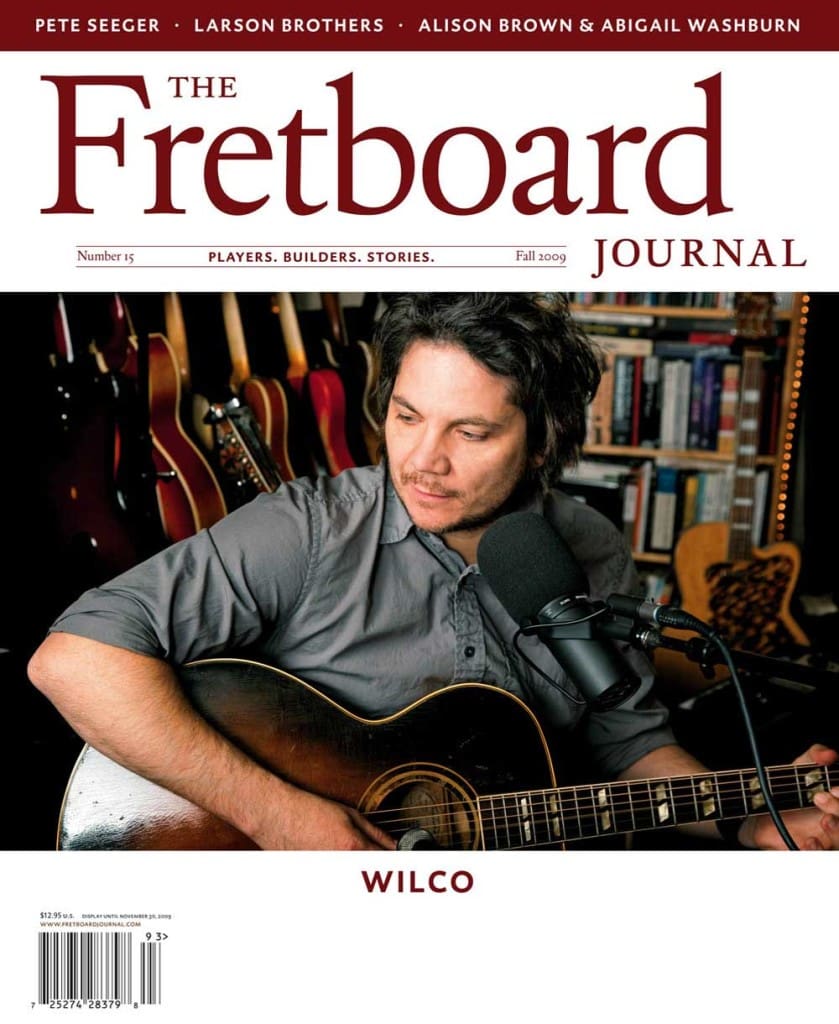 Sold Out
Subscribe to make sure you never miss out again.
Issue 15 of the Fretboard Journal features another astounding assortment of stories from the world of fretted instruments and those who play and make them. Highlights include a visit to Wilco's studio space in Chicago, the Loft, Abigail Washburn interviewing Alison Brown, a look at the legend of the Larson brothers, a fascinating profile of Pete Seeger, and much more.
From the early 1900s to the 1940s, Chicago's Carl and August Larson created some of the most forward thinking, innovative acoustic guitars, mandolins and harp guitars ever made. That said, you'll never see a Larson Bros. guitar labeled as such, their output was typically shrouded under brand names such as Euphonon, Prairie State, Maurer and Stetson. What makes these mysterious guitars so coveted? Guitarist John Thomas gives us an overview. He also sheds light on some of today's luthiers – Tony Klassen, Frankie Montuoro and Blazer & Henkes – who are building guitars based on original Larson models.
Alison Brown's resume is diverse, to say the least. She's a Harvard grad, an MBA, a former investment banker and now one of the best banjo players in the country (and the owner of Compass Records). In this lengthy interview, we ask fellow banjo innovator Abigail Washburn to interview Brown and talk shop. The pair discuss everything from influences and gear to technique. We also get a peek at Brown's favorite instruments, such as her 1939 Martin D-18 and her 1938 Gibson RB-3.
In a former speakeasy in New York City's Greenwich Village, guitar builder Rick Kelly builds some of most coveted Telecaster-inspired guitars around. Brian Fisher takes a visit to Kelly's Carmine Street Guitars and encounters a world where century-old wood from Bowery buildings is transformed into gorgeous electric guitars and where anyone—from acoustic luthier Wayne Henderson to film director Jim Jarmusch—may be hanging out with Kelly on a given day.
FJ reader Steve Krieger purchased a guitar oddity: a beat-up 1970 Martin 000-28 with Brazilian rosewood back and sides, built a year after the company supposedly stopped building guitars with the rare wood. Rather than send the guitar to a local luthier for restoration, Krieger sent the guitar back to its birthplace in Nazareth, Pennsylvania. We follow the guitar as the crew at C.F. Martin & Co. repair and appoint it with pre-war 000-28 specs.
Fretboard Journal publisher Jason Verlinde and photographers Doug Van Doren and Liz Fish take us on a tour of Wilco's Loft, the band's Chicago studio/office/gear storage space. Amidst the band's hundreds of guitars, microphones, amps and pedals, Verlinde interviews Jeff Tweedy and Nels Cline about the space itself, their new album and their latest guitar finds. Also included: a detailed look at Cline's storied 1959 Fender Jazzmaster.