Rugby, Virginia exists in the mind more than it does on a map. Most will never visit this tiny town, but those who do gain a glimpse at something that exists nowhere else.
Early October finds the mountains that surround Wayne Henderson's home aflame almost overnight. Temperatures plummet sharply in the evening, and there is no sound except for the wind that pours down through the surrounding hollers. The Milky Way seems to overflow and spray directly over Wayne's humble shop whose fluorescent light acts as a beacon to passersby. This is evidenced by the fact that, on this weekend, this particular driveway on Tucker Road is temporary home to cars with license plates that span the entire country. No one would be particularly surprised if below Wayne's homestead there lay a mammoth magnet that draws the cream of humanity's crop. And, this magnet does not discriminate.
It is quite common to see a dusty minivan unload an entire family hailing from Alaska, in the hopes of catching a glimpse of Mr. Henderson shaving the braces on one of his near-mythical guitars. Many of the children who step wide-eyed into this unassuming shop on the edge of a hilly abyss can play better than the well-heeled adults who wait "patiently" in the purgatory of "the list". In the moment, nothing seems overblown or larger-than-life on Tucker Road. It's only in retrospect that a head-scratching visitor says, "Did that really happen?" after a long weekend at this outpost of the Crooked Road.
Even by Rugby standards, in my mind one weekend stands out. Luthiers are complicated folk. Some are selfless, dedicating endless hours on Internet forums sharing their craft. Others are creatures of habit, holding their secrets tightly to glue-stained vests. So, it's no small feat to wonder how a weekend would pan out that gathered some of the finest craftspeople on the globe to spend time and talk guitars. Some would forecast a fistfight, others a drunken party. In the end, what happened at Wayne's shop, considering the ethos of the place, was entirely predictable: everybody had a really good time.
---
Henderson is like a lot of luthiers. He has a local following. In Wayne's case, these people have been affectionately dubbed "General Loafers." Wayne works and people watch. Wayne carves, people drink Cheerwine. Wayne plays and people join in. However, where Wayne and others differ is the fact that Wayne is an international phenomenon. How many people who hail from a town of seven people are known in Pakistan as being a world-class guitar maker and generally nice guy? Wayne has plodded away in his small town for over four decades. He has never really lived anywhere else. He never went to college, and he has never claimed a real fondness for school in general. In many ways, his acclaim stems from true, unadulterated merit: he makes really good guitars. When a young Wayne Henderson spotted George Gruhn at the Galax Fiddler's Convention in the '70s, Wayne discovered that his passion was also a window into a bigger world. Decades later, Mr. Henderson finds himself world-traveled and in the small but comfy company of the world's greatest instrument makers.
Contrary to what many think, Rudie Blazer is not German. Even though he is best known for his role in the partnership of Blazer and Henkes, better known as Antique Acoustics, his Dutch roots show themselves in the fabric of his being. He has been schooled in lutherie and has made hundreds of superb instruments in the time-honored traditions of the masters who came before him. And like many good Dutchmen, he'll stay up all night playing and singing until he's hoarse. He's lived in Germany for decades, and it shows. The guitars that leave Antique Acoustics, in the quaint town of Tuebingen, are flawless on every level. When beholding one of Willi Henkes and Rudie's creations, it's as if time has stood still: the clock always reads 1937 (or thereabouts) in their shop. Rudie also has a deep reverence for American music. In fact, he often states that European music would be lost without the tunes that flow like moonshine over the hallowed hills of Appalachia. In short, to see Mr. Blazer in the South is to see him in his spiritual home.
Without John Arnold, we may still be scratching our heads and wondering, "Why can't builders craft a guitar that sounds like a '30s Martin?" John, like a small handful of others, knew that Red spruce was the answer. Not only did he recognize this fact, he dedicated a significant portion of his life to ensure that this tone wood would reappear in the hands of those who know what to do with it. He and his long-time friend and fellow luthier, Ted Davis, have made many an epic journey to the misty peaks where red spruce grows. Through contacts in the forest service, John and Ted were alerted whenever a tree had succumbed to the sometimes-angry forces of Mother Nature. With hiking boot-clad feet, the two would literally drag their booty from the mountains and back to their shops. Years and thousands of amazed customers later, it is a safe bet to claim that the spoils of these trips have made some of the best guitars in history. And at least a few of these instruments have been crafted by Mr. Arnold. Equally well-regarded in the fields of lutherie, guitar repair and tonewood production, John Arnold is a triple-threat. It also bears mentioning that your chances of owning a Henderson seem practically optimistic compared to those of calling an Arnold your own. With all the hats John Arnold wears, a beautifully crafted instrument leaves his Tennessee workshop about once a year – if that year is an eventful one.
Although a romantic notion, guitars are not simply made with pocketknives and a steaming glue pot. They require tools and machines to be assembled efficiently. This is where a large, sandy haired Floridian comes into play. He has designed and built many of the jigs and tools that Wayne uses on a daily basis. He is the only man who Wayne calls his helper, and this is a title that Don Wilson takes seriously. So, it's less of a surprise to learn that Don has known Mr. Henderson since he was 16 years old. Not surprisingly, Grayson County, Virginia was a favorite vacation destination for the Wilson clan, and the entire family would encamp at the Grayson Highlands State Park on a yearly basis. One day, Don's father saw an advertisement for a property auction, and not long after that, they had their own piece of the county. A couple of years later, a young Don Wilson bumped into Wayne at a fiddler's convention. After his eyes fell upon a tree of life design that Wayne had artfully executed on a fingerboard, the fire of curiosity began to blaze. This brief glimpse into Wayne's talent would prove to be a well that Don Wilson would return to over his entire life.
In his hometown of Jacksonville, Florida, the Wilsons were living, in Don's words, "in the middle of a used car lot." After spying an old Lay's potato chip truck, the young man's wheels began to turn. Without delay, Don set to work fashioning a camper out of the old metal shell. Like everything that Don has collected or made over the years, he still has it. He never lets anything go. Friends, instruments, and inventions all travel with him, quite literally, in the one thing that can compete with his interest in guitars: his bus. Apparently, since a camper wasn't a big enough project, Don purchased a Jacksonville city bus. With his own hands, this behemoth elegantly morphed into a bluegrass camper cum tour bus. Now, as a self confessed "Bus Nut," Don Wilson makes his arrivals grand without ever having to open his mouth.
A few years ago, Wayne toured Germany with the Looping Brothers. He had heard of Rudie Blazer and Willi Henkes so often that it seemed only logical to pay them a visit. "I didn't see a mess anywhere," he recalls. "That did make me a little bit suspicious!" After a day spent playing guitar and passing old instruments around, Wayne made a connection with kindred spirits a world away. Since that visit, many of the parts that Antique Acoustics have commissioned have found their way into Wayne's guitars: bridge pins, marquetry, tuners – all the parts that make a reproduction authentic to fanatical builders and players. Rudie Blazer and Willi Henkes had done the research and designed the very ingredients that had eluded builders for decades. In addition, Wayne has also been using John Arnold's rare and spectacular Smoky tops for many of his special projects over the years. As a result, his guitars reflect a symphony of influences and friendships made. In fact, Willi and Rudie also have an independent friendship with John Arnold, thanks in part to the Unofficial Martin Guitar Forum. Willi Henkes and John Arnold both spend untold hours contributing to the rare and wonderful education that is found within this digital community. It is not unusual to read a detailed analysis of a red spruce top by John Arnold who also, incidentally, was the man who felled the tree it came from years earlier. On another thread, Henkes may take readers on a tour of the bridge contours used by Martin employees during the Golden Era of the company. With so much cross-pollination happening in the world of lutherie, it only made sense for a physical meeting to take place. So, these men put down their keyboards and telephones for a weekend and enjoyed loud belly laughs, plenty of down-home playing and practical jokes at Chez Henderson during one of the prettiest weekends in recent memory.
---
Blazer stumbles into Wayne's darkened house in the cradle of the surrounding mountains at nearly 4 a.m. This is usually quitting time on Tucker Road and, in preparation for this long weekend. Wayne is, figuratively, sawing logs horizontally. You can hear him. Spying the wicker chairs in the kitchen, Rudie turns one over only to discover a Sharpied "Doc" staring back at him. "Is this Doc Watson?" he asks curiously. In fact, the late Doc Watson did do the cane work on this and several other chairs that are in regular rotation in the house.
Without having to look too carefully, one can spy a home filled with similar treasures. E.C. Ball's fancy bridge and fingerboard are framed in the living room. Years ago, Wayne was able to acquire his friend and mentor's constant companion, his 1949 Martin D-28. In their small, rural community, Wayne had very few chances to see such nice instruments. As the local school bus driver, E.C. was well known in the community. "The Singing Bus Driver" was also a recording artist for Rounder Records. Turning around in the living room affords a gaze at one of Albert Hash's fiddles hanging on the opposing wall. Hash was the local luthier in Rugby. Not bad for a town that is hard, if not impossible, to find on a map. Wayne learned some of the early elements of his craft from this man himself, and a beautifully hand-drawn portrait of this very idea hangs directly below the gorgeous instrument. Willard Gayheart has captured many iconic images of this community with only paper and a sharpened pencil. This drawing depicts Wayne in a familiar pose, bent over the sides of a guitar. But on this particular occasion, the ghostly image of Albert Hash looks approvingly over Wayne's shoulder. Chilling yet reassuring, Willard's vision accurately conveys a relationship that looms large in Henderson's past. After this quick tour, Rudie looks up from the framed picture like a happy child and proclaims, "This is going to be a good time."
It's no secret that Wayne keeps unconventional hours. Unlike many, though, Mr. Henderson can point to a practical reason for his late nights. When he was a mailman, the only way he could get any actual guitar work done was at night. After retiring a decade ago, Wayne no longer worried about rising for his route. So seeing him trotting back to the house across a glowing moonscape of a front yard at 4 a.m. is not only not unusual, it's de rigueur.
Watching Wayne embark on his "commute" is to see the man's true personality revealed. The sixty three year old luthier does nothing halfway, always exerting himself with calculation and purpose. And, when he decides to hit the sack, he doesn't amble. He makes a beeline. The same goes for the start of a day: first, Belle, Wayne's cat, announces her master's impending presence in the kitchen for a cup of coffee and a bite of whatever carbohydrate has been left within arm's reach. To be clear, Belle is black and "frisky." To pet is to accept a certain risk of bodily injury. Belle is graceful but unpredictable, and only Wayne seems to understand her true vibrations. For many, figuring out the key to owning a Henderson instrument is much like predicting the behavior of this longtime pet, minus the risk of hospitalization.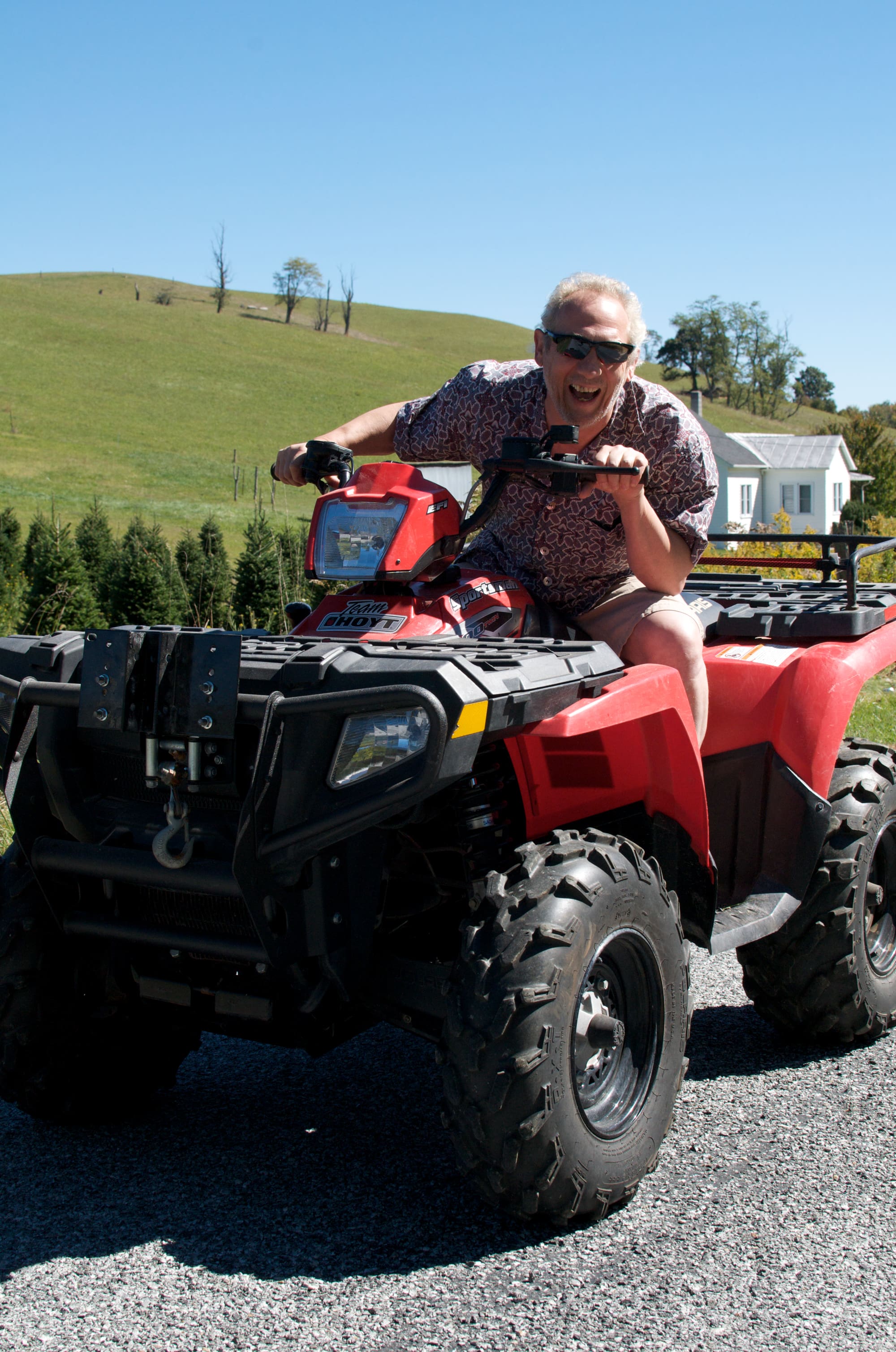 This morning, there are no lingering guitar-seekers. In fact, the house is quiet and sun flows through the windows that offer views of the mountains and the neighboring Christmas tree farm. Rudie and his wife, Andi, are already taking in the sun on a hill in the yard, and Don Wilson is long-gone in his Taj Mahal-of-a-bus parked adjacent to Wayne's garage. After a lazy breakfast of fried eggs, bacon and biscuits, the party is temporarily sidetracked by the joy of a four-wheeler ride through the surrounding hills. Mac Wiggins, a close friend of Mr. Henderson's, has unintentionally revealed a hidden skill that Rudie Blazer never knew he had. Without hesitation, he heads for the tallest slopes that afford the most dizzying views of this special segment of the Blue Ridge mountains. Mac gets a kick out of watching Rudie handle this knobby-wheeled speedster with such ease. "He looks like he was born on the damn thing," he remarks as the Dutchman buzzes past this weekend's gathered guests. In many ways, the Wigginses are an example of how Wayne's world functions.
Over the years, the Wiggins clan have been frequent guests to Wayne's shop, and just about all of them play a Henderson. When a lawnmower gives up the ghost, they are there with a replacement. When guests wonder (loudly) about Internet access, they provide a solution in the form of a snazzy desktop that Wayne seems unaware of how to operate. So, Wayne ultimately "has" email, but he still gratefully doesn't know how to check it. It should also be made clear that none of these gifts, or favors if you will, are veiled attempts at a guitar bribe. The Wiggins family has more than enough Hendersons to last them, and they earned them fair and square. The true diagnosis for their brand of altruism is a much discussed, but little understood, feeling that comes over one who finds him or herself in Wayne's inner-circle. This sensation can only be described as a mixture of wonder, gratitude, and responsibility. The aspect of wonder needs very little explanation: this weekend is proof of that. A feeling of gratitude is only natural when a man opens his home equally to total strangers and close friends alike. The feeling of responsibility, however, is harder to parse. Some of Wayne's friends have become his stalwart defenders, even though Wayne hardly needs any of that. ("Sometimes shit stinks less when you don't stir it up," is a phrase often heard around the shop.) Some have deified him, painting him to be a perfect human through and through. Others continue with thoughtful gifts of pie and sweets, but Jayne, Wayne's daughter, reminds, "If you want my daddy to build your guitar, he needs to be alive – stop it with the pie!" Psychoanalyzing any of this is fruitless, but it would be fair to say that individuals' acts of gratitude often say as much about them as they do Mr. Henderson. One thing is clear, Wayne's buzz comes in the form of the smiling faces he sees playing his instruments. To see him truly happy is to find him in a crowd with a Henderson roaring from the stage.
Satisfied with their fair shot at death and glory on a Hillbilly Mercedes, the weekenders all began to gather at Don's bus. To be fair, the term bus doesn't seem to properly describe the hulking mass parked by Wayne's diminutive garage. There simply is no greater symbol for Don's power of imagination or his sheer strength of will. The giant bays under the cabin are not for luggage; they are not for "the band's gear." One side houses a Harley Fat Boy motorcycle. This writer has never seen Don operate it in any capacity (although I'm sure he could with some ease), but that's not the point, "It's all just a big treasure hunt to me," says Don with a tone of total understatement. And this is illustrated by bay # 2. Some say that Brazilian rosewood is the rarest tonewood in history. There is absolutely no proof of that when the lower doors of the bus open to reveal a large compartment filled with chocolate–streaked and heavily landscaped rosewood. The spicy and sweet smell fills the air and Don laughs and retorts, "Now, this is a treasure hunt!"
Rudie Blazer can no longer contain himself. It's as if his eyes are unable to focus on anything else, the surrounding mountains, the butterflies, his friends – all recede into the distance. "This wood is fantastic! It's beautiful." Mac whispers, "Maybe we should leave him alone with his wood!" Wayne immediately dips into the pile and starts looking for pin knots, the straightness of grain, bark inclusions and the many other factors that luthiers look for when they judge back wood. He claims, "This is pretty stuff. It would look great with a coat of finish." More understatement, indeed. Once Wayne and Don have finished taking Mr. Blazer through a brief tour of the wood in the natural light, Mac begins loading the exotic timber onto his A.T.V. for a quick ride across the yard to Wayne's shop. Watching this wood being carted so primitively makes one realize that it has found its rightful home. The hills roll in the distance and there is an old-time simplicity to this place that, in some cosmic way, parallels the forests where these timbers once grew ages and ages ago.
When stepping into the workshop, many things hit you at once. Initially, the light is bright and its tone is quite yellow. Banks of fluorescents illuminate the shop and make it hard for one to get drowsy or lose focus. This can be both a good and a bad thing. The environment makes time disappear. One could easily look at the clock and realize that it's  4 a.m. But it also makes that passage of time quasi-hallucinogenic: things look strange in this kind of light. Sometimes you'll see visitors step outside for a few moments just to get their bearings before heading back to the land of sawdust. And, sawdust production is almost always the order of business for Wayne and Don when they are in this room. Though this is often not the case for the "General Loafers." Some, like Mac Wiggins, have even had business cards printed up to display their proud title. The "Loafers" often busy themselves making heaping "sandwiches" out of Saltines and Cheez Whiz, scaring children with fake snakes, taking pictures that fuel Internet threads and trying to answer the phone with just the right southern inflection, "Git-tar shop!" On this day, Wayne immediately gets to work on a 000-42 12-fret and Don and Rudie start sorting wood. It's clear that some kind of future "arrangement" is in the works, but no words to that effect have yet been spoken. Rudie, apropos of nothing, exclaims, "I could spend the rest of my life here in these hills. This feels like home to me." His wife, Andrea, looks at him with a mixture of amusement, shock and light-hearted affection. When Wayne takes a quick break from his project, he shows Mr. Blazer his old #7 guitar. This 45-style instrument was made back in the '70s and disappeared from view for decades. As legend has it, moonshiners got ahold of it and used it for target practice one day. "I think they thought if they could shoot it clean through the soundhole, they wouldn't hurt nothin'," explains Wayne in a tone of bewildered amazement. "I cut each inlay with my knife by hand." And this guitar is not short on pearl by any stretch of the imagination. It is a true D-45, crafted with the utmost skill and with none of the traditional tools that a better-equipped luthier might have possessed. Rudie holds the back up to the light, and the bullet hole allows a small ray of light to cut through. He shakes his head, "That is just so cool."
It's not to say that watching Mr. Henderson construct a stellar instrument isn't a highlight of any trip to Rugby, it's just that southern BBQ is also not half-bad. And, if you have a tour bus and a few world-famous musicians on hand, a trip to Galax for some smoky meat products can be just as much of an adventure as being ringside while Wayne carves a neck with his pocketknife.
Without much ado, the bus's fridge is promptly loaded with beer, and guitar cases are brought on-board – Hendersons all-around. With the sun setting over the hilly pasture, Wayne's street is bathed in copper light as the show gets on the road. Rudie, with no delay, lurches into a setlist of material that takes his fellow travelers clear through Neil Young, Doc Watson and all the way to Amsterdam. His voice is gentle, dream-like and works perfectly with the songs he strums. Wayne is particularly taken with Rudie's talent. "I love the way he sings and plays. It's just wonderful. Maybe I could get him to play tomorrow up on White Top?" As Wayne's wheels turned, so did those on Don's bus, with barn-filled landscapes drifting by as we gently floated down the Crooked Road into the night. This famous stretch of Route 58 is home to the roots of Bluegrass music. There are more pickers, fine craftspeople and instrument makers on this bit of blacktop than almost any place on earth. And what better way to actually see the countryside without wrecking a car than to have Don Wilson pilot his tricked-out vehicle to a destination of your choosing?
Everything in this bus was custom-made, and the visitors were all seated as if they lay in their living rooms playing music by the fire. As Galax came into view, guitars were deposited back into cases and the whole flying circus was deposited into the local BBQ joint. Rudie was introduced to "Sweet Tea" – which he thoroughly enjoyed – and tomorrow's plans were hashed out. "Well, I've got this show on White Top mountain tomorrow. It's the Molasses Festival. Would you want to pick a few with us?" mentioned Wayne with a twinkle in his eyes. "A molasses festival? I would love to," said Rudie, and the final day of our visit came more clearly into view.
The next morning, Wayne's house was filled with smoke and commotion. The cat had run out of the kitchen. Someone (I wonder who) had burned the bacon, a cardinal sin in Rugby. And although an unfortunate start, the day began with sun pouring over the surrounding hills. Rudie's wife was busy knitting and soaking up the morning heat on the grass alongside Wayne's house. After a new batch of bacon had been served, it was time for the short jaunt across the yard to the shop. Tunes were played and guitars were inspected, but Wayne had to make a quick exit to prepare for the Molasses Festival. This concert is a fixture in the area and always takes place in October, surrounded by the crimson trees and the sweeping vistas that White Top Mountain provides. This mountain, for Wayne and those who play his guitars, is quite special. A stash of White Top red spruce was delivered to his shop years ago when a few targeted trees were felled to prevent the spread of a beetle infestation. These tops have made some of Wayne's best guitars. His garage is still awash in the spoils from this delivery. It is from this stash that Rick Kelly, of Carmine Street Guitars, fashioned his first red spruce telecaster. So, this log gets around. With such a significant and beautiful setting Wayne and company would surely have an afternoon to remember.
Watching Rudie walk into the festival was like witnessing a man step through the threshold of his own home. Although his accent set him apart, his love of mountain culture placed him among friends.  And it wasn't long before Mr. Blazer found himself on the stage chugging through a classic bluegrass set list with Wayne and his pals. He looked out over hoards of locals lost in ancient dance routines, and smiled broadly. This was the first time John Arnold had ever seen Rudie Blazer in person: "Well, he looks like he's fitting in just fine!" said Mr. Arnold in characteristic quiet understatement. After introductions were made and backs were slapped, the caravan started to move back to Wayne's house. On the way, Rudie stopped off at a local mountain store to get "supplies" for the evening in the form of a few six packs.  When a broom handle was found lying across the beer cooler's handle, Mr. Blazer looked on in disbelief. "This would NEVER happen back home! Why can't a man have a beer on a Sunday?!" It didn't take long to get over this tragedy, though. And, rest assured, there was cold beer to be had on Wayne's front porch, although Wayne seemed to be just as content with an ice-cold Dr. Pepper. Watching four luthiers with varying backgrounds chat was quite a treat. Common ground was the rule, not the exception.  Their unifying passion and humanity made competition all but impossible. This was never more evident than when we ambled back to the shop to see Wayne's latest creation. Number 516 was a 000-42 styled 12 fret guitar. The top had been provided by Mr. Arnold; the tuners were from Antique Actoustics, and Wayne was now beginning to assemble the various pieces. In short, this type of collaboration was not only not uncommon, it's simply the way things happen in Rugby.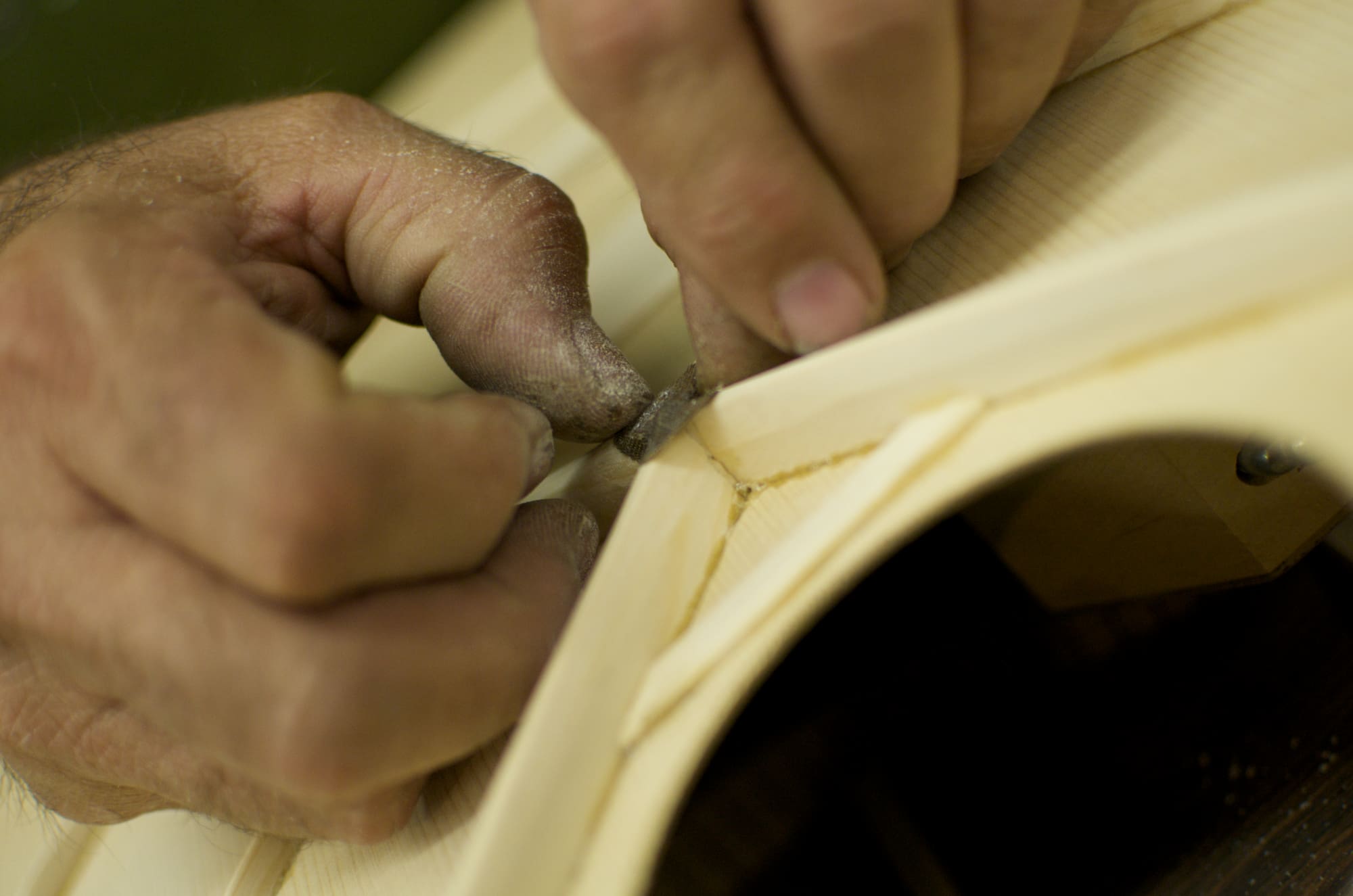 "This top is good and stiff – it's wonderful stuff. This is the same log that my top for 400 came from." John then proceeded to untangle the story behind the near-mythical "Smokies" tops. John picked up 516's top and began sanding the edges of the sound hole smooth while telling the tale of his favorite top wood. It becomes clear when hearing Mr. Arnold speak, that he doesn't simply enjoy his work. He loves it. John is a man addicted to cellulose- a veritable wood librarian with an encyclopedic knowledge of timber. And he doesn't simply deal in the standard woods of his trade. He has made instruments from locally-found wood such as cherry, persimmon, maple, black locust – you name it. This, in many ways, had just as much to do with his circumstances as his love for wood: "Part of it was economics and part of it was my curiosity about locally cut woods. When I started I didn't have money to spend on expensive, imported wood. I just used pallet boards from Stokley's Cannery, where my dad worked. They used maple, walnut, persimmon." In short, necessity was the mother of invention. And for John, this passion has turned into quite a business. He has sold his tonewood to Martin, many of the world's best luthiers, and anyone with an eBay account. Never before has such a small woodshed, housed in a backyard in Tennessee, been such a deep well. John's wood dots Wayne's shop and has graced some of his very best guitars.
While John talked wood, Rudie, Wayne and Don gathered near the old hide glue pot. "Well, I guess we better get this thing together," remarked Wayne, and his friends agreed. "This is the stuff we've been using. It's used to make that crackle glass," explained Don Wilson. Rudie remarked, "It looks identical to ours." "Well, it all smells like a big dead horse to me," noted Mr. Henderson slyly looking around at his earnest friends. "You know I think my Titebond guitars sound just as good, but I do like to use the old stuff because it's old-timey. It does smell something terrible, though." Rudie immediately instructed his friends to close the doors to the shop to prevent the glue from gelling too quickly. Don shot searching, amused looks at Wayne across the room. This was obviously too scientific for the Rugby set, but they were willing to see how the Germans did things. "I always like to heat the wood first before I glue," said Rudie. Don handed him a giant orange bulb that one would routinely find hovering above a Big Mac with cheese in these parts. "That will be perfect! Let's move quickly!" said Rudie with zeal. As the glue was spread and the guitar began to come together, it was more than clear that these men are like fingers attached to the same hand.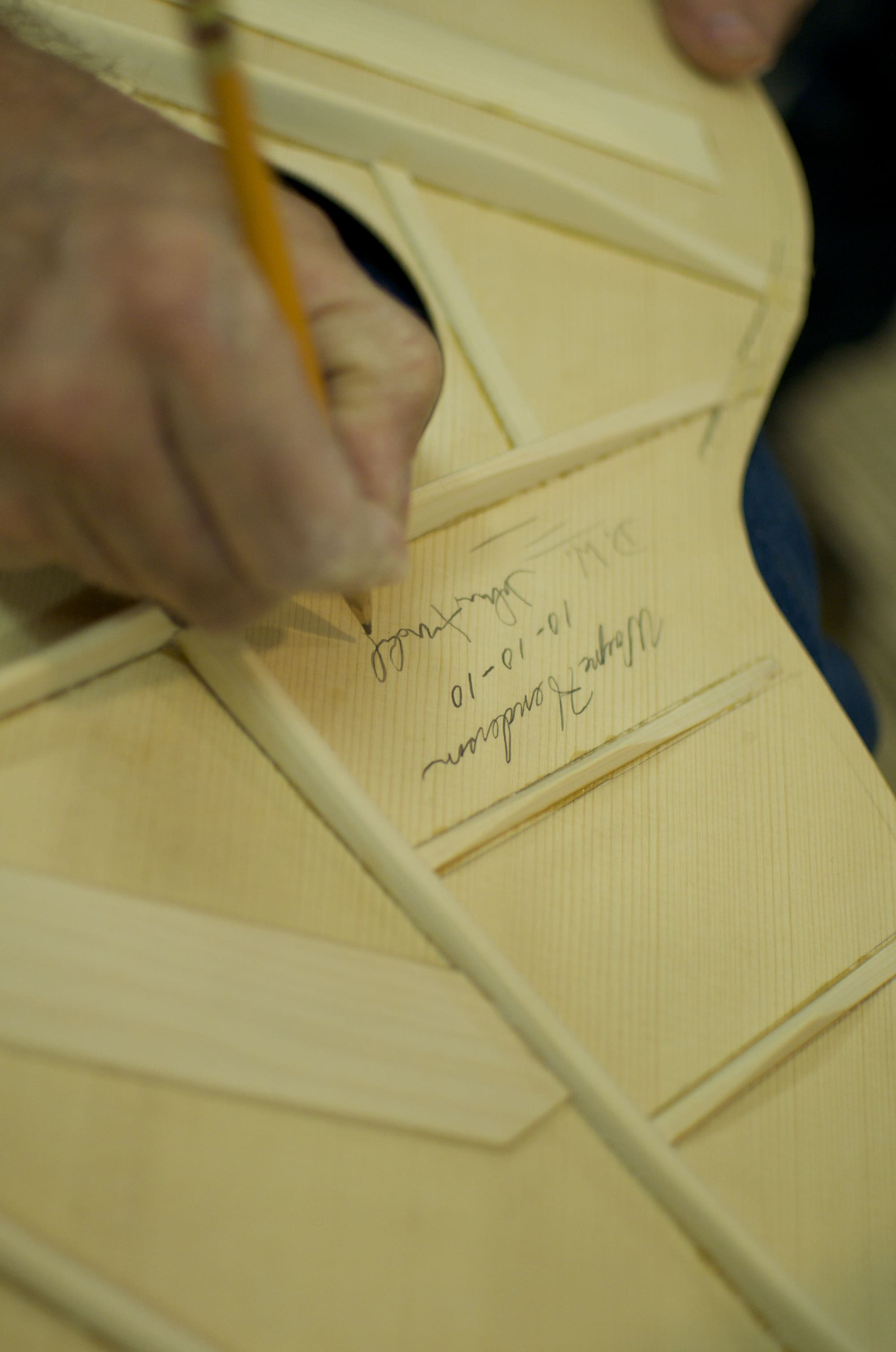 They worked together without a sound and quietly built a small piece of guitar history – a true piece of collaboration. Henderson #516, with its four signatures under the top, is a testament to the relationships and the weekend that formed it. Never before was it so evident that music and craft transcend borders and bring disparate people sharing a common spirit together. Rugby, Virginia is where it all happened. The population of the tiny town boomed that weekend, and when the Monday morning sun climbed the hill, and the wind blew cool and clean across Wayne's holler, it could make one wonder if this weekend was a figment of the imagination. But, as Wayne knows, his world was made for just such an occasion.