It's difficult to get one's head around the notion that Charlie Christian–inarguably the original electric guitar hero–began his too-brief life 100 years ago, that we have so few recordings from a career that spanned barely a handful of years, that although he didn't invent the electric guitar or the way he used it, he still looms over all those who've plugged in a guitar and taken a solo in a modern band setting ever since. We see his fingerprints everywhere at the Fretboard Journal, in Bill Frisell's arrangement of Christian's solo on "Benny's Bugle" for the 858 Quartet, whenever Bucky Pizzarelli (who also occupied the guitar chair for Benny Goodman) breaks out "Rose Room," or when Julian Lage and TK Smith traded solos over "Topsy"/"Swing to Bop" Sunday morning at the Fretboard Summit. So, on the occasion of Charlie Christian's Centennial, to help us better understand and as a tribute, we reached out to a few of our favorite artists and asked them to share their thoughts (and a favorite track) with us.
Anthony Wilson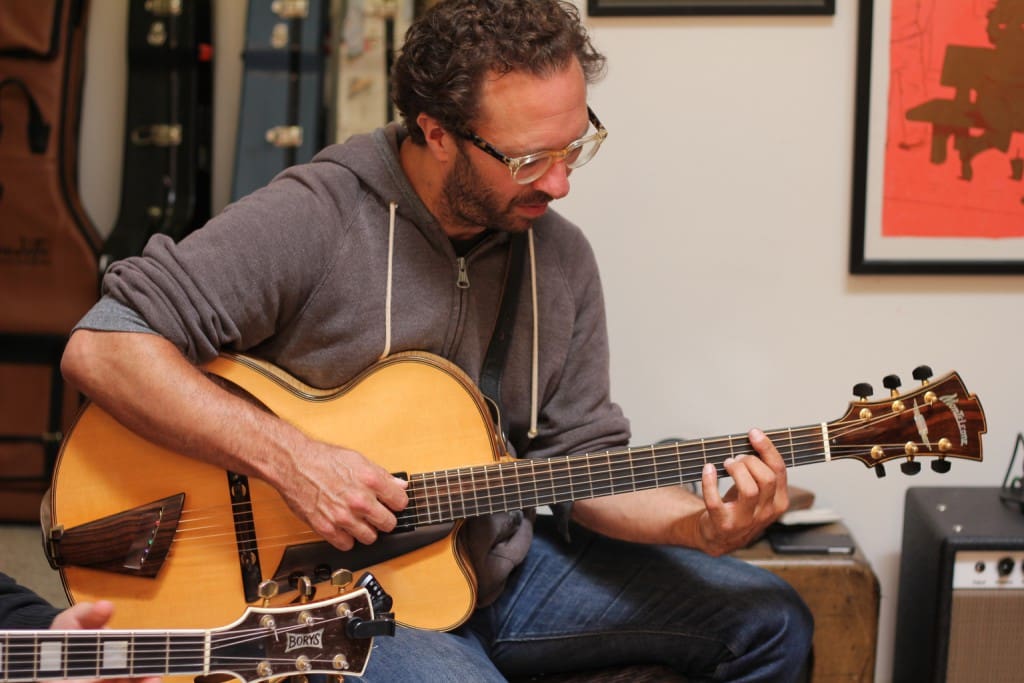 "Charlie Christian is the Le Corbusier of guitar. Though they're both a bit far away from us in terms of the many decades that have passed since their innovations, they both determined what modernism is, respectively, in guitar and architecture. Look at any building or furniture design by Le Corbusier and I think you can immediately apprehend what I'm saying. And so it is with Mr. Christian. He created what we think of as modernity on the instrument. Listen to him play almost anything, you don't have to be picky. At this moment, I'm thinking of and going back to listen to a particularly beautiful solo on "Stompin' at the Savoy" from the Minton's jam session recordings, made in 1941.  The sound, the contour and precision of the legato lines along with the absolute perfection of their rhythm, and the originality of a melodic-harmonic approach that really foreshadowed the revolution in jazz that occurred just a couple of years later. The impact of it all is just staggering, and in my opinion there are very few people who followed on our instrument who have actually taken things much further than the state-of-the-art contained in this master's body of work."
Julian Lage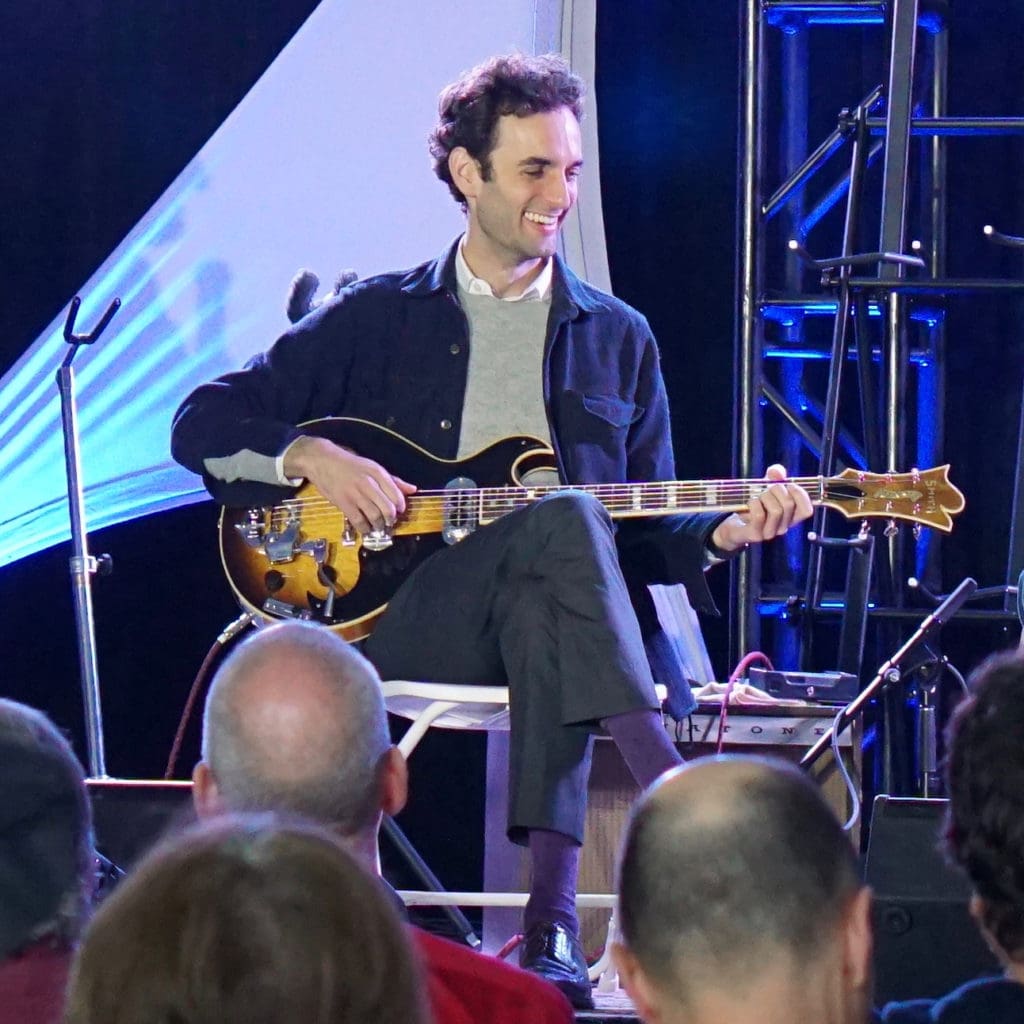 "Charlie Christian is one of my all time heroes. I first became obsessed with him when I was a teenager and remember feeling like he was the most modern and forward thinking guitar player I'd ever heard. Completely timeless and classic but with so much mystery and drama. I still feel that way, perhaps, even more today. I recently heard his recordings from Radioland and instantly fell in love with him all over again. Charlie Christian was the ultimate musical monster."
TK Smith
"I first got the Charlie Christian bug in the mid-eighties. There were a couple of guys that were playing around L.A. at the time that I would go see. Smokey Hormel had a blues band that did some of the [Benny] Goodman sextet stuff and Joey Altruda had a trio named "Swing to Bop Tet." I only caught Joeys band a couple times, but he's the one who told me about the double LP that came out in the seventies titled Solo Flight. I found it used at a record store in Pasadena. I can still remember driving home with it in the passenger seat and reading the liner notes at every stop light. I had a Garrard turntable at the time that had 16 speed and I recorded all of the guitar solos on to a cassette at half speed. I think my first girlfriend left me because that cassette is all I would listen to. 30-some years later I'm still trying to play like Charlie Christian."
Matt Munisteri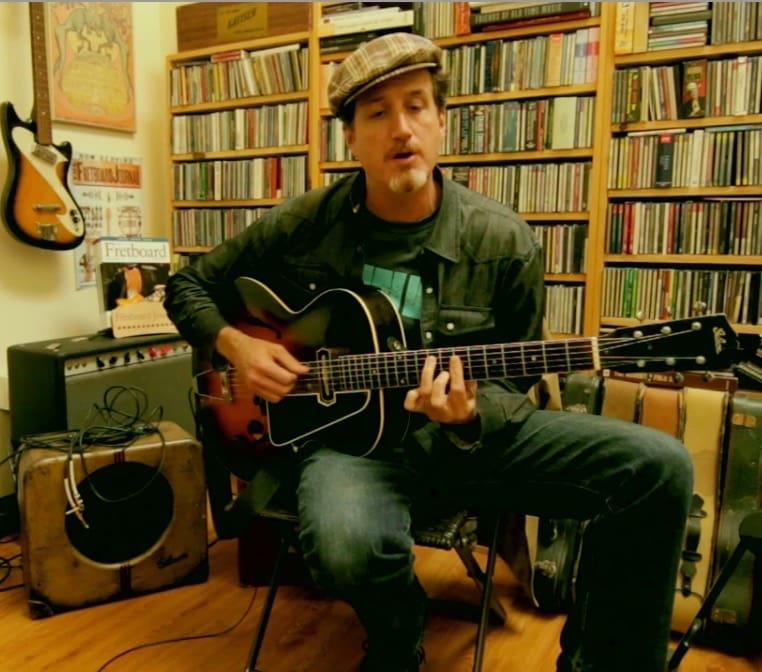 "Despite being frequently (and, I dare say, incorrectly) referred to a 'swing guitarist,' I've never delved that deep into Charlie Christian's playing. Worse, for Christian devotees, my primary working guitar over the past dozen years has been a 1939 ES-150. And worst of all, it's not that I haven't listen to all his recordings, some many times over: The horrible truth is his playing didn't really grab me during the years I was really soaking up inspiration.
"This is just awful. When I first asked that the ES-150 be taken down off the wall at 30th St Guitars it was only for a lark–I'd never responded to CC's sound and just assumed the guitar would be what older players in the 1980s had told me they were: a leaden dud. I was stunned to find that the very things I didn't hear in CC's playing were the things this guitar delivers better than any I've ever played. When lightly coaxed it has a throaty singing singing quality yielding to a sodden compression, but it gives up plenty of spark and splank when leaned into; it has sustain and attack, is the single greatest electric guitar for swing era rhythm playing, and responds to both an acoustic and electric touch. Bent notes can actually swell in volume as the string traverses the [pickup's] blade. But Christian's harmonic concepts were beyond me, I couldn't understand the logic of his phrasing. I just couldn't relate to his touch. Ouch.
"I mean, I never even liked his famous 'Stardust' solo. (Even now I'm conflicted – what is he trying to elicit in us by the time he finishes that shop-worn ham-fisted final phrase at the end of four complete bars of 'Pretty Baby?' Is it a private joke? And why the hell do guitarists I've heard do it seem oblivious  and at a loss as what what to bring to the imported melody?!)
"Of course now what's left to forever resound is his death at age 25. His entire career was barely three years! This is haunting and unfathomable, and wildly depressing. We've only heard one tiny sliver of an artist's transitional journey that could have gone for many more decades. He could have been playing with Hendrix while only in his 40s! Ultimately, for me, it's the fleeting transitional moments in the life of a music that excite–the move from New Orleans ensemble playing to small group swing, the codifying of the early urban Bop language, Miles' first electric excursions. Because of both his age and his Age, Christian was poised to occupy that ephemeral and exalted place–but it's his great misfortune that he's has to do so for eternity.
"So naturally it was two sets of recording sessions from transitional moments that finally brought me around. The first are the very famous sides from Minton's in '41, roundly cited as pivotal 'Birth of Bop' excursions. The second are the fabulous but probably less widely known Blue Note 'Celeste Quartet' sides under Edmond Hall's leadership. These sides, often released under the title Profoundly Blues are insanely strange and swinging–Mead Luxe Lewis on Celeste, Israel Crosby on bass (!!!), CC on acoustic guitar, and Edmond Hall just killing it on clarinet. Like Christian's legacy, frozen forever at a moment of ascendant youth and nascent bop, or like The Dixieland Jug Blowers (don't get me started, y'all) this is music that stands alone as a development abandoned.  It has potential energy, but it never found fulfillment beyond these sides. And if you want to blame anybody for this, it's Lewis's left hand–my favorite member of the ensemble–which tolls heavy bells, and produces so many disquieting overtones that we're taken to a hopelessly, joyously, thoroughly muddled church."