With a banjo as fancy as this one, people will automatically assume you're a great musician without even playing a note. The more intricate the inlay work, the better the player, right?
The Vega Company started in 1881 as a musical instrument manufacturer based out of Boston, Massachusetts. It became one of the largest firms after taking over A.C. Fairbanks Company, designer of the "electric" tone ring model known to project the unmistakable bright sound of a banjo. Vega was the most popular maker of its time and continues to stand out in the banjo world. Today the well-renowned Deering Banjo Company owns the trademark.
Vega banjos are known for their various tone ring styles — Little Wonder, Whyte Laydie, and the one on this catch of the day: the Tubaphone tone ring. The Tubaphone, a 1909 invention, is a brass ring sitting on a square tube with holes drilled into the internal surface, held together by a spun brass sleeve. It creates a loud, crisp and sweet tone that was considered very modern for the early 20th century. This catch also has a 12″ pot, personally my favorite for allowing a greater bass response and an even warmer tone with the bridge closer to the center of the banjo head. The combination of tone ring and pot size only amplifies the big, full sound.
Doug Unger, skilled builder and restorer, kept the original rim assembly on the vintage banjo and built a neck with exquisite inlay crawling down the fretboard. His work is recognizable by elaborate and detailed decorative techniques, especially visible in his intricate carving on the heel of this banjo. Also a talented painter, Unger's visual discernment is apparent in the art he creates.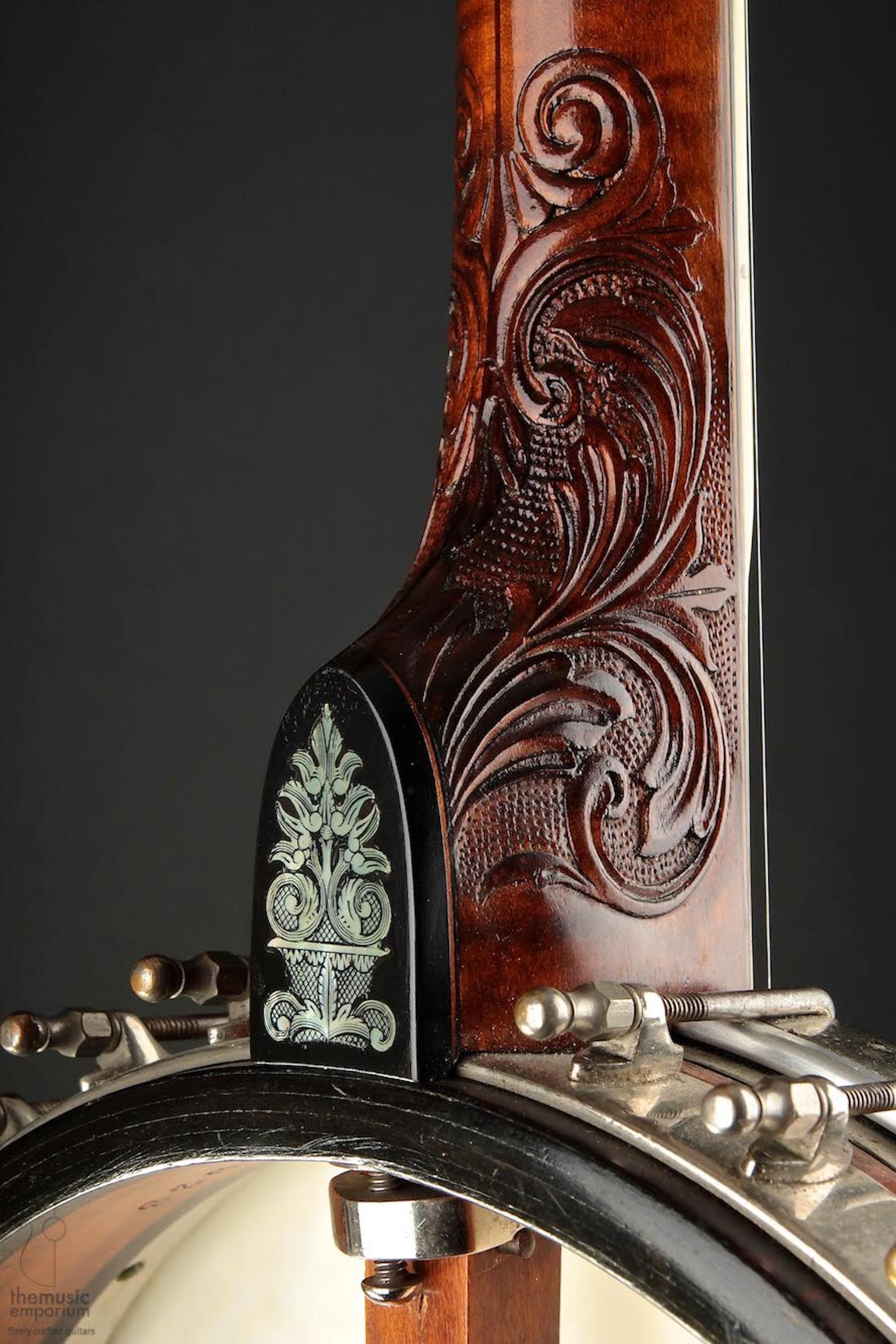 The Doug Unger Deluxe Presentation Banjo with Vega Tubaphone 12" Rim is currently for sale at The Music Emporium for $8,500. A video of Lukas Pool playing a short, but sweet tune is also available to get a taste for the warm tone.