Between building guitars for Peter Bernstein, Gilad Hekselman and Horace Bray (to name a few), and playing with his own groups around New York and San Diego, Victor Baker is as busy as it gets. He started building in Philadelphia while working full-time as a bandleader and teacher, and then relocated to New York to open his own shop. In early 2018, he relocated to San Diego to start a new, definitely warmer future. For this month's Bench Press, we talk about his journey: from teaching himself how to build via books and videos to being recently commissioned by D'Angelico to recreate some of their most iconic guitars.
Fretboard Journal: What's on your bench right now?
Victor Baker: Well, I usually have several projects going at any given moment. Right now, I have a bunch of my Model 15 archtops in the works, a couple semi-hollowbody guitars, one of my ergonomic design archtops, as well as a new archtop five-string bass, which is a first for me. Really looking forward to hearing how that turns out. I even have a set-neck Strat that I am working, too.
Most of my instruments are jazz guitar-oriented but I enjoy making all kinds of different things. I usually take anything that comes through my door.

FJ : How did you get started?
VB: Back in the late '90s, I was gigging full-time and working a lot as a guitar instructor. While I was super busy, I was getting kind of burnt out, so I decided I needed a hobby. I was renting a space to teach guitar lessons at a repair shop in Philadelphia, and I liked seeing all the projects those guys were working on all the time. I liked all the tools and vibe and found lutherie very interesting. So I went out and I bought a bunch of books and videos, decided to teach myself and just started experimenting as a hobby. My first guitar was pretty terrible but I ended up using it for a long time on my personal gigs. Eventually some local guys asked me for instruments and it kind of just grew from there. About a year or two later I got busy enough to stop teaching lessons and go full-time. I never had the chance to apprentice with anyone; I'm entirely self-taught. I'm not sure I would recommend that, but that's how it happened for me.
FJ: Where do you find inspiration?
VB: I self-identify as a musician first and foremost, even though I spend way more time building guitars than playing music these days. I'm still quite active as far as playing a bunch every day, spending time on composition, recording my music, doing some gigging, etc. So for me the inspiration is what it always was – I get to play new guitars all the time and make music with them. I truly enjoy building guitars but I don't think I would enjoy it as much if I couldn't make music with them. I guess you could compare me to a chef that likes to snack on the food while preparing the meal. So the two go hand-in-hand for me as far as inspiration. Some guys have guitar acquisition syndrome, but I cured it by building them! Too bad I have to ship them out, though…
I look forward to all aspects of the process on each and every project, but if I had to pick a favorite aspect of lutherie that inspires me the most I suppose it would be inventing new designs, tinkering around, figuring out new methods of work, etc. I like exploration and invention above everything else, running a custom shop is perfect for me.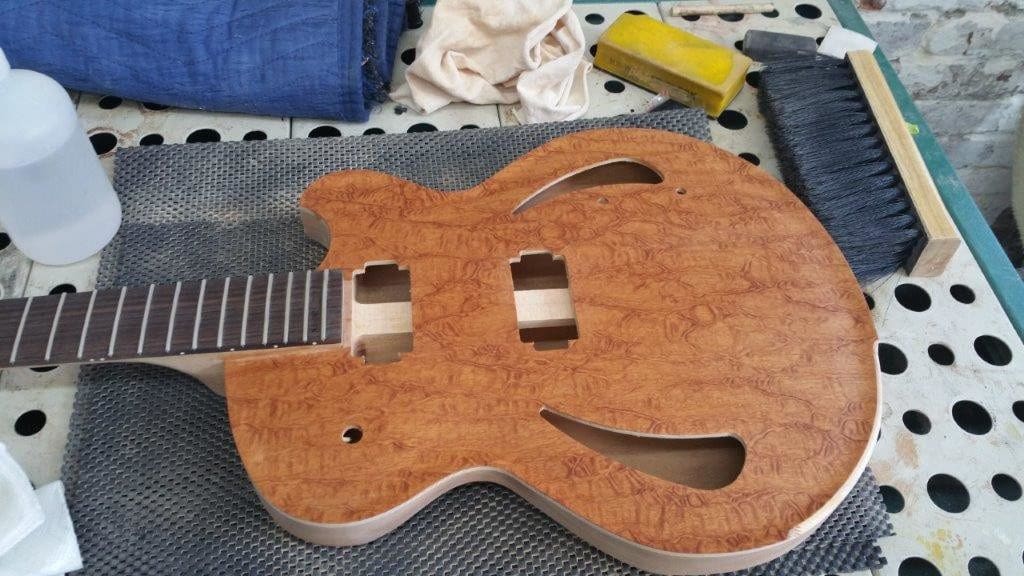 FJ: Do you have a favorite guitar that's crossed your bench?
VB: Well, I'm not kidding when I say I am excited about each project, but a few years ago while I had my shop in New York City I was hired by the D'Angelico Company to do some reproduction work and to design a series of instruments for them based on classic vintage D'Angelico guitars. So the research and design process for those, as well as the guitars that came out of that period were definitely super cool and exciting stuff to work on. D'Angelico guitars are about as difficult as you can get as far as complexity for archtop guitars – tons of binding, pearl work and intricacy – so by the end of the project I was ready for an easier life. We made about 30 guitars for them and that was certainly an educational and rewarding gig. They gave a lot of those guitars as gifts to some really famous people so that was pretty cool as well.
FJ: Can you tell us about your shop? Where's it located?
VB: For the last eight years my guitar shop was located in New York City, but long story short the cost of doing business in the big city got to be too much. My shop there was the size of a shoebox and I got to the point where I needed to expand but couldn't find anything else in the city that was affordable. My family and I decided to make a big change and we relocated to San Diego at the beginning of 2018. We had been traveling out west on various outdoor-type vacations the last few years and we always wanted to try out beautiful Southern California at least for a couple years. So far, so good here. The new shop is great and the area is amazing. Lots of good musicians live here as well so it's a great climate for guitarmaking.
FJ: Do you have a particular philosophy when it comes to wood or materials?
VB: I think the designs I have come up with for archtop and semi-hollow guitars are very personalized and have my unique style. I try to be a forward thinker, so while I do some traditional things I never hesitate to try new materials, designs and methods of work. As far as philosophies on materials go, I'm pretty simple. I prefer lighter-weight woods or less dense species. I'm open to ideas, and try all kinds of things. I do really like woods from Europe for the bodies on jazz guitars, so that's traditional. I prefer mahogany rather than maple for necks in most instances, just because of the lighter weight and better head / body balance.
There are all kinds of woods that can work great for a guitar, though. A lot of my guitars are stained to look antiqued, like an old worn cello or double bass, so sometimes I actually prefer wood that has more character in the grain structure. I've never noticed a lack in sound with a less than "picture perfect" piece of wood. I've made shop prototypes with "low grade" wood that sounded just fine! I definitely like an organic look for some types of my instruments. So it depends on the project. Sometimes I get to use the top shelf, super rare and perfect stuff. But sometimes I purposely choose "B" grade because it's funkier. Both can deliver the same sound caliber but with a beautiful organic look. I just adjust to whatever material really.
I also use some newly engineered wood substitutes that are great. I discovered a new ebony substitute called Rocklite a couple years ago and like the ethics and sustainability of that material. Ebony is so depleted now, and that company has a cool thing going with their product. Sounds and works great, and it's the way of the future with how depleted natural materials will continue to get.
FJ: Are there any upcoming projects that you're particularly excited about?
VB: Sure, right now I am developing a new model of guitar that I am giving as a gift to jazz guitarist Peter Bernstein. I'm incorporating some old school, New York jazz guitar vibes in the design so that is definitely fun. He's been one of my favorite guitarists for a long time so it's fulfilling to make guitars for someone I listen to a bunch. I've been excited to have clients like that along the way.
Another guitar that's coming up is one of my ergonomic design archtops, but as a 12-string headless version. The ergonomic design archtop was a huge departure from anything I would have ever thought to make. I got a request for one several years ago by a player working in Asia, and designed it from scratch for him from a napkin sketch! I'm pretty adventurous as far as trying new designs and I was pretty stoked to do it. I had never given any thought to ergonomic design guitars, but discovered there's a whole subculture of guys that are really into it… think: the Steinberger-type crowd. The guitar really works, it is super comfortable to play and as far as I know there are only a couple archtop builders that have tried it out and offer it. Along the way, several other players have seen the guitar and ordered them, too. Every now and then I get to do one, but the 12-string version will definitely be a challenge and a unique project.