Not even a year ago, I would have said that Matt Ruhland is the best kept secret in the mandolin building world, but the secret is out. His mandolins have found their way into the hands of touring musicians like Eric Wiggs. Bob Minner, and Don Julin. Recently, he sent a stunning instrument down to Tennessee to bluegrass powerhouse C.J. Lewandowski (who just guested on the FJ Podcast). C.J. now has two Ruhlands; his other instrument was a powerful Engelmann topped A-5 that Matt intended to keep for himself until C.J. got his hands on it. The six F-5 mandolins currently on Matt's bench represent his 13th batch, which will bring him up to 74 mandolins in only five years of building.
Matt is a soft-spoken guy who builds solo and has been too busy making mandolins to do much self-promotion. Despite a four-year wait list, it's hard not to run into a Ruhland mandolin on a festival stage or at bluegrass jam these days. I recently spotted a Ruhland on stage at the legendary Station Inn in Nashville in the capable hands of Harry Clark.
Matt's mandolins are beautiful to look at, but the most striking thing about this young builder is how quickly he achieved a recognizable signature tone – dry, woody and big. They are "bluegrass machines," as he calls them… wide open and loud right out of the gate. Or, as C.J. Lewandowski said about his new Ruhland #61, "If I didn't have a Loar, this Ruhland is all the mandolin I'd ever need."
George Gruhn had a Ruhland F-5 in his possession and recently brought it backstage to the Grand Ol' Opry, where he put it in the hands of a number of artists, including Ricky Skaggs. In Gruhn's words: "The Ruhland was well-received…and I was favorably impressed with the workmanship, playability, materials, and sound of Matt's mandolin. There are more makers today producing high-quality mandolins suitable for bluegrass music than probably at any time previous in the history of the instrument. In my opinion, Ruhland mandolins warrant attention from serious musicians." High praise from the godfather of fine stringed instruments.
I recently visited Ruhland's shop to bring him a mandolin built by legendary Portland luthier John Sullivan. Matt said he wanted to study how the top and back were carved, measure thicknesses and look inside with a digital endoscopic camera to examine how the tone bars were shaped. In the couple years that I've known Matt, he's taken similar opportunities to examine several mandolins built by the country's best luthiers. Last winter, he had the famous Griffith Loar – the only known Lloyd Loar signed A-5 style mandolin – in his possession for a few days of intensive study.
On my visit, as I took the Sullivan F-5 out of the case and played just a few notes of a fiddle tune, you could see Matt's antennae go up as he declared with absolute certainty: "That's a thinly carved top and those are some very tall and slender tone bars in there." He could have saved some money on that fancy digital camera because when he finally took a look inside, it wasn't the camera, but Matt's ear and knowledge of the physics of tone production that told the story of how the Sullivan Mandolin was built.
This past winter, I had the opportunity to sit down with Matt and ask him a few questions about his approach to mandolin building as well as his philosophy of life, cooking, fly-fishing and his favorite single malt whiskies.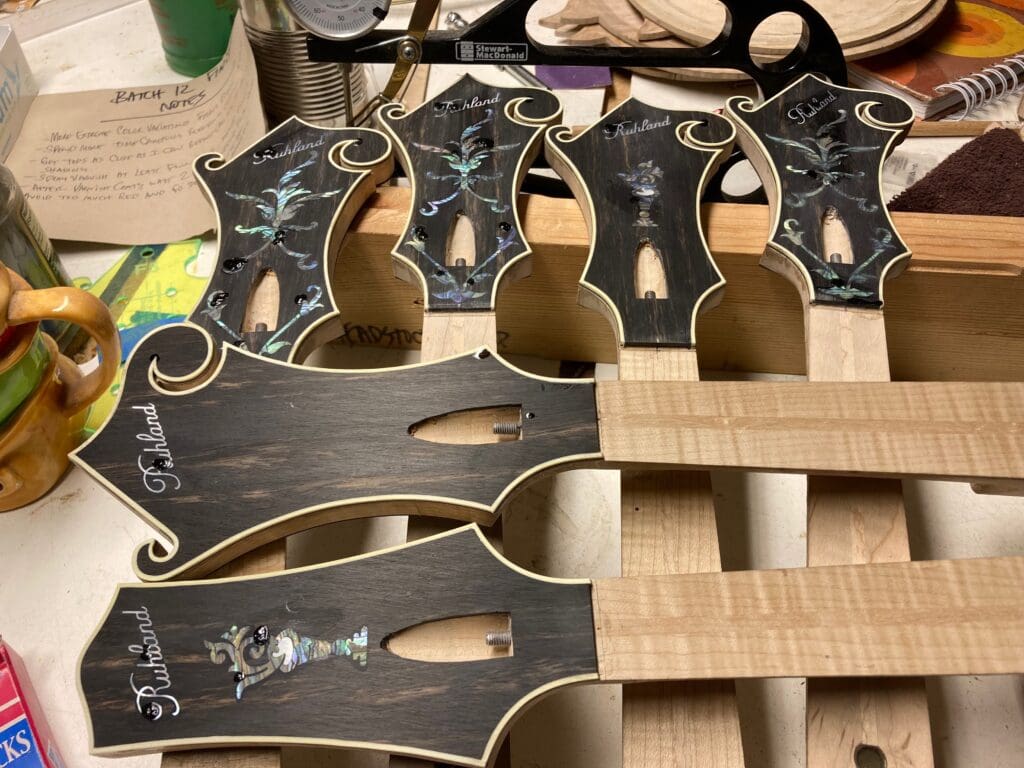 Fretboard Journal: Tell me about this batch of mandolins on your bench right now.
Matt Ruhland: I'm just finishing up a batch of F-5's and doing the rough carving on a new batch of A-5s. Been alternating A-5 and F-5 batches for the last couple years. The last A-5 batch had some mandolins in it that are very special to me – one for my good friend Bob Minner, who's been a guitarist for Tim McGraw for many years and can play the spit out of a mandolin, too. A couple of mandolins in that batch have tops from a stash of woods left behind by the late John Sullivan. In this current batch, I've been using Noble fir for the bass tone bar and beefing up the bass side a bit more. [It's] kinda my secret sauce…brought back from the old days of lutherie.
FJ: How did you get into building mandolins?
MR: Well, it wasn't plan A…and certainly not what my parents had in mind for me. My siblings followed the classic formula – college, married, career, kids. I was something of the black sheep… playing rock music in Memphis and dreaming of opening my own barbecue restaurant. Then at one point my woodworking chops and interest in music started to come together in my head. That, and the desire to be my own boss and make a living in my own workshop. I haven't had a "day job" in two years and I'm not looking back. I'm blessed to have found my calling.
FJ: The late luthier John Sullivan is a legend in the music community in the Pacific Northwest and beyond. Though you didn't get to meet him, his work and spirit have been important for you. Can you say a few words about that?
MR: I guess my connection to Sullivan started with hearing the voice of Caleb Klauder's legendary John Sullivan F-5 mandolin that he calls "Sugar." Since then, I've been seeing and hearing the many Sullivan instruments that are still here in the Pacific Northwest. Caleb has become a good buddy and I was present at one of his gigs when he asked for a moment of silence right after John's passing. That moment has stayed with me. I'm actually building a mandolin for Caleb soon… it will be #100.
John's memory and certainly his instruments are part of the fabric of the music scene here in Portland. I've been lucky enough get to study his builds and to work with John's good friend and tonewood supplier Bruce Harvie, who supplies most of my wood. I feel a little like I'm carrying the torch – building with some of his old stash of wood – if he picked it out, he must have heard something good in it so I'm happy I get to build with it.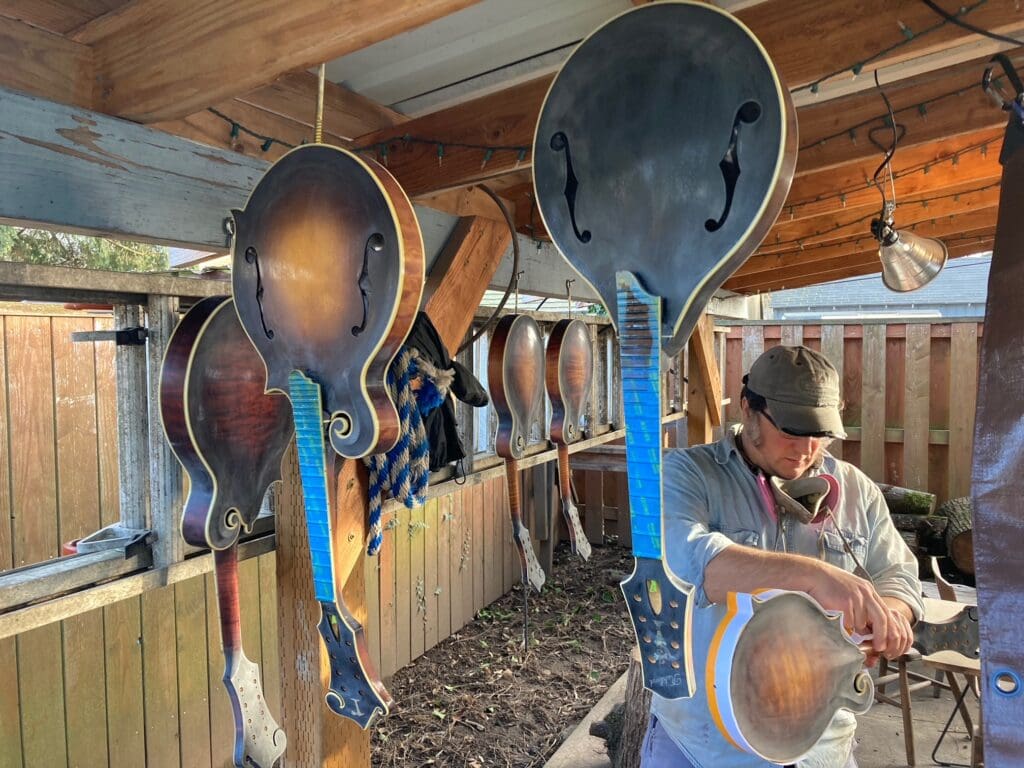 FJ: What other mandolin builders have been an influence?
MR: Oh man, so many! This is just an amazing time for mandolin building. Gil [Gilchrist], Dude [Dudenbostel], Michael Heiden, Will Kimble, Sim Daley…. Lawrence Smart was an early voice of support for me. He told me, "If you can get to #50, you'll build for the rest of your life." I think I he's right.
FJ: One thing that has stood out about your mandolins is the signature tone you have developed. Talk about how you achieved that and your approach to building mandolins.
MR: I feel like I build with my ears, as well my hands. My objective is to produce loud instruments with complex tone in the upper register. I like them to sing all the way up the 15th fret. I've learned from builders like Adrian Monrovic to go for smooth arcing, smooth transitions and gradations. This was true of Sullivan's way of carving mandolins, too. Not to be too technical, but I do start with a rough set of thickness measurements that I've landed on and then adjust based on the individual flex of the top, what my ear tells me and what the person who ordered the mandolin wants. I spend some time with each person I build an instrument for… getting to know their style… and whether they have the patience to let the instrument mature or whether they want instant gratification. I believe the ones that need to break in and mature end up being the real gems in the long run"
FJ: We've seen a steady stream of outstanding, well-seasoned and visually stunning tonewoods on the mandolins coming out of your shop. Talk to us about the woods you use and your collaboration with Bruce Harvie of Orcas Island Tonewoods.
MR: I knew who Bruce was through several folks and because of his reputation among luthiers. I just called him up one day out of the blue. A few days later, I drove up to Orcas Island and bought 10 sets of wood for F-5s. He thought I was nuts to be diving in head-first with F-5s having not built a single instrument yet! He's become a good friend and mentor on this mandolin building odyssey… passing some good advice and some amazing tonewoods my way.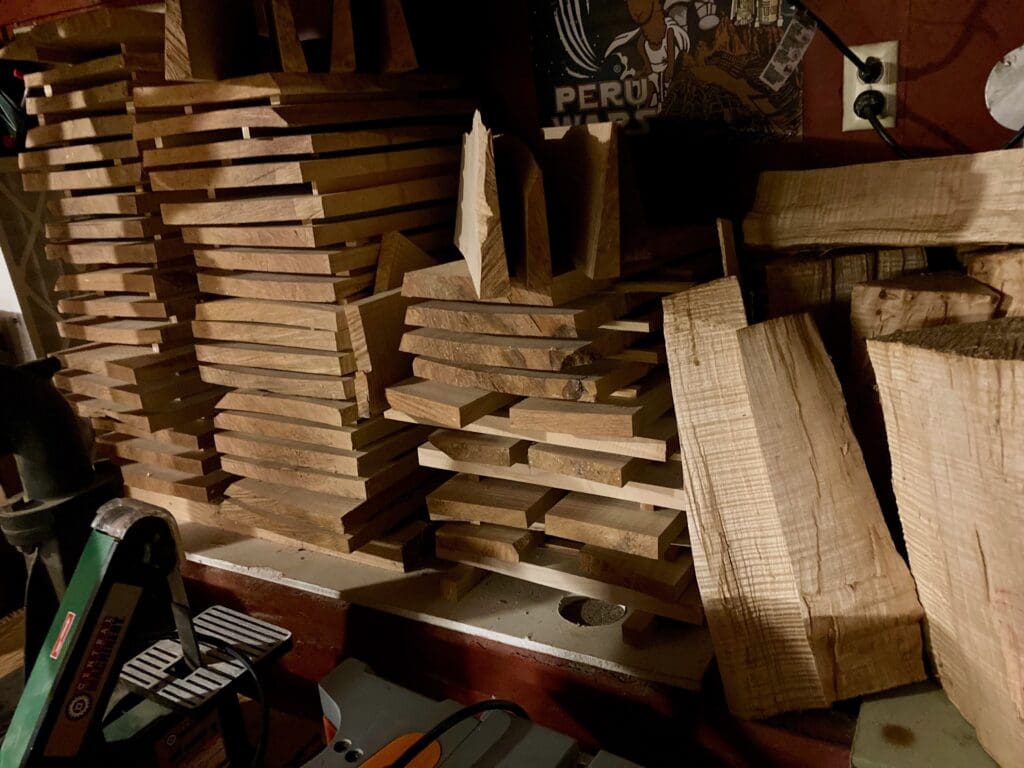 FJ: What are you doing when you aren't building mandolins?
MR: Fly fishing is a big escape for me. It's nice to live 95 miles from the Deschutes River. I call it my "happy place" and try to sneak out there every time a new batch of mandolins is hanging up to dry. Music, too: I try to get to festivals, jam, and sit in on banjo with a local band once in a while. When I'm kicking back, I rarely turn down a dram of Caol Ila – my favorite single malt scotch. I'm big into cooking, too. I host bluegrass dinners at my place: Bring an instrument and a side dish and let's go!
FJ: What does the future hold for you? And, other than mandolins, are there other instruments we can expect to see out of your shop in the coming years?
MR: I've been thinking about building a few five-string fiddles and archtop guitars. This may sound like blasphemy, but I think archtops make fine bluegrass guitars. At some point, I plan to build a new shop – a big live/work space I've been designing in my head this past year – but right now I'm busting my tail to catch up on four years of mandolin orders!