[Editor's Note: In 2002, Michael John Simmons and I published a ukulele 'zine in our spare time entitled The Ukulele Occasional. In our first issue (there were only two), I interviewed then 94-year-old jazz ukulele virtuoso Bill Tapia for this article. Tapia passed away on December 2, 2011 at the age of 103. Till the very end, he was still playing the uke and still going strong. I figured it was time to dust off this interview. Hope you enjoy it. –Jason]
Maybe you've never heard of music legend Bill Tapia. That's understandable. While most of his Hawaiian peers recorded numerous 78s that would ensure their place in the music archives, Tapia was too busy working as a live musician, playing not just island tunes but also mainland-styled jazz. He's a fretted instrument virtuoso, he backed some of the biggest "name bands" on both sides of the Pacific, and —  however hard it is to believe —  Tapia has been playing the uke since the instrument's adolescence, in 1915.
Talk to Tapia about the early days of the ukulele and you may hear about Hawaiian music legends Andy Iona, King Bennie Nawahi or Johnny Noble (all of with whom he worked). You might hear about his love for Kinney & Mossman and Martin ukes. Or, you may be lucky enough to hear about his stints in Hollywood, and the times he taught Clark Gable and the Little Rascals how to play music. His recounted career sounds downright restless until you realize that his stories take place over 10 decades. Tapia, now 94, has played alongside almost every major jazz musician of the first half of the 20th century. But we're getting ahead of ourselves. This story, as told by Tapia himself, begins on a rural street in Hawaii.
He was born on New Year's Day, 1908. His brother played saxophone adequately enough, but Bill was the first real musician in his clan. "When I was about seven, I lived in a Hawaiian village," Tapia remembers. "My mother's family and my aunt were the only Portuguese people living there. These Hawaiians used to play out in the moonlight and they'd use these trees that they cut down for benches. Every night they'd gather over there and start playing and singing."
"I used to hear that music; I lived right across from them. And I'd watch their ukulele player and I was fascinated. All he did was chords … he didn't play melody. During the intermission, they'd lay their instruments down and smoke and I'd go over there and play a couple of chords. One of the guys said, 'Do you want to learn this?' He saw that I was interested. And he taught me. He only gave me about two lessons. That's how I started learning."
Tapia eventually bought himself a ukulele, a Nunes with a couple of cracks bought straight from the factory for 75 cents. His learning curve must have been sharp, as just a couple of years later he was performing in public.
"At the age of 10, I played USO shows for World War I," he says. "The war was just about to end … 1918. Then when I was 12, I worked in vaudeville, in silent pictures. They took me out of school and I worked in every theater on the islands. The Hawaiian Amusement Company ran almost all the theaters, the big ones. I worked in the Waikiki Theater, Princess Theater, every theater. I was a kid and I had a car that drove me around. I had to be at this place at 8 o'clock, I'd go and play a couple of songs. People would laugh and scream. Then I had to get in the car quickly and the guy would drive me to another theater. We were going like mad!"
Back then, Tapia's repertoire was mostly standards and patriotic numbers like "Stars and Stripes Forever." But, blessed with a good ear, he could pick up a new tune fairly quickly. At the age of 14, he found himself playing with the legendary Johnny Noble at the famous Moana Hotel. Ukulele manufacturers took notice of this rising star, giving him prototypes of new designs and free instruments to try out. "I had the first pineapple uke made," he declares. "This is [from instrument maker] Kamaka's dad, Sam. I knew him for years and years. When he made the pineapple uke, he gave me a white one. It had good tone and everything. I don't know how he did it, it wasn't paint. Son of a gun, if I knew that thing was going to be worth something, I would have kept it."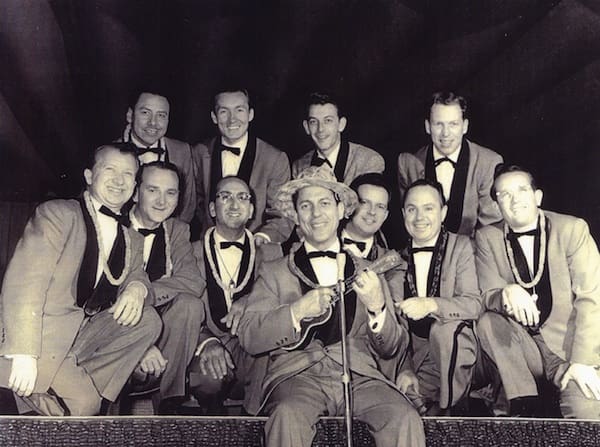 A couple years later, Tapia landed himself a gig on cruise ships, his first chance to lay eyes on California. "That was a fun job,"?Tapia says, "but I'd get sick all the time. I used to get terribly sea sick, but I was determined. Just like you get the flu, you want to throw up. Sometimes I'd be playing in the dining room and, gee, I'd try to hold back and then I'd have to throw the instrument down and run out to the deck and throw up over the deck!"
Noble eventually convinced Tapia to return to terra firma. "He gave me a few bucks more per week, so I went with his band and we opened up the Royal Hawaiian Hotel. I was 19 years old." But by now, Tapia was smitten with Southern California and its promise of unlimited music work. "I worked [at the Royal Hawaiian] only about six months. I didn't like Honolulu too much; I liked the mainland. So, I went back on the ship for a little while and then I quit. I worked all around Hollywood: the Beverly Wilshire, the Biltmore Hotel, nightclubs, bootleg joints … "
At this point, Tapia was playing jazz guitar more than any other instrument. "In Hollywood, I'd play in first class places. After the jobs, I'd go and play in a bootleg joint. They wouldn't pay you, but you'd make a lot in tips, more money than you would by earning wages. Then, I'd go and jam with the boys on Central Avenue." When the Depression hit, Tapia was finding more success than ever playing music.
"I worked at Sid Grauman's Chinese Theater, in the '30s, playing the ukulele," Tapia remembers. "I played two songs —  same two songs for four months. I worked two matinees and two shows at night. I played the "Indian Love Call" on the ukulele and on the last chorus the band would pick me up and play background for me. Then, as an encore, I would imitate two ukuleles on one ukulele, playing "The Glow Worm."
"I did it so that each show would take me no longer than four minutes, so I worked 16 minutes a day, I made 96 dollars a week … that would be about 2,000 dollars now. And this was during the Depression. See, God was with me; I always worked a little different. At that time, on Hollywood Boulevard, you could eat a four-course dinner —  soup, main entree, drink and dessert — for 35 cents. I'd go up to Jess Willard's restaurant in Beverly Hills, the champion fighter. We'd go over there with musicians on Sundays. For four bits, you could eat all the turkey you'd want. You could smell that turkey from all over downtown. For 50 cents! Can you imagine?"
Throughout the '30s, Tapia would interrupt his Southern California club and radio dates to return to the islands to spend a few months with his family. He had to turn down a role as an extra in Bing Crobsy's Waikiki Wedding when he refused to give up the ticket on a Honolulu-bound ship that he obtained for himself and his Chrysler convertible (yes, even today, Tapia exudes plenty of style). Unfortunately, during one of these annual vacations, Tapia found himself in the Pacific Theatre during the onset of war.
"I went back to Honolulu and I got stuck there. The war broke out. And during World War II, men couldn't leave there unless they were a service man or a defense worker. They were going to draft me, but I had bleeding ulcers. I got examined and I didn't make it, for which I was glad. Then the guy asked me, 'What line of business you in?' I guess because of the way I dressed or something, I was different. 'Are you a professor?'"
"I said, 'No, I'm a musician.' He said, 'Sit here, I want to talk to you.' So, he talked to me and asked me how I'd like this job working for the USO. I was put in charge of all the USO shows; I had to round up all the hula dancers, tap dancers, all the musicians. They would call and say 'We want six men in this cane field … ' and I'd send these guys."
"Then, I went out on my own and had my own bands, and I used to book bands there until right after World War II. I was working in the Civic Auditorium with my own band. Then Charlie Barnett came through as a featured artist with this other band … he was a movie star. He asked me if I wanted to travel with him. So, I let my band go and I came up and I made my home here [in California]. And I never went back, except for about every three years when I'd go visit my folks."
Tapia eventually relocated to the Bay Area, where he has spent nearly half of his life. Los Angeles after the war wasn't the same place Tapia left; crime had increased, the streets were dirty. With his wife and daughter, he relocated to suburban Lafayette and began a career of non-stop jazz gigs and music teaching. The ukulele wasn't in demand much during the '60s, '70s and '80s; there were too many guitar teaching jobs (he boasts about the 105 private lessons he once gave in a single week) and too many hotel and club gigs. He wouldn't slow down until he was in his 80s, about the same time he gave up his pack-and-a-half-a-day smoking habit.
Today, he's back in Southern California, living in a new house lined with photos from his early days. And at 94, Tapia has made a comeback of sorts. He has a manager, he has gigs, there's a documentary on his life in the works, and he has a new CD, Bill Tapia with the Resophonics, his first studio recording since the 1930s, when he recorded "Tropical Swing," arguably the first Hawaiian jazz record. Though he's long since parted ways with the vintage Kamakas and Martins he accumulated over the years, he's playing the uke again. With a jazzy, cool style and the ability to infuse medleys with the hundreds of standards he knows by heart, Tapia is receiving more attention than ever before.
"You know, it's funny," Tapia says. "A lot of people ask me about the history of the ukulele and I don't know. I feel embarrassed. When I left school, I never read one book completely, of anything … the heck with school. I started fooling around with musicians that were much older than I was. And I liked that life, playing music. But I still don't know the history of the ukulele."
Whether Tapia realizes it or not, he is the history of the ukulele.