For over a decade, David Rawlings has been synonymous with one guitar: The humble, small-bodied 1935 Epiphone Olympic archtop. We've seen it accompany Rawlings as much as his music partner Gillian Welch does, which is to say, always. And, as Rawlings' profile has slowly grown from Americana sideman to all-around guitar hero, he's singlehandedly raised the value on those Epiphones. Many seeking that unmistakable Rawlings' tone – that mind-altering, driving mid-range – just have to get an Olympic.
But, listen closely to Rawling's excellent 2017 album Poor David's Almanack, and you might notice something has changed. Yes, his songwriting is still stellar and Rawlings trademark runs – shades of Norman Blake, Jerry Garcia and Doc Watson – aren't going anywhere but that guitar tone is bit more robust. Different strings? Different microphone? Nope, the whole album was recorded on Rawlings' new guitar. And not just any guitar… a 1959 D'Angelico Excel that was custom ordered by Homer Haynes (of Homer & Jethro fame). Rawlings purchased the guitar from Gruhn Guitars (between Homer and Rawlings, the guitar was owned by legendary archtop collector Ranger Doug).
We have a lengthy profile on Rawlings (penned by producer/musician Paul Burch) and his thoughts on the new guitar, songwriting and recording in the Winter 2017 issue of the Fretboard Journal (#41). The following is an excerpt from our lengthy talk with him.
Fretboard Journal: Tell us about your new guitar?
David Rawlings: It's a 1959 D'Angelico Excel. It was ordered by Homer Haynes. I think John D'Angelico had just made a mandolin for Jethro Burns. I have photocopies of the letters that kind of went back and forth.
It sounds like what happened is Homer sent D'Angelico a Stromberg to get repaired. And then they start discussing [D'Angelico] making an archtop for him. And John sort of gives him the price list of what he makes. I think the top-of-the-line is this thing, which is in Excel but made similar to Johnny Smith's. It's really a marvelous instrument.
[Ranger Doug] had it at George Gruhn's but it wasn't ever really listed. I went in there for some reason. George is a very interesting guy and has been a good friend for many years. I'll be just sitting there talking with someone about something else and all of a sudden George will appear with some guitar. He put this giant D'Angelico in my hands and said, "You know, maybe this can be your new style?"
I'd been looking for a lot of years for an archtop that could do some of the things that my little Epiphone can do – in terms of the way it projects or the way it cuts – but that had a larger body. [I wanted] something that was a little mellower and had a little more chunk or beef in the low end.
And I had played a guitar that was also one of George's many years ago, a dot-neck 16″ Gibson L-5… a Maybelle Carter-era [L-5]; I'm pretty sure it was '27. A lot of those guitars kind of sound like jazz guitars to me, but once in a while those guitars have what I think of as a country sound to them, where you can play a style that I can get around on. Certainly Maybelle's has that in spades.
This L-5 which was a personal guitar of George's years and years ago, came onto the market and was far outside my price range. I started trying to sell everything I owned at the time to get my hands on it because I wanted to have a guitar that had this particular sound. I thought it would be a good complement to my little Epiphone.
That didn't work out. So I kept my ears open over the years. When I have a particular sound in mind on an instrument, it really is hard to find something that fits the bill. The banjo that I play now is a Whyte Laydie. We first heard a banjo like that at the Music Emporium in Cambridge in, I think, 1995. It was $3000 or something at the time and this is at a time where $300 would have been way out of my price range! I looked for 20 years to try to find a banjo [like that] and I didn't really even play [banjo] at the time! I just picked it up and hit some chords on it of that had that that sounded similar enough to me that I understood I'd be able to use it. Finally, I came up with one.
Sometimes I start to think I'm crazy – did [an instrument] really sound a particular way or am I just misremembering? I always feel good when I finally find something that I know will do the job. And with this D'Angelico, it really fits the bill. It did a lot of the same things that that L-5 had done, even though it's a different body size, it had the same kind of voice.
To be honest, part of the reason I wanted this guitar is to have something that's an archtop but that is easier to play and is a little more useful as an accompaniment instrument when you're writing songs. The little Epiphone without very much body isn't really any fun for that at all. It's very much a lead instrument in my mind, that's what it does. So having something that straddled the line was nice.
FJ: I imagine that over the years you had your Olympic dialed in when it came to mic'ing. Did the bigger D'Angelico change how you record and mic things?
DR: Actually, no. I've found over the years that by-and-large if I'm using a guitar the way I use a guitar when I'm playing with Gillian, the combination of the two microphones I always use – which is an old [Neumann] M 49 on my vocal and then a Sony C37 on the guitar. The guitar sounds that I get is always a combination of those two mics because they're in pretty close proximity to each other and there's just no way that you're not going to get a lot of guitar up into the vocal mike or likewise get some vocal down the guitar mics.
Those microphones have to be phased-in and the combination of those two sounds and the picture that those two microphones together make seems to suit anything that I can put in my hands.
Read more about Rawlings and Welch's current guitar lineup (and more) in the forthcoming Fretboard Journal #41, Winter 2017/2018 issue). Subscribe here to get it. And catch Rawlings and Welch on tour now. Photo below by William Ritter.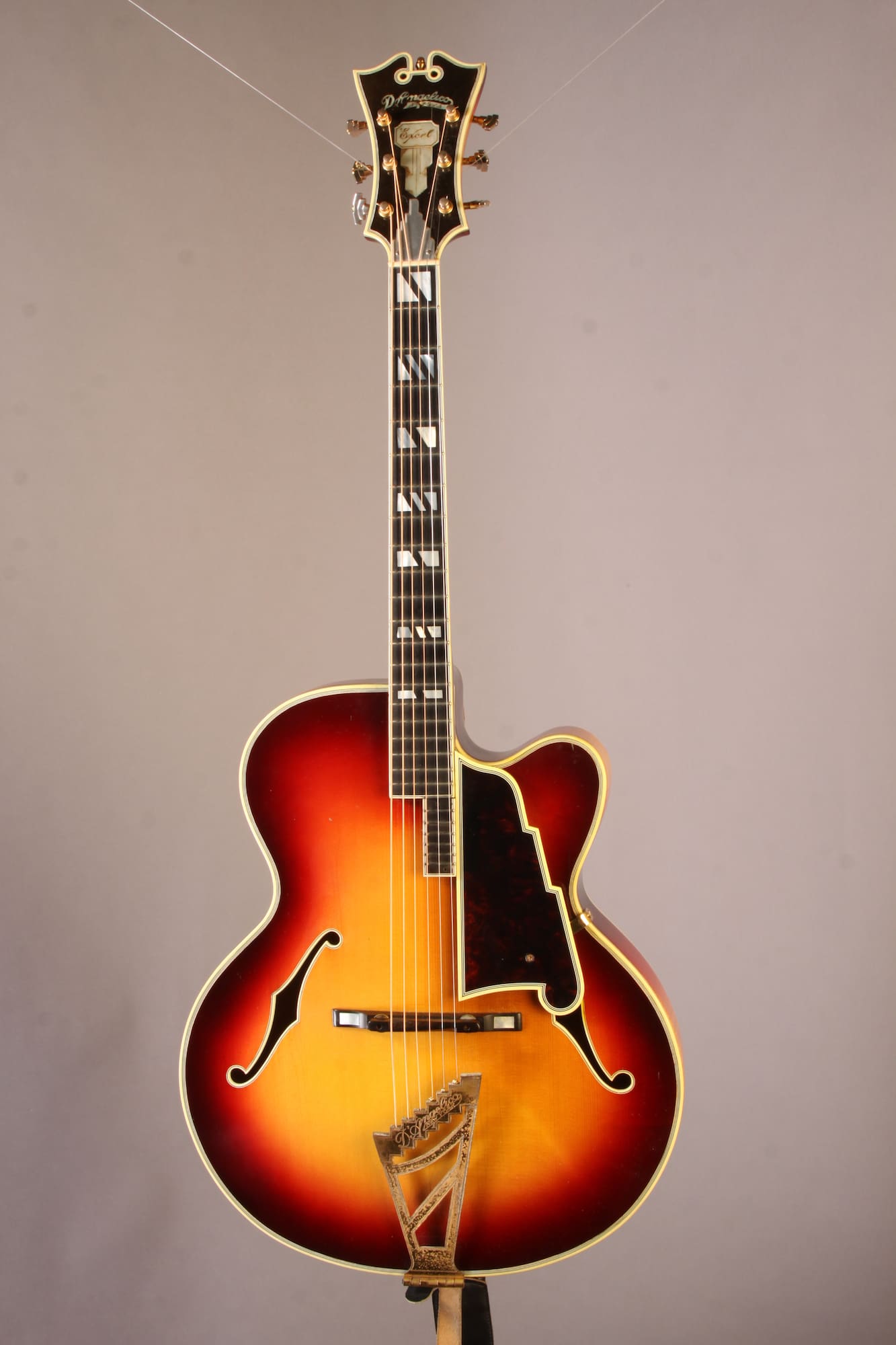 ---
Catch Rawlings (and the D'Angelico) in 2017-2018 during his "An Evening With David Rawlings" tour dates:
November 24 /// Hartford, CT /// Infinity Hall
November 25 /// Providence, RI /// Columbus Theatre
November 27 /// Portland, ME /// State Theatre
November 28 /// Northampton, MA /// Academy of Music Theatre
November 29 /// Boston, MA /// Wilbur Theatre
December 01 /// Burlington, VT /// Higher Ground Ballroom
December 02 /// Albany, NY /// Hart Theatre at The Egg
December 03 /// Ithaca, NY /// State Theatre
December 05 /// New York, NY /// Brooklyn Steel
December 06 /// Washington DC  /// Lincoln Theatre
December 07 /// Philadelphia, PA /// Annenberg Center for the Performing Arts
December 08 /// Richmond, VA  /// The National
December 09 /// Charlottesville, VA /// Jefferson Theater
January 17 /// Chattanooga, TN /// Tivoli Theater
January 18 /// Athens, GA /// Georgia Theatre
January 19 /// Charlotte, NC /// Neighborhood Theatre
January 20-21/// Saxapahaw, NC /// Haw River Ballroom
January 23 /// Nashville, TN /// Ryman Auditorium
January 24 /// Birmingham, AL /// The Lyric Theatre
January 25 /// Atlanta, GA /// Variety Playhouse
January 26 /// Asheville, NC /// Orange Peel
January 27 /// Knoxville, TN /// Bijou Theatre
February 27 /// Santa Cruz, CA /// Rio Theatre
February 28 /// Santa Rosa, CA /// Luther Burbank Center for the Arts
March 01 /// San Francisco, CA /// The Fillmore
March 02 /// Santa Barbara, CA /// Lobero Theatre
March 03 /// Los Angeles, CA /// The Theatre at Ace Hotel
March 05 /// Arcata, CA /// John Van Duzer Theatre
March 07 /// Grants Pass, OR        /// Rogue Theater
March 08 /// Eugene, OR /// McDonald Theatre
March 09 /// Portland, OR /// Roseland Theater
March 10 /// Seattle, WA /// Moore Theatre