Neil Young's 1972 Marshall Super Lead and 4×12" Cab (Courtesy of Saul Koll)
This isn't the usual product announcement you're accustomed to from the NAMM show floor, but the opportunity to get up-close and personal with one of Neil Young's former rigs was a rare treat worth making the list. If you've ever heard, learned or covered "Rockin' in the Free World", this is the amp Neil used on the recording.
Basking in the imposing presence of "the sound," Saul Koll gushed about how he scored his new shop amp, telling me about the recent Julien's auction where a bunch of Neil's possessions were up for grabs, mostly model trains, classic cars and a handful of Neil's Abercrombie & Fitch cowboy shirts. Neil also made some studio equipment available, including a set of Marshall amps, and among them was this famous stack.
Saul tells me he never expected to win such a prize, having made a modest bid that seemed low even to a low-baller. To his surprise, he won! After 28 years in storage, the amp was recently given a clean bill of health by amp wizard Evan Renberg. Even the tape indicating Neil's settings is still intact!
To go along with the amp, Saul created a special "Old Black" inspired Super Glide model, complete with a vintage Bigsby, Arcane pickups and that fabled black-over-gold finish. A fitting tribute to the man and his music.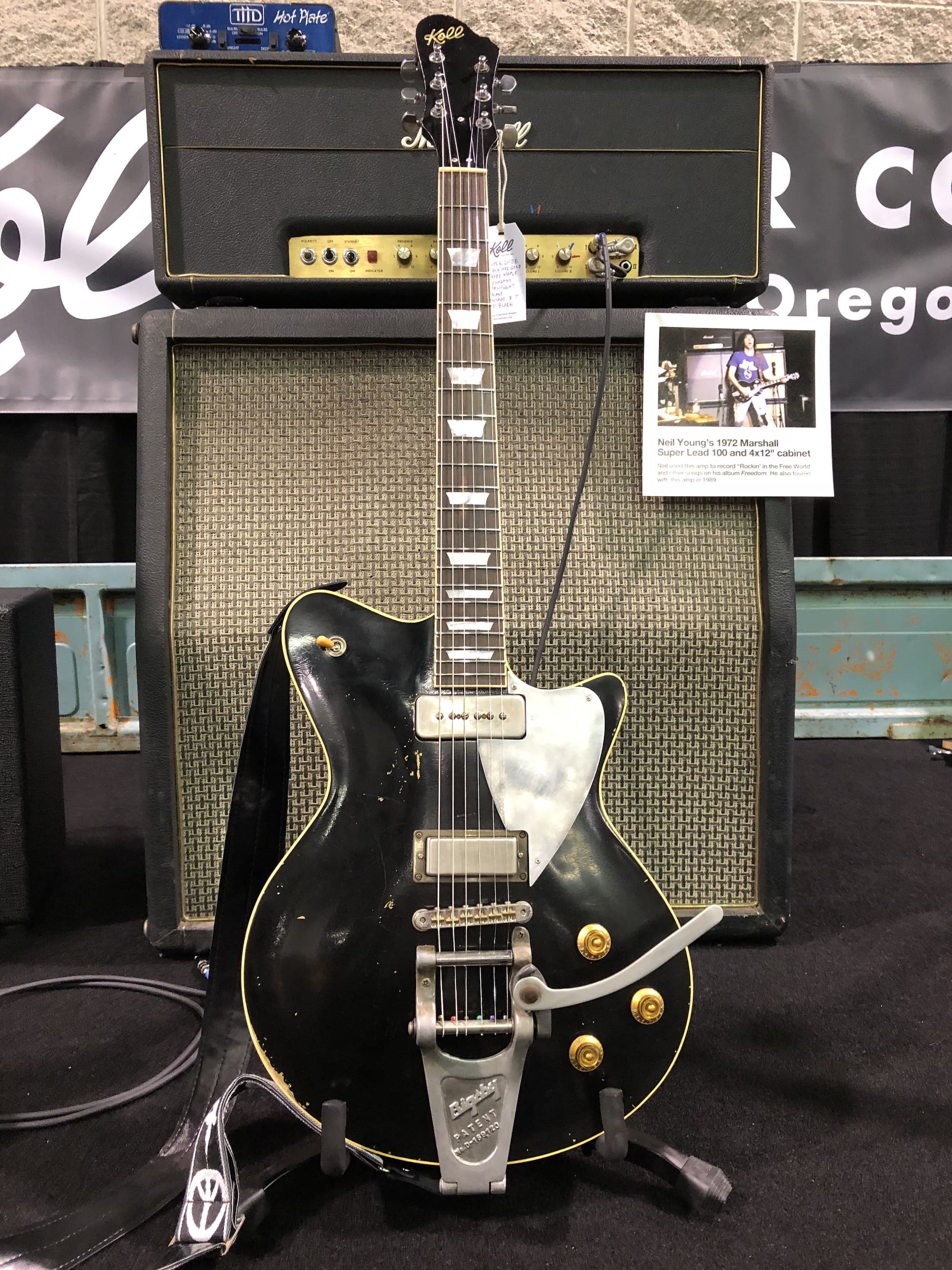 California Woods booth (Alpher)
California Woods isn't a guitar company, but rather, a family-owned supplier of naturally-fallen woods perfect for furniture and instrument builders alike. The company offer a host of gorgeous, highly-figured woods as you'd expect, but what drew me in –– the true genius of their work –– is their "Crazy" series of blanks.
Employing brightly-colored dyes and resins, California Woods offers truly kaleidoscopic options for the more adventurous luthiers of the world. Deeper pinks, purples and blues are possible with this process, and it also makes for some interesting patterns, with resin flowing like rivers through the gaps in the wood. CW even had a few special blocks with Lego Minifigs cast into the material.
California Woods had one guitar example from the Yorkshire, UK based Alpher, a company I've long admired even if fancy woods aren't my usual thing. Their "Crazy Burl" Mako Elite not only looked stunning with its backlit swaths of translucent blue resin, it was legitimately the best-playing guitar I picked up at the whole NAMM show.
Fender "Tuxedo" Jazzmaster
This Custom Shop creation was one of the first to catch my eye at the Fender booth this year, and now that the show's long over, I can't stop thinking about it. Decked out in restrained black and creme, the Fender "Tuxedo" Jazzmaster immediately recalls spy themes and classy black tie affairs. There's even a subtle homage to the early Les Paul/SG models in the pick guard carve, whether intentional or not. This beauty comes equipped with Curtis Novak Silverfoil Jazzmaster pickups, a Master Volume control, and a blocked-and-bound neck with a white headstock to tie the whole package together. It's such an understated yet bold visual statement, and one of the more enticing of Fender's recent stripped-down Jazzmaster takes.
This classy creation comes courtesy of apprentice builder Vincent Van Trigt, someone who shows a lot of promise as a future Master himself. Keep your eyes peeled for more from him.
The Gretsch G6120TB-DE Duane Eddy 6 String Bass Guitar
If there's one product at NAMM that threatens to drain my petty cash reserves, it's this one. The new Gretsch G6120TB-DE is the latest addition to the roster of Duane Eddy signature models, featuring a 30.3" scale length, hollow body construction with '59 trestle bracing, a Bigsby B6C vibrato, and twin Dynasonic pickups for just the right amount of low-end depth and snappy high end definition. It's as if Gretsch crossed a Black Falcon and a Fender Bass VI, and the results are stellar.
The medium C neck profile felt immediately familiar, and I adored the comfortable string spacing of the brass nut. Often, makers of similar VI-style instruments miss the mark here, fanning out the thicker strings a hair too far for fretting hand accuracy or tightening up so much that it leaves the first few positions feeling cramped. Through the provided Fender Deluxe Reverb, this had all of the throaty, twangy tones I expected; as an avid Bass VI player I felt right at home with this instrument.
This model is set for release during the Summer of 2018, Eddy himself was even on-hand to unveil the model on Friday, which I sadly missed due to being woefully under-informed at the time. I really need to start paying attention to the events schedule!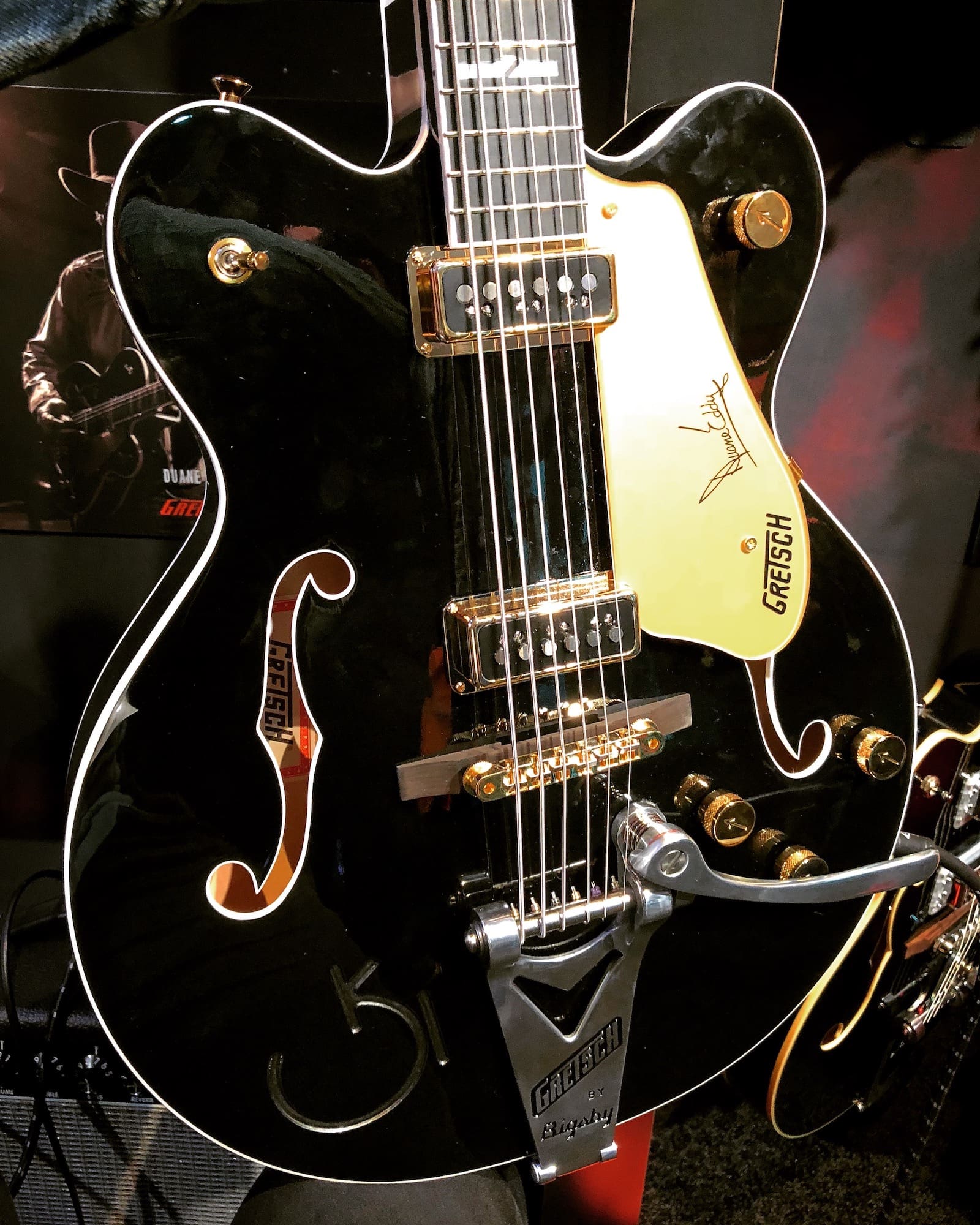 Out-of-the-Box Acoustics
Over on the acoustic side, it was clearly a year where even the tried-and-true builders were trying something, anything new. Martin decided to "reimagine" some of their classic models with slimmer necks and forward shifting bracing; Taylor made waves with their new V-Class bracing system, doing away with the classic x-brace on their higher-end models (eventually, the bracing is likely to replace all of their domestically-built guitars); and other makers were showcasing smaller-bodied and unorthodox acoustics. Collings had an oval guitar that was signed by all the employees who worked on it (a neat touch). Another favorite was Dana Bourgeois' copy of an insanely rare Gibson L-2 Argentine grey guitar. These gold-soundholed Gibson anomalies from the late-'20s to early '30s are just about the coolest vintage acoustics around. To see a new one, built with accuracy by a master luthier, was a joy. Here's a pic from our friends at Folkway Music.