2010 Luis Feu de Mesquita Stradivari Cremona 1688
Everyone knows that Antonio Stradivari made some of the finest violins ever built, but not many people know that he also made a handful of guitars, of which only five survive. Today's Catch is a copy of the Hill Strad, which is currently on display at the Ashmolean Museum in Oxford, England. This lovely guitar was made by Luis Feu de Mesquita, a luthier who grew up in Spain and who currently lives in Canada. As with most guitar from the Baroque Era, this instrument is strung with ten strings in five courses, so it is played as if it were a five-string instrument. It is tuned to ADGBE, basically modern standard tuning without the low E string. The top is made of European spruce and the sides, back and neck are all made of maple. I've been lucky enough to have played a couple of real Baroque guitars and a few copies like this one, and at first they are very strange to play. The first thing you notice is how light they are–this one weighs only 2 pounds 2 ounces–but also how loud they are. Baroque guitars have a delicate tone without a lot of sustain, but once you get used to them, they are really fun to play. Of course they are perfect for playing music of the 16th and 17th centuries, but they also sound pretty good on slow airs, transcriptions of Irish harp music and music from a lot of older Latin American folk traditions. This visitor from the past could be yours if only you would give $2895 to the good people at Folkway Music. (Please scroll to the bottom of the page to see a clip of Krishnasol Jimenez performing on an original Stradivari guitar from 1679.)
This "ice cream cone" heel style survived on Martin's guitars into the 1870s.
I suspect these wooden friction pegs are a little hard to tune but switching them out for Grovers or Schallers probably wouldn't work, either.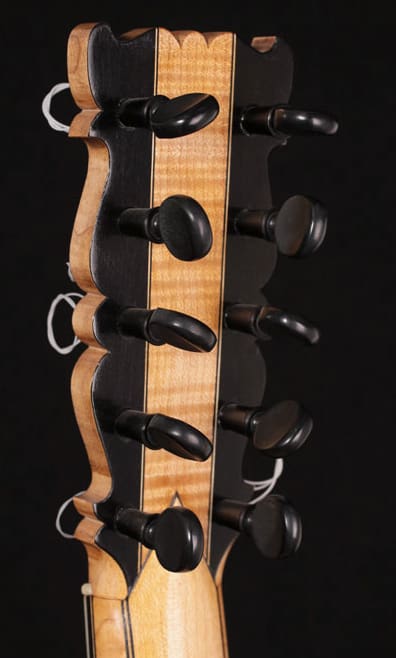 Krishnasol Jimenez playing on the Sabionari Stradivari guitar from 1679, the only original Strad guitar that is set up and playable.