Maybe more than any other instrument out there, the mandolin has cultivated a mystique with a built-in history, myth and communities of fanatics. On this edition of Bench Press, we talk with Will Kimble of Kimble Mandolins in Cincinnati, Ohio, someone who has gone well beyond the status of "another mandolin builder making Loar copies" and into being an icon in his own right. Here, we talk to him about his relationship with builder Lynn Dudenbostel, his partnership (and apprenticeship, of sorts) with his dad, and his current projects.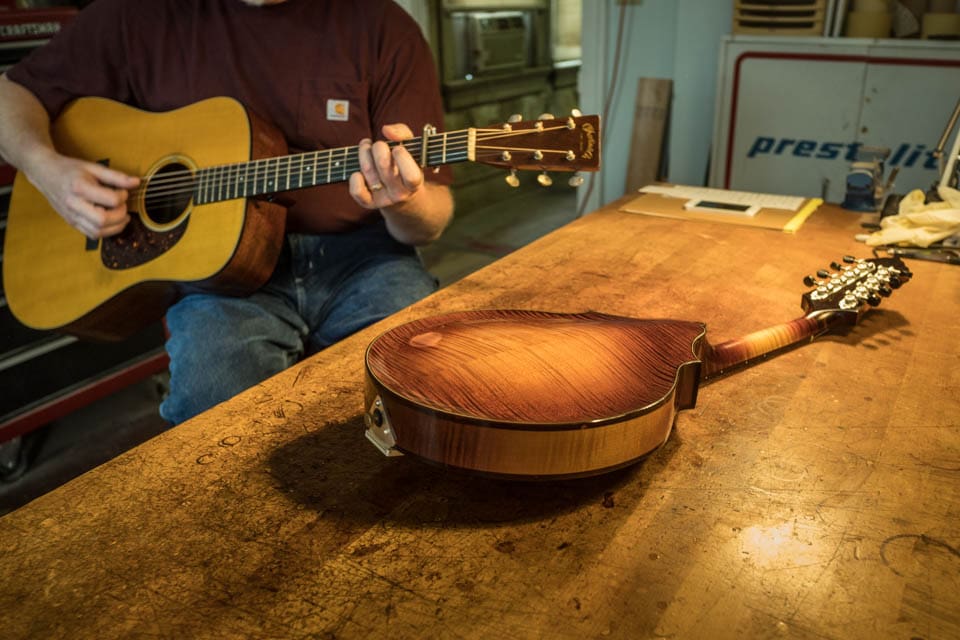 Fretboard Journal: What's on your bench right now?
Will Kimble: I have an unusual and interesting project on my bench at the moment—a two-point octave mandolin. A dozen or so years ago, my Dad bent up a couple two-point mandocello rims. One was made right away into a two-point mandocello based very closely on a Gibson K-2 design with an oval hole and a single transverse brace, and the other rim sat on a shelf until this year when I decided I wanted to make something out of it. It took a while for me to make up my mind, but I ended up building a long-scale octave mandolin with f-holes and a new headstock design that is symmetrical and uses F-style mandolin tuners. It is a very large instrument with a long neck (17 fret neck joint) but it sounds great and I'm excited about the possibilities both as a songwriting and performing instrument. I have kept it strung in the white longer than usual because I am taking my time finalizing the neck shape.
FJ: How did you get started building?  
WK: My Dad had built some mandolins, maybe a couple dozen, and I was lucky to have one when I started playing the mandolin seriously. I played guitar until I got the mandolin bug in my late twenties, and like most players, I longed for instruments I couldn't afford. My parents had retired to the mountains of North Carolina, and I ended up taking a job at an advertising agency in the small town they retired in, Franklin, NC. I was married but we didn't have kids yet, so I had plenty of time, and my Dad had all the tools and wood and patterns. I asked him to show me how to build one, and from that point on I was hooked—that was pretty much all I thought about for the next five years. That would have been in 2000. By 2003, I had quit my day job to build mandolins full time. So I got started with instruction and encouragement from my Dad, Fred Kimble, and he worked with me until he passed away back in 2014.
FJ: You've mentioned having another building legend, Lynn Dudenbostel, as a mentor. How did that relationship come about, and how has he been an influence on you and your building?
WK: I reached out to Lynn by email after completing my first mandolin. He didn't live too far from me and it was obvious he knew exactly what he was doing. I think this was back in the days that he was sharing his building process on the email listserv called Comando. He was very kind and encouraging. I remember early on he sent me a tracing on wax paper of an A-style mandolin body shape with tone bar location and notes about tone bar shape and size, and that really helped me. We began to make trips across the mountain to visit Lynn, bringing our latest work and a notepad full of questions. He was so patient and positive, he would answer all of our questions and shared so much information with us.
As far as being an influence, there are a few key areas. The main one was that he kept me focused on Loar mandolins by showing them to me and inviting me to private events where they were being played and shared. I was a very creative builder initially and he kept me grounded with questions like, "What is it about Loar mandolins that you don't like and feel the need to change?" Well, as a builder I had a lot of ideas, but as a player I had to admit that I liked a good Loar better than anything I had ever built. So that helped rein me in and channel my efforts into building things people want to play. He was also able to give me just enough criticism that I wasn't overwhelmed, and in turn helped me get my mandolins to a place where folks were excited to buy them. I can remember so many trips to visit Lynn, but a couple that stand out are times like when he scuffed the back of his personal mandolin to show me how to French polish, or when he invited me up to watch a refret that really helped me get my fretting chops together.
Lynn has been a great friend and I know over the years my Dad and I have tried to thank him in countless ways, but there is really no way to ever thank him enough for the doors he opened for us.
FJ: Can you tell us about your shop? Where's it located?
WK: I live in a small suburb in the northern part of Cincinnati called Sharonville. We have a neat downtown area with a bank and a couple nice restaurants and a great old-fashioned hardware store. My shop is part of that downtown area and is an easy walk from where I live. It's an old shotgun house that has seen better days but serves me well—I mostly think of it as a big garage with a heater and a bathroom. There is a front room that is clean and airy with nice light from tall windows, and that is where I spend most of my time. The other rooms are dark and dingy with scary power tools and piles of sawdust everywhere…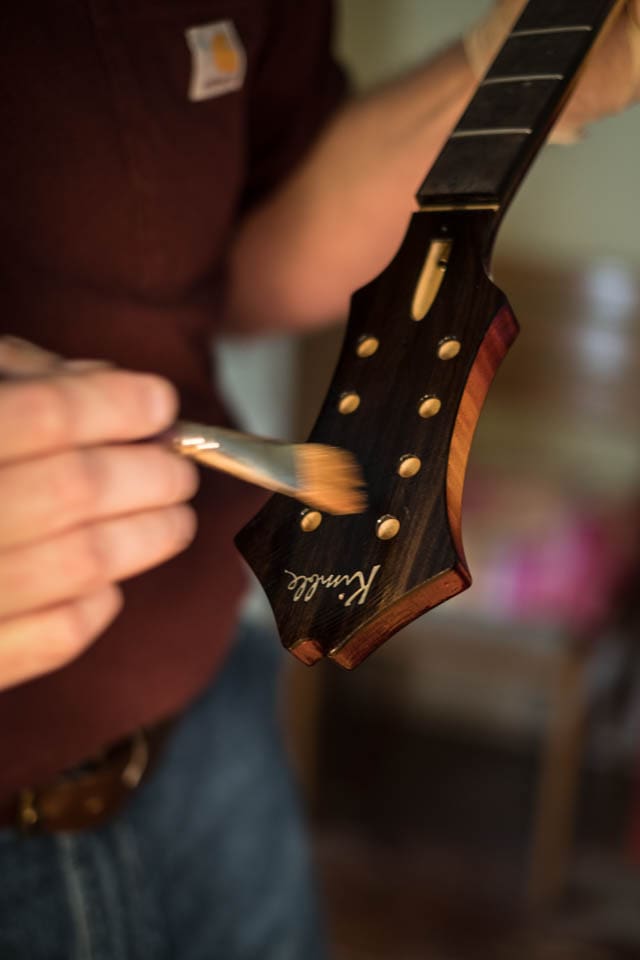 FJ: Do you have a particular philosophy about wood and materials or about building as a whole?
WK: Like most builders, I am particular about the wood and other materials that I use. But I also think the wood is not magical, and at some point, you have to get down to the business at hand of building an instrument with the materials that you have. I have grown to believe the mandolin is sort of a standard form—like a violin—and that most of the options we have been offering to players are somewhat unnecessary. My preference these days is to build what I think is the best I can build and offer that for sale once the work is completed. I stopped taking custom orders three or four years ago so that I could switch things around, and I think it is better for everybody that customers get to play the actual instrument before deciding whether or not to make a purchase. Philosophically, there is the "what do you not like about Loar mandolins that you feel the need to change?" concept that I mentioned earlier. And finally, I have grown to understand that I am not an artist—I am a craftsman making tools for artists, and the music is the art. Sometimes customers will argue this point with me, but I find it to be a useful and important distinction.
FJ: Some of your instruments are clearly influenced by those built during the Loar-era, yet others are so different.  Where do you stand in the tradition vs. innovation debate?  Where, besides Loar-era mandolins, do you find inspiration for your more modern designs?  
WK: Well, one of the things I am most proud of is that some of my instruments have original design elements that don't look out of place around the Loar-era designs. Particularly the two-point mandolin and mandola as well as the headstock design that came along with that which has also been applied to our A styles and the occasional F style mandolin. That being said, there is great design everywhere in the musical instrument business (and beyond) and we looked all around for inspiration. In particular, the downward sloping treble point of the early three-point Gibson F-4s caught our eye, and I later realized it also appears in Monteleone's work. And there are elements of Nugget's design and the Monteleone Grand Artist headstock in my two-point headstock. But I think what has been different is that I have then applied a Loar-era sensibility (binding, inlay, stain, feel, tone) to these design elements, which ultimately makes them seem familiar when they are relatively new ideas.
So, I guess it appears that I have been innovative, but I'm not sure that is really true. Of course, there has also been a collaboration with Rigel, designing and building the molds for the Mix carbon fiber mandolins, ordering the first varnish guitar from Bill Collings, etc.
FJ: Are there any upcoming projects that you're particularly excited about?
WK: I am starting a batch of four F-style mandolins, which is not particularly exciting except that I haven't built a batch of Fs in a while. I guess I am most excited about finishing up a CD project of my original songs with my great musician friend Trina Emig. And I am excited there are still new songs coming along every once in a while.
Photographs: Michael Wilson.