Are you like me, working from home with a lot more time (and freedom) to listen to music? Has it changed your listening habits? The changes for me have been subtle, but significant. First, there's just the "more" factor. I'm listening to music almost all the time now, and that's led to a few absolutely massive playlists, like 14-1/2 hours of Brian Eno's ambient records to help with sleep and stress management and everything on Spotify that has Julian Lage on it (21+ hours) to help with a story I've been working on. Perhaps the more significant change, though, is I'm doubling down on listening to whole albums. I've always preferred listening to albums in their entirety, but with one notable exception: radio nostalgia. Bands that I really only heard on the radio, or who had radio hits that overshadowed their deep cuts end up with a few tracks on playlists based more or less on the radio stations of my youth: the AOR station, the AM pop station, the alternative station and, later, MTV. Recently, though, I've been digging deep and listening to the albums that those nostalgic singles came from, and it's led to some interesting discoveries. I thought I'd share one of those albums with you here, and ask a few of our friends to chime in with some similar listening (and viewing) choices of their own. Think of it as an extension of our monthly playlist, with liner notes.
---
Roxy Music: Avalon
Roxy Music's Avalon is a surprisingly great guitar record. I've got to confess that, when I was younger, I didn't "get" Phil Manzanera. I read about how he was a guitar stud, probably in that oddly awesome, sorely-missed magazine Musician (later Musician, Player & Listener), but all I'd really heard was "Love is the Drug," and it was hard to hear anything but the groove in that. When Avalon came out and the title track and "More Than This" were just shy of ubiquitous, it was hard to get past the keyboards and the slick '80s production, or Side One, for that matter. I'm not sure what it was that made me listen to it again recently, but listen I did, on headphones for the first time, and the deft, multi-layered guitar work revealed itself to me. Manzanera does just about everything you can do on a Strat (although his trademark Firebird was probably featured as well). There are hints of Nile Rogers in the rhythm work, strong blues licks in the fills, tripping delays, EBow and volume pedal work, fantastic clean tones, sweet chord voicings and lush tremolo pads lurking deep in the mix of that title track. The work on the short track "India" and the introduction on "Take a Chance With Me" are heady, heavy with atmosphere, reminding me more than a little of Daniel Lanois (whose first collaboration with Brian Eno, Ambient 4: On Land, also came out in 1982; note that Eno's tenure with Roxy Music had ended in 1973). You can tell that a lot of thought and work went into the guitar tracks on this record, probably as much if not more than anything else except Bryan Ferry's absurdly rich and seductive vocals. It's definitely worth deeper, repeated listening.
Note: Adam Levy informed me that Neil Hubbard also has a guitar credit on the album, so a shout out to Neil, too! Hard to discern the full breakdown of their roles on the record, but easy to say they both did excellent work.
---
Frank and His Sisters: Frank and His Sisters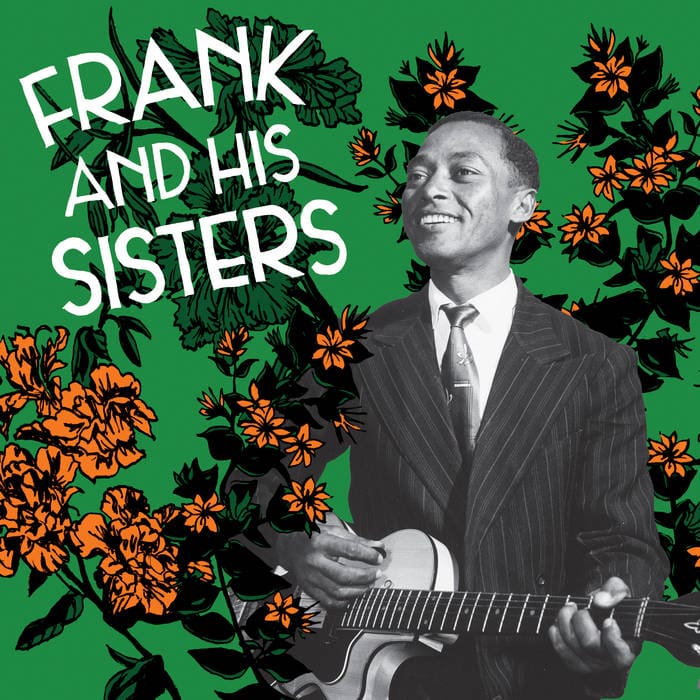 Shortly before lockdown ensued, I was on a weeklong holiday with my wife in Austin, Texas. I'd been on tour in the weeks prior — playing guitar with singer Kat Edmonson. Our last show together was in La Grange. Enjoying a little time in nearby Austin was a perfect way to unwind and spend the per-diems I'd been squirreling away. Tacos, boots, live shows at the Saxon Pub (Sue Foley) and C-Boy's (Jimmie Vaughan). Oh, yeah.
We also visited a few record shops, including End of an Ear, which is where I stumbled upon a collection of tunes by Tanzanian guitarist and singer/songwriter Francis Joseph "Frank" Humplick and his two harmonizing sisters. I picked the record up mostly because of the cover's striking design. When I got back home and put it on, I was instantly transfixed. This album is a welcome tonic for these uncertain times. While the rhythms and tempos vary throughout, the compelling energy never wanes.
The album starts with the buoyant "Mwanangu Lala" — a beautiful introduction to Humplick's one-man-band fingerstyle work and the siblings' silvery harmonies. On "Nimechakaa," "Efo Kulale," and the waltz-like "Sharu Shechisia," Humplick's guitar playing sounds particularly breezy and effortless — even inviting. But when I picked up my guitar and tried to play along, I was astounded by the complexity of his arrangements. Acoustic guitar provides the musical backbone of nearly every song. "Shida," however, sounds a little different. The subtle midrange honk on this track suggests electric guitar, or acoustic guitar with a pickup.
As of this writing, Frank and His Sisters isn't on any streaming platforms. Digital downloads can be purchased at mississippirecords.bandcamp.com. LPs are can be ordered at mississippirecords.net. The vinyl edition includes a liner notes by John Kitime (a gifted Tanzanian guitarist himself), as well as a nifty booklet with historic photographs, interviews with surviving members of Humplick's family, and lyrics (in either Kiswahili or Kichaga, with English translations as well).
Guitarist and educator Adam Levy is a regular contributor to the Fretboard Journal.
---
The Proverbial Pedal Steel YouTube Rabbit Hole
My wife and our dog and I have been in upstate NY in the boonies (really quite remote), and brought very little with us from Brooklyn other than food, toilet paper, some instruments… There's a portable CD player here and my wife's laptop and phone for UE BOOM Bluetooth listening. As such most of my/our listening has been to reliable favorites of ours, often on while making dinner (Fela Kuti, Caetano Veloso, Tom Ze, Thundercat, Shai Maestro, the new Fiona Apple record, Coltrane, Monk…). I am working semi-diligently on music for my new-ish group The Consentrik Quartet and doing administrative chores for my upcoming double album by The Nels Cline Singers Unlimited (called Share The Wealth, for Blue Note), so I haven't spent a whole lot of time listening randomly and am unable to delve into all my records because they are back in Brooklyn. My main fascination lately is pedal steel, which I have wanted to learn to play for some time now. Thus, I have been going down some YouTube rabbit holes. My pedal steel maestro friend Susan Alcorn hipped me to some players whom I had either paid scant attention to or even completely missed. As such, I don't know that I could categorize this investigation as "unexpected". But I am really digging Curly Chalker, Ralph Mooney (clips of whom led me further down Waylon Jennings Road than I had previously gone, and WHOA YES — so great), Lloyd Green, Jimmy Day and Herb Remington, and going more deeply into my often wilder faves Buddy Emmons, Joaquin Murphey, Speedy West… Subsequently, I am back into a lot of Jimmy Bryant, but that is not really unexpected!
And who'd have ever thought that I would willingly watch ANY Lawrence Welk (well, I have occasionally enjoyed the later clips where EVERYTHING is lip-synched — even the dialogue/skits — for their bizarre surreality), but did I hallucinate it or was Buddy Merrill rocking a 4-neck steel and doing his best skittery Joaquin Murphey/Speedy West tone bar drops, sweeps, and neck-jumping in one clip?!? Now THAT is double (quadruple?) unexpected! Then I guess Buddy went back to his Jazzmaster for some more familiar tasty neo-Chet pickin' in that cornball environment…
Nels Cline was featured on the cover of the Fretboard Journal #37.
---
Bulgarian Vocal Music and Claude DeBussy
I'm always interested in new and unknown music, but my listening habits primarily tend to gravitate around going backwards; learning more about relatively obscure bebop (trumpeter Louis Smith comes to mind) or just digging deeper into the catalogues of musicians I revere (Keith Jarret's American Quartet, Aretha, the Frisell/Motian/Lovano trio, Wayne Shorter). Maybe it's just a function of mindset (and no doubt a degree of privilege), but this strange time has also afforded me the chance to finally sit with recordings I've been meaning to get around to checking out for years, like Miles Davis's You're Under Arrest or some of the classic 1940s Bill Monroe. And I finally listened to Kurt Rosenwinkel's Heartcore, the one thing in his catalogue I somehow managed to overlook all these years.
The other majority of my listening is to go back to personal classics- music I love and never get tired of, which really fits that category of "personal relationship" kind of music. This brings me to 2 that I particularly want to mention: Le Mystère des Voix Bulgares, a record of Bulgarian vocal music that I discovered while visiting a friend in London several years ago. It was one of those "where has this been all my life?" kind of moments. The track "Kalimankou Denkou" particularly sounds like heaven is opening up and revealing the secrets of the universe into your ears. I don't understand Bulgarian so I don't know what they're saying, and part of me doesn't really want to.
The other big classic for me is Claude Debussy's only string quartet, written in 1893. It's been in my "favorite things ever" category for about 15 years. Maybe it's because I like harmony so much; many of the melodies in the piece are little fragments or repeating and transforming lines, as opposed to long sinewy unfolding statements, but the harmonic frame around them is often shifting and providing new and surprising context for melodic arrival points. Each of the four movements has such character and high points, but the crown jewel of the piece, to me, is the third movement. A perfect composition that's brought me to tears on the subway even after hundreds of repetitions. And I've listened to lots of renditions — even heard it performed live for the first time on my 30th birthday at the Oklahoma Mozart Festival, where I happened to have a gig — but my favorite recording, probably just because it's the first one I ever heard, is the Emerson String Quartet's. My friend Adam introduced it to me while we were driving on twisty roads in northern California, and I can still picture the hue of the light and smell the eucalyptus when I think about that first encounter.
Grant Gordy was featured in the Fretboard Journal #40.
---
Dave Brubeck: Jazz at The College of the Pacific
My listening habits are very straight-forward when I'm on tour. I pick two or three records and focus on them for travel and hotel-room atmosphere. When I'm at home I dig back into my vinyl. And now that I've been at home for more than two weeks, I've gone to the Jazz Section and stayed there. In particular Dave Brubeck's Jazz At The College Of The Pacific has been opening up my horizons. I think that when you truly rely on music to get you through a hard time, it reveals its mysteries in unexpected ways. This album is full of such beautiful and complex playing (none of it on the guitar) and it is all eminently hummable. I find myself picking up the guitar and playing some of Paul Desmond's little moves in the melody to "All The Things You Are." And so thanks to these great musicians I slowly become a better player. This album has unlatched the window and taken up residence. I'm aware of its presence all the time. I'd like to get better at phrasing melodies; one of my favourite pickers is Lyle Brewer, so I've joined his Patreon for weekly guitar lessons. What an amazing thing that is. One of the joys of lockdown in the internet age is hearing what my fellow musicians are doing during this time off the road. Can you imagine if this nonsense had found us in the 90s?
John Smith will be featured in the Fretboard Journal #46, available soon. Subscribe now!
---
Bonus Lockdown Viewing — Night Music and Jazz Casual
Like a lot of you, I'm not just listening to more music, I'm watching more music, too. There's been a lot of old jazz, but after the passing of Hal Willner it's been a steady stream of Night Music, a short-lived Sunday night program on NBC that Willner served as a producer for occasionally. Episodes feature an almost absurd assortment of artists from an astounding cross-section of genres and eras —  NRBQ and Sun Ra and Sonny Rollins and Squeeze and The Roches and Diamanda Galás and and Stevie Ray Vaughan and Pere Ubu and Willie Dixon and The Residents and Miles freakin' Davis! Artists were regularly thrown together to perform a song — the program above includes Sting and Fareed Haque playing the late Bill Withers' "Ain't No Sunshine" with the Bill Frisell Band, but you can also find a performance of "Take Me to the River" with Adrian Belew and Elliot Sharp on guitars behind Nona Hendryx and Hiram Bullock with Pops Staples stuck on background vocal duty (episode #203). The show introduced me to Lyle Lovett and the Lounge Lizards (with Marc Ribot). Have you noticed the guitar players I've mentioned here? And I haven't mentioned Carlos Santana, Jeff Healey, Mark Knopfler, Pat Metheny or Eric Clapton…and Robben Ford subbed for Hiram Bullock in the house band! It's become something of an obsession. I'm watching an episode right now (#210)…
Before PBS public television found its way into homes via National Educational Television. One of its offerings was Jazz Casual, produced by KQED in San Francisco and hosted by the critic Ralph Gleason. The show's lineup was staggeringly impressive: Dizzy, Coltrane, Brubeck, Earl "Fatha" Hines, Cannonball Adderly and more. There weren't a lot of guitar players, but what they lacked in quantity they made up for in quality: Jim Hall (twice, with Sonny Rollins and Art Farmer), Freddie Green (with Count Basie), the Brazilian guitarist Bola Sete (with Vince Guaraldi) and B.B. King.
---
#FJFest is the Fretboard Journal's way of staying connected during these difficult times: Expect to see never-before-seen shop tours from guitarmakers, unique music performances and a ton of beautiful instruments on a daily basis.
Like what we're doing? We could use your support: Get a digital subscription to the FJ for just $30 and we'll send you our two most recent issues immediately as PDFs, on the house. Simply click here to get started.